September 30, 2016 Newsletter
Dear Friends,
Tangents:
On September 30…
1452: Gutenberg Bible published.
1924: Truman Capote was born.
1928: Elie Wiesel was born.
1955: James Dean killed in auto collision.
CELEBRATE:  Autumn/ Rosh Hashanah/ Yom Kippur/ Michaelmas
                                                                        By John Miller
In the northern hemisphere, the autumn equinox signals Earth's waning life forces, just as spring proclaimed their rejuvenation.  With the frost, harvest must be gathered.  Amidst ripeness and plenty, we can enjoy Earth's bounty together.  Yet, after the equinox, the days grow shorter.  Darkness and cold are ascendant, and we must prepare for winter.
   Inwardly, too, we feel the change. The outer dread of nature's death corresponds to a multitude of fears within.  Fears reflect shortcomings, and to compensate we may appear arrogant.  In many ways, we come face to face with the Shadow, the "who we are" that we don't want to be.  The journey of individuation is a fearful one, for what could be more daunting than to gaze unflinchingly at ourselves?  This is the task of Rosh Hashanah (October 2nd) and Yom Kippur (October 11), days of atonement and purification.
   An esoteric Christian picture of the meeting between higher self and lower self is that of Michael and the Dragon.  Michael is consciousness; the Dragon pure impulse.  Though they are polarities, they are also alike.  Michael means "He who is like God" and the Dragon is Lucifer (the Light Bearer), the great angel who took himself to be greater than God.
   Casting Lucifer from the Heavens, Michael struck a gem from Lucifer's crown.  This became the Philosopher's Stone – the magical substance that alchemists believed could turn lead into gold.  It stands for transformation and is our guide on paths of wisdom (gnosis).  The alchemical rule, "As above, so below" assures us that ultimately all is one.  We are one with our Dragon.  The gem from Lucifer's crown can also be the Holy Grail – love.  Out of love, we may embrace the Dragon.  For only by love can that which is flawed – both in ourselves and in the world – be made whole again.
PHOTOS OF THE DAY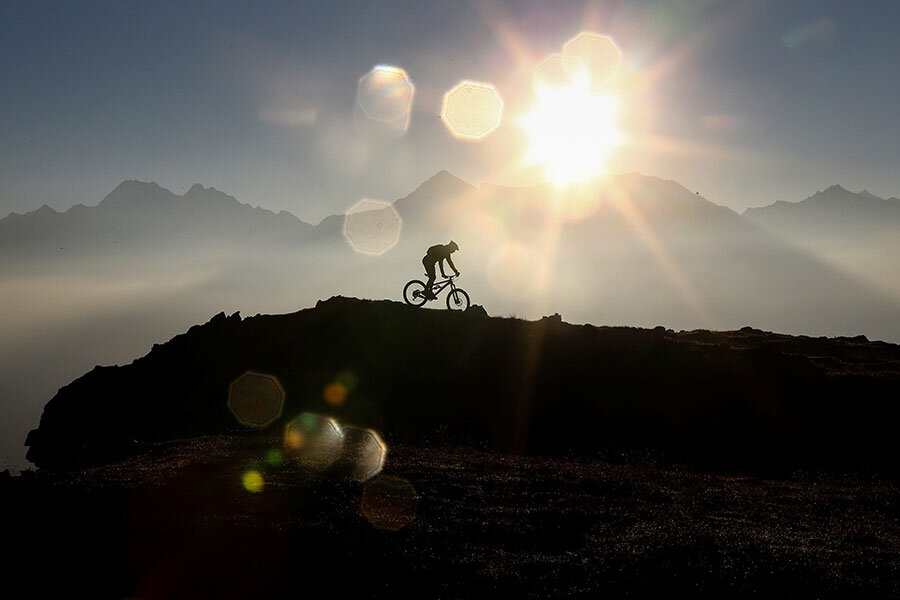 A man rides his mountain bike on a trail atop Eggerberg mountain as the sun rises in the western Austrian village of Noesslach on Friday.Dominic Ebenbichler/Reuters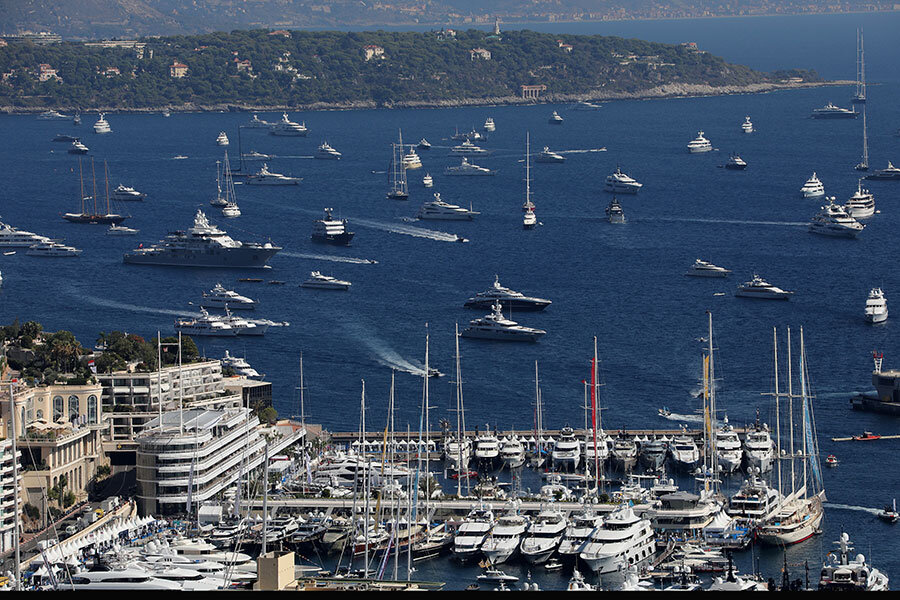 Luxury boats are seen during the 26th Monaco Yacht show in Monte Carlo port on Friday. It is one of the most prestigious pleasure boat shows in the world, highlighting hundreds of yachts for the luxury yachting industry. Eric Gaillard/Reuters
Market Closes for September 30th, 2016
Market

Index

Close
Change
Dow

Jones

18308.15

+164.70

 

+0.91%

 

S&P 500

2168.27

+17.14

 

+0.80%

 

NASDAQ

5312.004

+42.850

 

+0.81%

 

TSX

14725.98

-28.57

 

-0.19%

 
International Markets
Market

Index

Close
Change
NIKKEI

16449.84

-243.87




 




 

-1.46%




 




 

HANG

SENG

23297.15

-442.32

 

-1.86%

 

SENSEX

27865.96

+38.43

 

+0.14%

 

FTSE 100

6899.33

-20.09




 




 

-0.29%

 
Bonds
Bonds
% Yield
Previous  % Yield
CND.

10 Year Bond

0.998

0.953

 

CND.

30 Year

Bond

1.657

1.624

U.S.   

10 Year Bond

1.5927

1.5582

 

U.S.

30 Year Bond

2.3147

2.2767




 




 
Currencies
BOC Close
Today
Previous  
Canadian $

0.76170

0.76089




 




 

US

$

1.31285

1.31424

 

 

 
Euro Rate

1 Euro=

 

Inverse

Canadian $

1.47574

0.67763




 




 

US

$

1.12407

0.88962
Commodities
Gold
Close
Previous
London Gold

Fix

1322.50

1318.10

 

 

 

Oil

Close

Previous

WTI Crude Future

48.24

47.83

 
Market Commentary:
Canada
By Eric Lam
     (Bloomberg) — A scorching rally in gold and other commodities has driven Canadian stocks to their priciest level since 2002, raising concerns about the endurance of a yearlong equities surge as corporate earnings remain stuck in a rut.
     Stocks in the S&P/TSX Composite Index touched 23.6 times earnings Friday, the highest since September 2002, before closing slightly lower. The benchmark for Canadian equities has gained 13 percent this year, the second-most among developed markets after New Zealand, buoyed by rallies of at least 25 percent in gold and crude. That's resulted in a 15 percent price premium over U.S. stocks, the widest gap since 2009.
     Valuations have become stretched as share prices climb while corporate earnings remain mired in one of the worst slumps since the financial crisis. Profits for companies in the S&P/TSX retreated 11 percent in the second quarter amid lackluster economic growth. Energy producers in particular have been a drag, as the industry posted a loss last year for the first time since at least 2002.
     Analysts surveyed by Bloomberg expect earnings to rise in the quarter that ends Friday. But the index would need to see 25 percent profit growth for the ratio to prices to fall back to its five-year average of 18.8 percent, according to data compiled by Bloomberg.
     For Shailesh Kshatriya, director of Canadian strategies at Russell Investments, there's not much more room for shares to gain.                          "Volatility will be higher and cash is still king at the moment," said Kshatriya, whose firm manages about C$316 billion ($241 billion) globally and has been building cash reserves across various Canadian multi-asset portfolios. "North America is more expensive than the rest of the world, and while Canada is a tad bit more attractive, there is far more uncertainty with the economy. There could be a correction this year and we hope it does, we have dry powder."
     The S&P/TSX ended the day lower at 14,725.98 at 4 p.m. in Toronto, paring its gain in September to 0.9 percent as raw- materials producers fell with gold. The gauge is still up 4.7 percent since the end of June, capping its best quarterly performance since 2014. Information technology and industrial companies drove gains in the quarter, led by Brookfield Business Partners LP and BlackBerry Ltd.
     Canadian shares have joined a rally in global equities this year as central banks from Asia to Europe and America have tried to stoke sluggish growth with monetary stimulus. While the measures have boosted asset prices, they've failed to revive flagging corporate profits, leaving many valuation metrics above long-term averages.                        
     Irwin Michael, fund manager at IA Michael Investment Counsel in Toronto, said the relatively high equity valuations don't necessarily signal an end to the equity rally, especially as investors stare at historically low yields on sovereign bonds.
     "The rules of the game have changed with interest rates at record lows," he said. His firm manages about C$400 million. "I go out and buy a bunch of bonds yielding negative rates, I'm guaranteed to lose money. We'd get fired for that."
     Michael has bought into dividend-paying stocks through the year — including Brookfield Property Partners LP, Algonquin Power & Utilities Corp. and Fortis Inc. — which are particularly attractive because they've regularly raised their payouts, he said.
     "If you can find a good, liquid, dividend-paying company then yes, why not?" he said.
     The Federal Reserve's decision to keep rates unchanged since a hike in December has pushed the U.S. dollar lower, bolstering prices for commodities denominated in the greenback.
Energy and raw-materials producers are the top-performing industries in Canada this year as a result. The S&P/TSX Materials Index is up about 49 percent and set to halt its longest yearly losing streak since 1988, while energy producers are second with a gain of almost 24 percent.
     Canadian investors have plenty of other worries beyond valuations, Kshatriya said. The unexpected vote by the U.K. to secede from the European Union, uncertainty about the implications of the U.S. presidential election on the global economy and the spread of negative interest rates in Europe are among his biggest concerns.
     "There is plenty of event risk," he said.
     Meanwhile, the Canadian economy has had to grapple with a disastrous wildfire in Alberta's oil sands disrupting a million barrels a day of production in May, while a persistent lack of export growth had frustrated Bank of Canada Governor Stephen Poloz.
     But the outlook for Canada's economy is starting to brighten. GDP expanded 0.5 percent in July, Statistics Canada said Friday from Ottawa. That was much faster than the 0.3 percent economists expected, buttressing expectations for 3.3 percent growth for the third quarter.
US
By Dani Burger
     (Bloomberg) — U.S. stocks rallied, with the Dow Jones Industrial Average rising more than 160 points, as worries over the health of European banks diminished after a report said Deutsche Bank AG is nearing a less-costly settlement with regulators than investors feared.
     Relief swept over equities as Agence France-Presse reported the German lender is near a $5.4 billion deal with the Justice Department, less than half an initial request, to settle a probe related to bad mortgages. Financial shares in the S&P 500 Index jumped the most in eight weeks, after falling yesterday to the lowest since Aug. 2. Costco Wholesale Corp. increased the most in more than two months to boost consumer-staples companies after its earnings beat estimates.
     The S&P 500 rose 0.8 percent to 2,168.27 at 4 p.m. in New York, posting a fourth consecutive quarterly gain and the strongest this year. The index closed near its average price during the past 50 days. The Dow rose 164.70 points, or 0.9 percent, to 18,308.15 today. The Nasdaq Composite Index added 0.8 percent. About 7.6 billion shares traded hands on U.S. exchanges, 15 percent higher than the three-month average.
     "There's a little bit of recognition of the reality that Deutsche Bank is not Lehman," John Stoltzfus, chief market strategist at Oppenheimer & Co. in New York, said by phone. "The banks, as a result of all the regulatory changes since the world crisis, are in better shape to withstand this. The other side is that we're coming to the quarter end, and people are beginning to realize that September was not as bad as many thought it was."
     Concerns about weakness among European banks and the potential impact on the global economy have buffeted markets, with the Dow lurching by triple digits in every session this week for the first time since January. Despite today's rally, the S&P 500 closed with a second-straight monthly drop, down 0.1 percent. The CBOE Volatility Index wiped out a September climb, sliding 5.2 percent today to 13.29.
     The main U.S. stocks benchmark posted a 3.3 percent third- quarter gain, its best this year, bolstered by technology shares as the group capped the strongest period since 2013. Financial stocks rose 4 percent, while industrials added 3.6 percent as American Airlines Group Inc. and United Continental Holdings Inc. soared more than 27 percent since June.
     Deutsche Bank wiped out a 9 percent drop in German trading Friday to rise 6.4 percent after the AFP report. Its shares tumbled to a record low yesterday as a Bloomberg News report signaling growing concern among some of the lender's clients exacerbated pressure caused by the DOJ's initial demand for $14 billion to settle the probe. Chief Executive John Cryan told staff in a memo Friday the bank's balance sheet is safer than at any point in the past two decades.                         
     Commerzbank AG said yesterday that it will cut one in five jobs, suspend dividends and shrink securities trading in a bid to cut costs, while ING Groep NV is reported to be planning to announce thousands of job cuts next week. In the U.S., the future of Wells Fargo & Co. Chief Executive Officer John Stumpf looks tenuous after an intense grilling by lawmakers over the unauthorized-account scandal.
     "It's not just the potential risk in Deutsche Bank, there are now lots of concerns about the global banking system and the risk spilling out of European banks," said Michael Ingram, a market strategist at BGC Partners in London. "We have a very connected financial system. A zombie financial system at some point translates into a zombie economy."
     While markets calmed after the Federal Reserve's decision last week to leave rates unchanged, some central-bank officials have since publicly endorsed a rate hike in the near-term. Traders are now pricing in a 58 percent chance of higher borrowing costs in December.                    With policy makers watching for signs of stronger inflation, a report today showed the Fed's preferred measure picked up, rising 1.7 percent from a year earlier, though it still lags the central bank's 2 percent target. Consumer spending was little changed last month as income growth cooled, while the gain in personal income was the weakest since a decline in February. A separate report showed consumer confidence rose in September for the first time in four months.
     Investors are also awaiting quarterly reports from corporate America. Alcoa Inc. unofficially kicks off the next earnings season in less than two weeks, and analysts forecast profit at S&P 500 members fell 1.5 percent in July-September period, which would mark a sixth consecutive decline.
     In Friday's trading, eight of 11 main industries in the S&P 500 gained as the benchmark returned to within 1 percent of a record set on Aug. 15. Financial companies rose 1.4 percent to reverse nearly all of a 1.5 percent loss yesterday, while energy and health-care shares advanced more than 1 percent. Utilities fell for a sixth day, the longest losing streak in seven weeks.                         
     Banks jumped the most in almost two months, with Citigroup Inc. and Bank of America Corp. rallying at least 3.1 percent. In the broader financial group, Morgan Stanley and Charles Schwab Corp. added more than 2.8 percent.
     Semiconductors were among the day's leaders as the group finished with the strongest quarterly advance in seven years, rising 18 percent. Qualcomm Inc. gained 1.6 percent today, extending its climb since June to 28 percent, the best since 2010. The shares jumped Thursday on a report it's considering purchasing NXP Semiconductors NV in a deal that would be valued at about $30 billion. Nvidia Corp. climbed 46 percent in the quarter, the most in a decade.
     Consumer staples rose for the third time in four days, trimming the worst quarterly slide in five years. Wal-Mart Stores Inc. jumped 2 percent, and Procter & Gamble Co. gained 1.7 percent to an eight-month high following Costco's better- than-forecast earnings.

Have a wonderful weekend everyone.
Be magnificent!
Nature is forever giving us chance after chance at what we call rebirth and death,
and we, in our folly, in our fear of death, fail to understand that which represents a new journey,
a new page on which to write, and thus to believe in a new beginning for ourselves….
The truth is that my body has come to existence, and that it will cease to exist.  I am eternal.
Parthasarathi Rajagopalachari
As ever,
Carolann
Over time, you weed out luck.
                        -Billy Beane, b. 1962
Carolann Steinhoff, B.Sc., CFP®, CIM, CIWM
Portfolio Manager &
Senior Vice-President
Queensbury Securities Inc.,
St. Andrew's Square,
Suite 340A, 730 View St.,
Victoria, B.C. V8W 3Y7