October 31st, 2011 Newsletter
Dear Friends,
Tangents:  Happy Hallowe'en!
First Witch: When shall we three meet again?
In thunder, lightning, or in rain?
Second Witch: When the hurlyburly's done,
When the battle's lost and won.
Third Witch: That will be ere the set of sun.
First Witch: Where the place?
Second Witch: Upon the heath.
Third Witch: There to meet with Macbeth.
First Witch: I come, Greymalkin.
Second Witch: Paddock calls.
Third Witch: Anon!
All: Fair is foul, and foul is fair:
Hover through the fog and filthy air.
          -William Shakespeare,
                       Macbeth I.i.
Photos of the day
October 31, 2011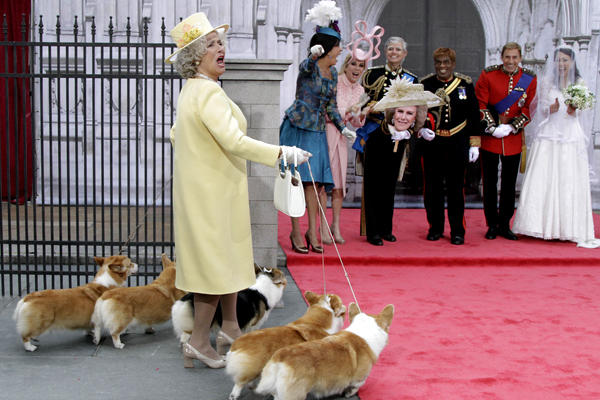 Co-hosts, from left, Meredith Vieira as Queen Elizabeth II; Hoda Kotb as Princess Eugenie; Kathie Lee Gifford as Princess Beatrice; Savannah Guthrie as Prince Charles; Al Roker as Prince Harry; Matt Lauer as Prince William; and Ann Curry as Kate Middleton are shown on the NBC "Today" television program's annual Halloween show, in New York. Richard Drew/AP.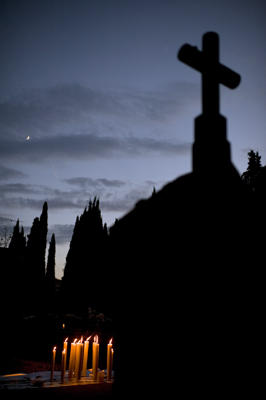 Candles illuminate a tomb on the eve of 'All Saints Day,' in the public cemetery, in Pamplona northern Spain. Alvaro Barrientos/AP.
Market Commentary:
Canada
By Kaitlyn Kiernan and Matt Walcoff
Oct. 31 (Bloomberg) — Canadian stocks fell, paring a monthly gain, as energy and raw material producers declined with commodity prices after Japan moved to weaken its currency against the U.S. dollar.
Barrick Gold Corp., the world's largest producer of the metal, lost 2.6 percent as the U.S. Dollar Index surged the most since December 2008. Suncor Energy Inc., Canada's largest oil and gas producer, dropped 4 percent. First Quantum Minerals Ltd., the country's second-biggest publicly traded copper producer, slid 6.1 percent after the industrial metal declined as investors awaited details on European leaders' revamped strategy for curbing the region's debt crisis.
 The Standard & Poor's/TSX Composite Index decreased 267.45 points, or 2.1 percent, to 12,252.06.
"On the last day of the month anything can happen," Brendan Caldwell, chief executive officer of Caldwell Investment Management Ltd. in Toronto, said in a telephone interview. The firm manages C$1 billion ($963 million). "The strength in the U.S. dollar has caused gold to come off. So much of the Canadian economy is still raw materials and not finished products that a move here or there makes a difference."
The S&P/TSX rallied 5.4 percent this month for its biggest increase since May 2009 after falling each of the previous seven months. Oil and raw materials shares led gains as investors speculated European leaders' move to boost the region's rescue fund will prevent the debt crisis from weakening banks and the broader economy.
Japan sold yen for the third time this year and pledged more sales after the currency's gain to a post-World War II high against the dollar threatened a recovery from the March earthquake and nuclear disaster.  The S&P/TSX Materials Index retreated, ending a six-day streak of advances.
Gold producers fell after the metal dropped as the U.S. dollar surged, reducing demand for the precious metal as an alternative investment. Barrick lost 2.6 percent to C$49.21.
Goldcorp Inc., the world's second-largest company in the industry by market value, slipped 2.3 percent to C$48.50. Semafo Inc., which mines in West Africa, decreased 8.1 percent to C$7.65.
Energy shares retreated the most in four weeks as oil dropped. Suncor declined 4 percent to C$31.75. Cenovus Energy Inc., the country's fifth-biggest energy company by revenue, declined 5.2 percent to C$34.14. Precision Drilling Corp., Canada's largest contract drilling company, tumbled 7.4 percent to C$11.56.
Copper producers fell as the metal dropped after surging the most since at least 1988 last week. First Quantum lost 6.1 percent to C$20.91. Teck Resources Ltd., Canada's largest base- metals and coal producer, decreased 3.7 percent to C$39.96. Lundin Mining Corp., which operates in Europe, retreated 4.6 percent to C$3.91.                       
Potash Corp. of Saskatchewan Inc., the world's largest fertilizer producer by market value, sank 4.9 percent to C$47.18 as corn and wheat fell. Agricultural commodities declined as a stronger dollar eroded prospects for U.S. exports.
The S&P/TSX Industrials Index fell 2.6 percent, trimming the biggest monthly advance since November 2001. The index lost 19 percent in the third quarter, its worst slide since 2002.
Canadian Pacific Railway Ltd., the country's second-biggest railroad, decreased 7.1 percent, the most since December 2008, to C$61.61 after jumping 7.9 percent Oct. 28, when William Ackman's Pershing Square Capital Management LP bought a 12 percent stake in the company.
Cameron Doerksen, an analyst at National Bank of Canada, cut his rating on the shares to "underperform" from "sector perform," while Turan Quettawala, an analyst at Bank of Nova Scotia, reduced his rating to "sector perform" from "sector outperform." In a note to clients, Doerksen said Pershing Square's acquisition may lead to management changes that are unlikely to affect earnings in the near term.                      
Canadian National Railway Co., the country's largest railroad, lost 2.3 percent to C$78.08, trimming its biggest monthly gain since October 2006. Bombardier Inc., the maker of trains and airplanes, decreased 6.6 percent to C$4.12 after rallying 8.1 percent Oct. 28.
Grande Cache Coal Corp., which mines in Alberta, surged a record 68 percent to C$9.87 after China's Winsway Coking Coal Holdings Ltd. and Japan's Marubeni Corp. agreed to buy the Calgary-based metallurgical coal producer for C$10 a share in cash.
Cline Mining Corp., which is developing coal mines in Canada and the U.S., rallied 19 percent, the most this year, to C$2.11. The company may be the next in the industry to be acquired, Marc Johnson, an analyst at M Partners Inc., said in a note to clients.
Natural gas-pipeline company Pacific Northern Gas Ltd. rose a record 20 percent to C$36.67 after agreeing to be bought by AltaGas Ltd., a natural gas extraction and transmission company, for C$36.75 a share in cash. AltaGas fell 1.7 percent to C$29.41.
Technology-patent owner Wi-LAN Inc. gained 8 percent to C$7.42 after saying it doesn't intend to raise its C$532 million bid for Mosaid Technologies Inc. Mosaid agreed Oct. 27 to be bought by Sterling Partners for C$590 million.
US
By Rita Nazareth
Oct. 31 (Bloomberg) — U.S. stocks slumped, giving the Standard & Poor's 500 Index its biggest decline in almost a month, amid concern European leaders will struggle to raise funds to contain the region's sovereign debt crisis.
Stocks extended losses in the final hour of trading after Greek Prime Minister George Papandreou said he will put the European Union's new agreement on financing for Greece to a referendum. Morgan Stanley and Citigroup Inc. dropped more than 7.5 percent, following the biggest weekly gain since July 2010 for financial shares in the S&P 500, as European banks retreated. Alcoa Inc. and Chevron Corp. tumbled at least 4.1 percent to pace declines in commodity shares.
The S&P 500 dropped 2.5 percent to 1,253.30 as of 4 p.m. New York time, erasing its 2011 gain and capping the biggest decline since Oct. 3. The benchmark gauge for U.S. equities rose 11 percent in October, the best month since 1991, snapping a five-month retreat. The Dow Jones Industrial Average lost 276.10 points, or 2.3 percent, to 11,955.01 today.
 "We've been on a buying stampede," Jeffrey Saut, chief investment strategist at Raymond James & Associates in St.
Petersburg, Florida, said in a telephone interview. His firm manages $300 billion. "The market was due for a pullback," he said. "Europe did get a rescue that buys them more time, but they are not anywhere near a resolution to their crisis."
Stocks rose last week after European leaders agreed to expand the region's bailout fund and U.S. economic growth accelerated. Earlier this month, the S&P 500 came within 1 percent of extending a drop from its peak in April to 20 percent, the common definition of a bear market. Since then, it has risen 14 percent.                      
China can't play the role of "savior," the official Xinhua news agency said yesterday, as investors awaited the country's response to Europe's request for money to boost its bailout fund. Japanese Finance Minister Jun Azumi said today the government took unilateral steps to weaken the yen. Group of 20 leaders will gather Nov. 3-4 in Cannes, France, while central bankers from Australia, the U.S. and Europe will hold interest- rate policy meetings this week.
Papandreou's gambit risks pushing the country into default if rejected by voters, and raises the ante with dissidents inside his own party. His popularity has plunged after a raft of austerity measures cut pensions and wages, increased taxes and sparked a wave of social unrest. An opinion poll published Oct. 29 showed most Greeks believe the accord on a new bailout package and a debt writedown is negative.
The Organization for Economic Cooperation and Development urged Group of 20 governments and central banks to "act decisively" to restore confidence as it lowered its growth forecasts for the U.S. and the euro area.
European stocks slumped, paced by losses in banks, as Italian and Spanish bonds declined. The KBW Bank Index retreated 4.1 percent. Morgan Stanley fell 8.7 percent to $17.64. Citigroup dropped 7.5 percent to $31.59.
MF Global Holdings Ltd., the holding company for the broker-dealer run by former New Jersey governor and Goldman Sachs Group Inc. co-chairman Jon Corzine, filed for bankruptcy after making bets on European sovereign debt.
"The spike in the yield on the Italian note coupled with the actions to ring fence MF Global put investors back on the defensive," Peter Sorrentino, a senior fund manager at Huntington Asset Advisors in Cincinnati, which oversees $14.5 billion of assets, said in an e-mail. "This morning's report of a decline in the Chicago business barometer reminded all that the economic fundamentals are still tenuous."                     
The Institute for Supply Management-Chicago Inc. said today its business barometer decreased to 58.4 in October from 60.4 the prior month. A level of 50 is the dividing line between expansion and contraction. Economists forecast the gauge would drop to 59, according to the median of 55 estimates in a Bloomberg News survey. Projections ranged from 56 to 62.5.
The Morgan Stanley Cyclical Index of companies most-tied to the economy lost 3.2 percent. The Dow Jones Transportation Average, a proxy for the economy, slid 2.4 percent.
Gauges of energy and raw material producers in the S&P 500 retreated at least 4.1 percent on concern about slower demand and as the dollar rallied, reducing the appeal of commodities as an alternative investment. Alcoa dropped 7 percent to $10.76. Chevron erased 4.2 percent to $105.05.
Yahoo! Inc. tumbled 5.6 percent to $15.64. The company is leaning toward selling its Asian assets and redistributing proceeds to shareholders, rather than selling itself to a group of buyers, according to people familiar with the situation. Dana Lengkeek, a spokeswoman for Yahoo, declined to comment.                        
Barton Biggs, the hedge fund manager who bought stocks when the market bottomed in 2009, boosted bullish bets on equities in his Traxis Global Equity Macro Fund after European leaders took action to contain the debt crisis.
The fund's net long position has risen to 80 percent, Biggs, the founder of Traxis Partners LP, said in an interview with Betty Liu on Bloomberg Television's "In the Loop" program. That compares with 65 percent on Oct. 17 and 40 percent about a month before that, and near 85 percent six months prior. Investors remain too pessimistic, meaning the rally will continue as they change their mind, he said.
"There's a tremendous amount of money that's trapped out of stocks," Biggs said today. The rally is "going to continue for a while."
American companies are beating Wall Street profit estimates for the 11th straight quarter, enough to revive a bull market that analysts say will eclipse any rally in the past 12 years. Price targets for companies in the index from more than 10,000 estimates suggest the S&P 500 will advance 13 percent to 1,447.93 in a year.
Companies from Google Inc. to Peabody Energy Corp. are delivering higher earnings at a time when Bill Gross, the co- chief investment officer of Pacific Investment Management Co., is warning that Europe's debt crisis will spur a recession.
While more than $6.3 trillion has been erased from global equities since May, analyst forecasts imply the benchmark measure will post its biggest rally since the 1990s technology bubble, when the gain since March 2009 is included.
"This is looking like it's going to be a really decent quarter," Warren Koontz, head of U.S. large-cap value stocks at Loomis Sayles & Co. in Boston, which manages about $150 billion, said in an Oct. 25 interview. "Valuations are very, very low relative to history, and you don't have to make heroic assumptions on multiples to get reasonable returns."
The S&P 500 traded at 11.7 times reported income on Oct. 3, within 14 percent of its price-earnings ratio at the bottom of the financial crisis in March 2009, Bloomberg data show. The index gained 3.8 percent last week.
Have a wonderful evening everyone.
Be magnificent!
It is this desire to express himself that leads him to search for riches and power.
But he must understand that to accumulate material wealth is not to find this fulfillment.
What brings him back to himself is the interior light, and not exterior objects.
-Rabindranath Tagore, 1861-1901
As ever,
Carolann
Firmness of purpose is one of the most necessary sinews
of character and one of the best instruments of success. 
Without it, genius wastes its efforts in a maze of
inconsistencies.
                   -Lord Chesterfield, 1694-1773