October 31, 2016 Newsletter
Dear Friends,
Tangents:
Wiccan New Year
Halloween
Which in the old Celtic calendar was the last day of the year, its night being the time when all the witches and warlocks were abroad,  On the introduction of Christianity it was taken over as the eve (even or e'en) of "all hallows" or "All Saint's", and in the late 20th century it was still a popular "party" occasion.  Adults don ghoulish garb and light candles in hollowed-out-pumpkins to look like eerie grinning heads, and children, similarly attired, go round the houses to play "trick or treat".  –from Brewster's Dictionary of Phrase & Fable.
We went to the opera in Seattle on Saturday night and fittingly, it was a performance of Hansel and Gretel.  The witch in the Grimm's brother's fairy tale was one of the best ever.  Interestingly, the opera was choreographed with a modern twist – the witch's house in the forest was intricately made of modern day candy, there were no leaves on the trees;  Hansel and Gretel's house was made of cardboard.  So many people  in the audience  sported fantastic costumes; it sure was a fun intermission taking them all in – so many creative spirits.
On Oct. 31, 1984, Indian Prime Minister Indira Gandhi was assassinated near her residence by two Sikh security guards.
Also on this day, in 1517, Martin Luther nails his 95 theses to the door of the Castle Church in Wittenberg, Germany, beginning the Protestant Reformation.
PHOTOS OF THE DAY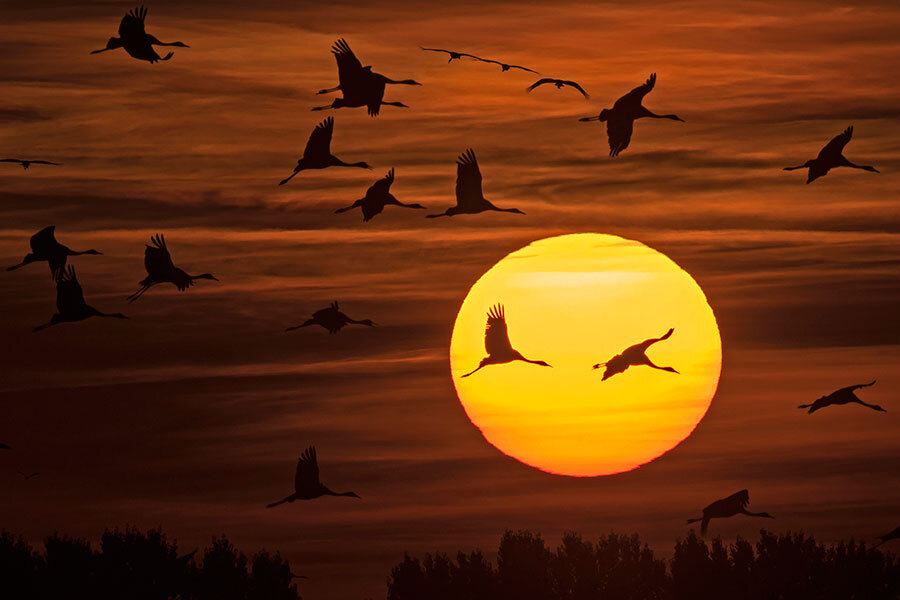 Migrating cranes fly during sunset near Straussfurt, central Germany, on Monday. The cranes rest in central Germany on their way from breeding places in the north to their wintering grounds in the south. Jens Meyer/AP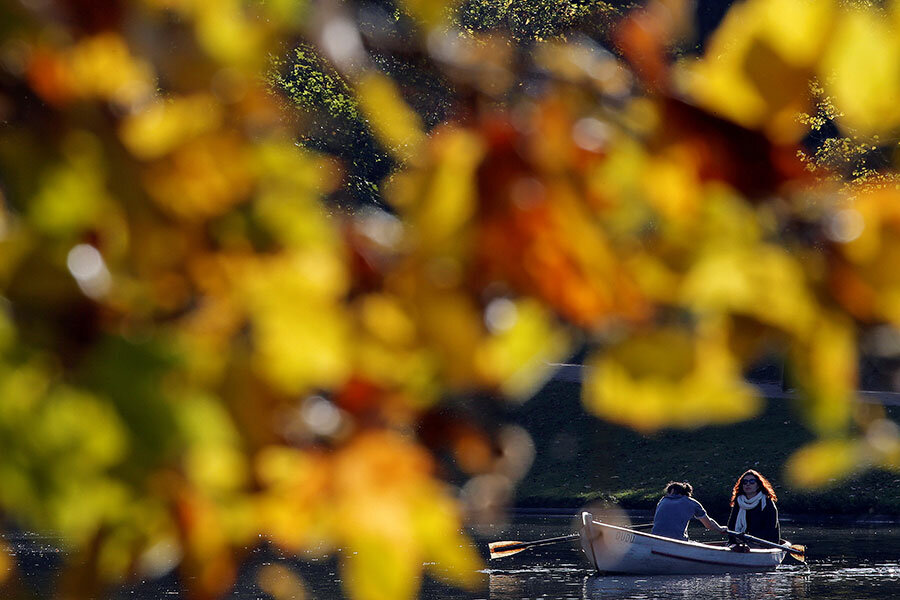 People paddle a small boat as they enjoy a mild autumn day on Daumesnil Lake at the Bois de Vincennes east of Paris on Monday. Christian Hartmann/Reuters
Market Closes for October 31st, 2016
Market

Index

Close
Change
Dow

Jones

18142.42

-18.77

 

-0.10%

 

S&P 500

2126.15

-0.26

 

-0.01%

 

NASDAQ

5189.135

-0.969

 

-0.02%

 

TSX

14787.27

+1.98

 

+0.01%

 
International Markets
Market

Index

Close
Change
NIKKEI

17425.02

-21.39




 




 

-0.12%




 




 

HANG

SENG

22934.54

-20.27




 




 

-0.09%




 




 

SENSEX

27930.21

-11.30




 




 

-0.04%




 




 

FTSE 100

6954.22

-42.04




 




 

-0.60%




 




 
Bonds
Bonds
% Yield
Previous  % Yield
CND.

10 Year Bond

1.196

1.229




 




 

CND.

30 Year

Bond

1.849

1.891

U.S.   

10 Year Bond

1.8255

1.8468

 

U.S.

30 Year Bond

2.5798

2.6154




 




 

 

 

 

 

 

 

 

 

 

 

 

 
Currencies
BOC Close
Today
Previous  
Canadian $

0.74535

0.74646

 

US

$

1.34165

1.33966

 

 

 
Euro Rate

1 Euro=

 

Inverse

Canadian $

1.47259

0.67908

 

US

$

1.09759

0.91108
Commodities
Gold
Close
Previous
London Gold

Fix

1272.00

1273.00




 

 

 

 

Oil

Close

Previous

WTI Crude Future

46.86

48.70




 

 
Market Commentary:
Number of the Day
$3 billion
Amount raised by companies going public on U.S. exchanges last week, the best stretch for the U.S. IPO market in more than a year.
Canada
By John Hyland
     (Bloomberg) — Canadian stocks all but erased gains to finish little changed as a selloff in Valeant Pharmaceuticals International Inc. offset gains in banks and raw-materials.
     The S&P/TSX Composite Index rose less than 0.1 percent to 14,787.40 at 4 p.m. in Toronto as eight of the 11 sectors in the benchmark edged higher. The gauge capped a fourth straight monthly advance, rising 0.4 percent.
     Valeant dropped to the lowest level since 2010 after people familiar with the matter said its former CEO and CFO are the focus of U.S. prosecutors as the as they build a fraud case against the company that could yield charges within weeks. Valeant fell 12 percent, bringing the health care group down 7.9 percent.
     Raw-materials gained 1.7 percent as gold miners advanced, even as the precious metal fell for the first time in three sessions. Investors weighed the possibility of an impending Federal Reserve interest-rate increase and new uncertainties related to the U.S. presidential campaign. U.S. polls showed that Hillary Clinton lost some ground to Donald Trump after the Federal Bureau of Investigation said it's reviewing newly discovered e-mails that may be pertinent to its inquiry of her use of a private server.
     Financial stocks climbed as the nation's largest lenders rebounded from broad declines. The group gained 0.2 percent, led by a 0.6 percent advance in Toronto-Dominion Bank, after a report the bank is well-positioned to win an auction for Richardson GMP, a Canadian wealth management firm. The lender reached a record high.
     Energy shares declined as crude in New York fell to a one- month low after weekend talks between OPEC producers failed to produce tangible details on a deal to curb production. Encana Corp. lost 4.6 percent and Canadian Natural Resources Ltd. dropped 1.8 percent.
     Suncor Energy Inc. slipped 1.4 percent, after surging to a two-year high on Thursday as it swung to a third-quarter profit. The company agreed to sell its Canadian lubricants business to HollyFrontier Corp. for C$1.125 billion ($840 million), as Canada's largest energy producer focuses on core operations in a period of rising oil prices.
     Industrial stocks retreated. Bombardier Inc. fell 4.3 percent. The company announced a jet sale valued at $129.4 million after signing a purchase pact with China's Minsheng Financial Leasing, which will lease the four Challenger 650 business jets to Singapore based Zetta Jet. Competitor Embraer SA said it won't use discounts to gain share in the private-jet market as the Brazilian company seeks to reposition itself as a premium-priced planemaker.
     Canadian stocks are now 17 percent more expensive than their peers in the S&P 500 Index. The S&P/TSX trades at 22.9 times earnings, compared with 19.9 for the S&P 500 Index. The S&P/TSX is up almost 14 percent in 2016, the top performance among developed equity markets tracked by Bloomberg.
US
By Joseph Ciolli
     (Bloomberg) — As the presidential election race narrows after Friday's surprise FBI announcement, stock investors are finally showing some jitters.
     Hedges against a market decline surged immediately following reports that the Federal Bureau of Investigation is reviewing files that may be related to an investigation of Hillary Clinton's e-mail practices when she was secretary of state. The ratio of bearish versus bullish options changing hands on the Chicago Board Options Exchange jumped the most since June to match a four-month high.
     After falling 20 points in 40 minutes following the news on Friday, the S&P 500 Index slipped less than a point to 2,126.15 at 4 p.m. in New York. It wandered today in its narrowest range in seven weeks while capping a third straight monthly decline, its biggest since a plunge in January.
     While the benchmark for American equity remains mired in its tightest range since 2006, investors are bracing for an end to malaise that sent a cross-asset gauge of price swings to the lowest since 2014. Just four months removed from the U.K.'s shock decision to leave the European Union in an outcome not predicted by betting markets, anxiety levels have spiked in the final week of an election season marked by twists that have seen Clinton's once dominant lead over Republican Donald Trump wither in the latest polls.
     "It's natural for an institution to want to put some hedges on, given how close the election is and how much uncertainty has arisen recently," John Fox, director of research at Fenimore Asset Management Inc. in Cobleskill, New York, who helps oversee more than $2 billion, said by phone. "We've also heard plenty of talk from individual retail investors that they want to be protected heading into next Tuesday. We got a great lesson from the U.K. that polls can be wrong."
     The CBOE Equity Put/Call Ratio climbed to 0.78 on Friday, the highest since June and also matching a level reached in September. The measure has seen an average of 0.63 since July 8, a period over which the S&P 500 has been locked in a 64-point range.
     Open interest on put contracts for the SPDR S&P 500 ETF has swelled to about double the same measure for calls, close to the most since April, according data compiled by Bloomberg. That's high relative to the the average ratio of 1.75 for the past six months.
     Beyond politics, investors weighed data on consumer spending, which did little to alter interest-rate bets as the Federal Reserve prepares to meet, while fresh deal-making boosted industrial shares. Despite the session's muted moves, the CBOE Volatility Index rose 5.4 percent, bringing its October climb to 28 percent, the most since August 2015.
     "Investors will try to digest the implications of the latest twist in the U.S. election theater and will focus on Wednesday's Fed meeting," said Ralf Zimmerman, an equity strategist at Bankhaus Lampe KG based in Dusseldorf, Germany. "Earnings are stabilizing and picking up a bit but valuations are stretched."
     The S&P 500 has been stuck in a trading range after reaching a record in August, as investors assess the political landscape, the likely trajectory of interest rates, corporate profits and economic data. It hasn't climbed for three consecutive sessions in more than a month, oscillating between daily gains and losses, while trading at close to 18 times forecast earnings, the highest since 2009.
     In Monday's trading, Baker Hughes Inc. fell as crude oil dropped to a one-month low, erasing an early gain after General Electric Co. agreed to combine their oil and gas businesses, the latest in a series of deals that has October on pace for the busiest month for mergers and acquisitions in at least 12 years. Level 3 Communications Inc. climbed to a three-month high after agreeing to a $34 billion cash-and-stock takeover offer from CenturyLink Inc., which dropped the most since 2013.
     Among companies moving on earnings news, Zimmer Biomet Holdings Inc. tumbled the most since 2007 after trimming its outlook, dragging health-care shares lower. Loews Corp. saw its biggest jump in five years as its profit surged on improved results at insurance unit CNA Financial Corp. The Dow Jones Industrial Average fell 18.77 points to 18,142.42. About 6.8 billion shares traded hands on U.S. exchanges, 4 percent above the three-month average.
     Data today showed consumer purchases climbed in September by the most in three months as incomes grew, signaling momentum in the biggest part of the U.S. economy. Investors will also look for signs of stronger growth this week in gauges on manufacturing and monthly payrolls. The odds on a December rate increase are 71 percent. Traders are pricing in a 16 percent chance the central bank will act this week before the Nov. 8 presidential election.
     "I think that the market is focusing on fundamentals and the fundamentals are relatively good," said Kevin Caron, a Florham Park, New Jersey-based market strategist and portfolio manager who helps oversee $180 billion at Stifel Nicolaus & Co.
     "We're going to get employment data at the end of the week which will probably tell us that the economy is in growth mode. It's been positive, it's been steady and this morning's numbers contribute more to that picture."
     With more than half of S&P 500 members having reported quarterly results, analysts now expect earnings growth of 1.6 percent for the benchmark, reversing forecasts for a 1.6 percent decline at the start of the month. If the prediction holds, it will end the longest earnings recession since the financial crisis. Companies releasing results this week include Pfizer Inc., Gilead Sciences Inc., Facebook Inc., Kraft Heinz Co. and Starbucks Corp.
Have  a wonderful evening everyone.
Be magnificent!
Man falls from the pursuit of the ideal of plain living and high thinking
the moment he  wants to multiply his daily 3wants.  Man's happiness really lies in contentment.
Mahatma Gandhi
As ever,
 
Carolann
The most authentic thing about us is our capacity to create, to overcome,
to endure, to transform, to love and to be greater than our suffering.
                                                                            -Ben Okri. B. 1959
Carolann Steinhoff, B.Sc., CFP®, CIM, CIWM
Portfolio Manager &
Senior Vice-President
Queensbury Securities Inc.,
St. Andrew's Square,
Suite 340A, 730 View St.,
Victoria, B.C. V8W 3Y7
Tel: 778.430.5808
(C): 250.881.0801
Toll Free: 1.877.430.5895
Fax: 778.430.5828
www.carolannsteinhoff.com