November 29, 2016 Newsletter
Dear Friends,
Tangents:
This appeared in The Wall Street Journal recently:
Notable & Quotable: James Q. Wilson
From "What Is Moral, and How Do We Know It?" by political scientist James Q. Wilson (1931-2012) in Commentary magazine, June 1993:
Almost every important tendency in modern thought has questioned the possibility of making moral judgments. Analytical philosophy asserts that moral statements are expressions of emotion lacking any rational or scientific basis. Marxism derides morality and religion as "phantoms formed in the human brain," "ideological reflexes" that are, at best, mere sublimates of material circumstances. Nietzsche writes dismissively that morality is but the herd instinct of the individual. Existentialists argue that man must choose his values without having any sure compass by which to guide those choices. Cultural anthropology as practiced by many of its most renowned scholars claims that amid the exotic diversity of human life there can be found no universal laws of right conduct. . . .
I wish to argue for an older view of human nature, one that assumes that people are naturally endowed with certain moral sentiments. We have a peculiar, fragile, but persistent disposition to make moral judgments, and we generally regard people who lack this disposition to be less than human. Despite our wars, crimes, envies, snobberies, fanaticisms, and persecutions, there is to be found a desire not only for praise but for praiseworthiness, for fair dealings as well as for good deals, for honor as well as for advantage. These desires become evident when we think disinterestedly about ourselves or others. . . .
Mankind's moral sense is not a strong beacon light, radiating outward to illuminate in sharp outline all that it touches. It is, rather, a small candle flame, casting vague and multiple shadows, flickering and sputtering in the strong winds of power and passion, greed and ideology. But brought close to the heart and cupped in one's hands, it dispels the darkness and warms the soul.
PHOTOS OF THE DAY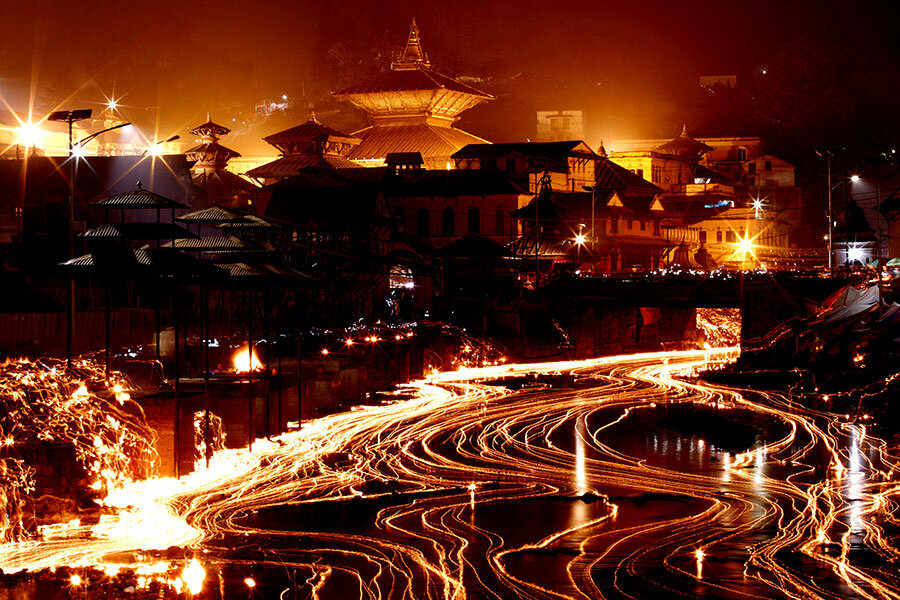 Oil lamps offered by devotees illuminate the Bagmati River flowing through the premises of the Pashupatinath Temple during the Bala Chaturdashi festival in Kathmandu, Nepal, on Tuesday. Navesh Chitrakar/Reuters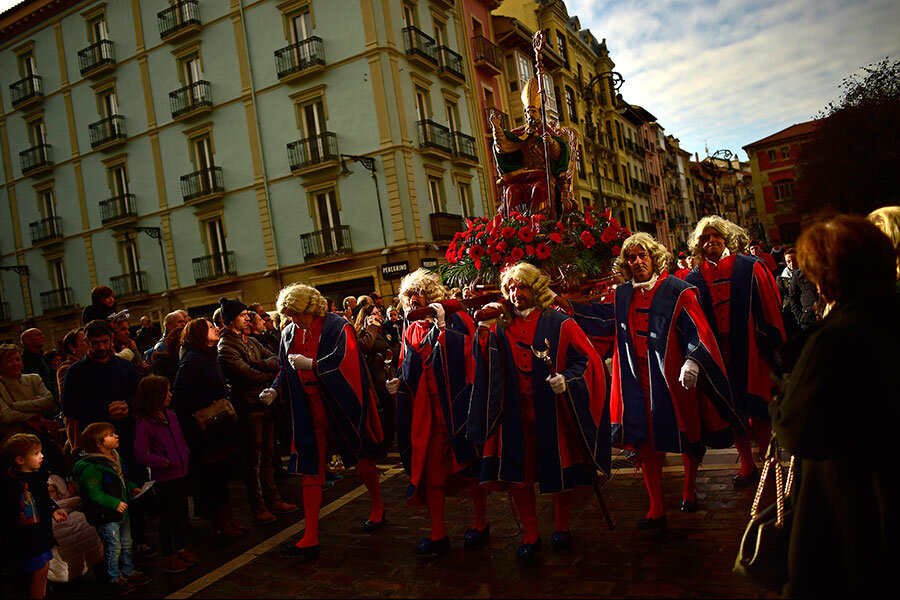 Devotes wearing their traditional dresses carry the religious statue of Saint Saturtino, patron of the city, in Pamplona, northern Spain, on Tuesday. Alvaro Barrientos/AP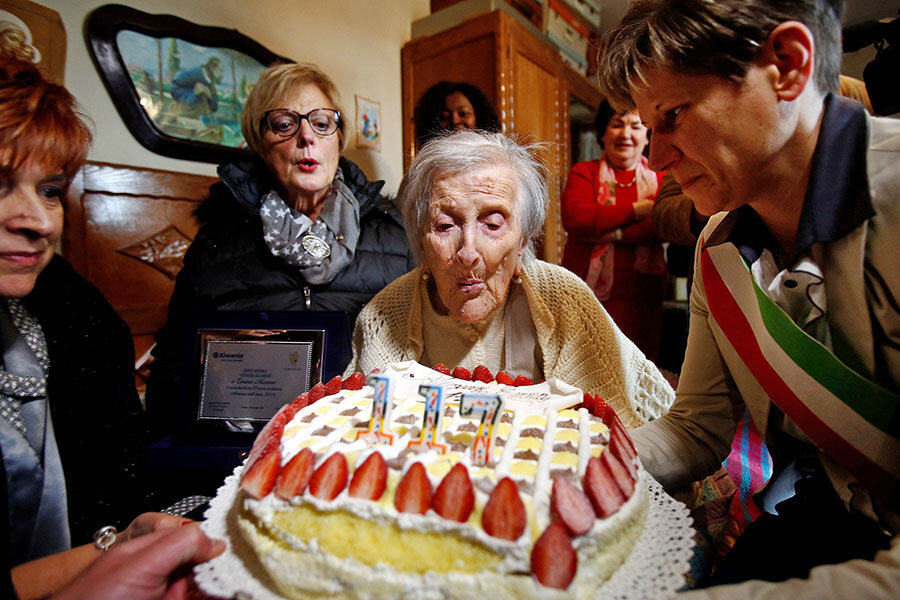 Emma Morano, thought to be the world's oldest person and the last to be born in the 1800s, blows out candles during her 117th birthday celebration in Verbania, northern Italy, on Tuesday. Alessandro Garofalo/Reuters
Market Closes for November 29th, 2016
Market

Index

Close
Change
Dow

Jones

19121.60

+23.70

 

+0.12%

 

S&P 500

2204.66

+2.94

 

+0.13%

 

NASDAQ

5379.918

+11.105

 

+0.21%

 

TSX

14999.81

-15.55

 

-0.10%

 
International Markets
Market

Index

Close
Change
NIKKEI

18307.04

-49.85




 




 

-0.27%




 




 

HANG

SENG

22737.07

-93.50




 




 

-0.41%




 




 

SENSEX

26394.01

+43.84




 




 

+0.17%




 




 

FTSE 100

6772.00

-27.47




 




 

-0.40%




 




 
Bonds
Bonds
% Yield
Previous  % Yield
CND.

10 Year Bond

1.511

1.524

 

CND.

30 Year

Bond

2.094

2.115

U.S.   

10 Year Bond

2.2910

2.3124




 




 

U.S.

30 Year Bond

2.9459

2.9755




 




 

 

 

 

 

 

 

 

 

 

 

 

 
Currencies
BOC Close
Today
Previous  
Canadian $

0.74431

0.74584




 




 

US

$

1.34353

1.34076




 

 

 

 
Euro Rate

1 Euro=

 

Inverse

Canadian $

1.43059

0.69901

 

US

$

1.06480

0.93914
Commodities
Gold
Close
Previous
London Gold

Fix

1186.55

1187.70

 

 

 

Oil

Close

Previous

WTI Crude Future

45.23

47.08




 




 
Market Commentary:
Canada
By Eric Lam
     (Bloomberg) — Canadian stocks fell a second day as crude tumbled with an OPEC deal now seen at risk after Iran said it wouldn't cut production.
     The S&P/TSX Composite Index fell 0.1 percent to 14,999.81 at 4 p.m. in Toronto, paring an earlier loss of as much as 0.5 percent as gains among big banks offset weakness in commodities. Trading volume in the Canadian equity benchmark was 9.2 percent lower than the 30-day average. The index remains up 15 percent in 2016, the top performer among developed markets tracked by Bloomberg.
     Energy producers led the index down, slumping 1.8 percent as a group for a fourth day of losses, the longest losing streak since Nov. 4. Only three of 11 industries in the S&P/TSX declined, as materials and utilities also lagged.
     Crude sank below $46 a barrel in New York, slumping 3.9 percent, after Iranian oil minister Bijan Namdar Zanganeh told reporters in Vienna his country won't cut output. Saudi Arabia on Sunday for the first time floated the possibility of leaving Vienna without an agreement. Goldman Sachs Group Inc. says the oil market is pricing in a 30 percent chance that producers from the Organization of the Petroleum Exporting Countries will reach a deal.
     Among other moves:
* Raw-materials companies fell 0.7 percent as industrial metals slumped, paring the biggest monthly rally in four years on signs China is taking steps to cool a trading frenzy in commodities. Copper, lead, nickel, aluminum and zinc all retreated.
* Teck Resources Ltd., the best-performing stock in the S&P/TSX this year, lost 2 percent. Teck is up about six-fold in 2016 on rallies in metallurgical coal and zinc.
* Bank of Nova Scotia advanced 1.6 percent, to the highest in two years, after reporting fourth-quarter earnings that beat analysts' expectations on gains in capital markets and domestic banking. The lender is the top-performing lender in Canada this year with a 32 percent rally.
US
By Sofia Horta e Costa and Lu Wang
     (Bloomberg) — U.S. stocks regained their momentum and hovered near all-time highs as traders digested encouraging data on gross domestic product growth and real estate, looking for hints about the strength of the economy ahead of Friday's payrolls report.
     The S&P 500 Index added 0.13 percent to 2,204.66 at 4 p.m. in New York. The Dow Jones Industrial Average rose 0.12 percent to 19,121.60. And the Nasdaq Composite Index gained 0.21 percent to 5379.92
     "Notable today is a bit of rotation back into large cap tech stocks that have been lagging," said Jonathan Krinsky, chief market technician at MKM Partners LLC. "Facebook, Google, Microsoft are all up about one percent and financials are also doing a bit better. Those are big sectors in the market, so that's obviously helping."
     Stocks have rallied on speculation president-elect Donald Trump will increase fiscal spending to stimulate the world's largest economy. Investors will turn attention to Friday's jobs release on clues on the pace of future interest-rate hikes from the Federal Reserve. The probability of a rate increase in December has now reached 100 percent compared with 68 percent chance at the start of November.
     The U.S. economy expanded more than previously reported last quarter, rising at a 3.2 percent annualized rate, the fastest in two years, Commerce Department figures showed. Home prices in 20 U.S. cities continued to climb in September, while a gauge of values nationwide exceeded the pre-recession peak, according to S&P CoreLogic Case-Shiller data. The reports added to a recent flurry to better-than-expected economic releases, lifting the Bloomberg ECO Surprise Index to the highest level since August.
     Oil slipped before petroleum-producing nations meet and begin work on agreement to curb production. The oil market is pricing in a 30 percent chance of producers reaching a deal to cut output at a meeting on Wednesday, according to Goldman Sachs Group Inc. Freeport-McMoRan Inc., the miner which gets about 11 percent of its revenue from oil, fell 5.1 percent.
     "I think people are treating volatility in the crude market as a one off event around the OPEC meeting and really trading stocks on the fundamentals of the improving economic data," said Art Hogan, chief market strategist and director of research for Wunderlich Securities in Boston.
     Among stocks moving on corporate news, Tiffany & Co. added 3.2 percent after the jewelry maker's third-quarter profit exceeded estimates as demand improved in China and Japan. TiVo Corp. shot up 6 percent at the market's open but then fell back, adding just 0.2 percent, after the digital-video recording firm signed a licensing deal with Netflix Inc. Amicus Therapeutics Inc. sank 22 percent after U.S. regulators said accelerated approval for its Fabry-disease treatment is not an option.
Have a wonderful evening everyone.
Be magnificent!
The craving for position, for prestige, for power, to be recognized by society
as being outstanding in some way, is a wish to dominate others, and this wish to dominate
is a form of aggression.  And what is the reason for this aggressiveness?  It is fear isn't it?
Krishnamurti
As ever,
Carolann
Never limit yourself because of others' limited imagination; never limit others
because of your own limited imagination.
                                             -Mae Jemison, b. 1956
Carolann Steinhoff, B.Sc., CFP®, CIM, CIWM
Portfolio Manager &
Senior Vice-President
Queensbury Securities Inc.,
St. Andrew's Square,
Suite 340A, 730 View St.,
Victoria, B.C. V8W 3Y7
Tel: 778.430.5808
(C): 250.881.0801
Toll Free: 1.877.430.5895
Fax: 778.430.5828
www.carolannsteinhoff.com