November 29, 2011 Newsletter
Dear Friends,
Tangents: Sorry, no newsletter last night because our office building was hit with the power outage that affected much of downtown intermittently yesterday as a result of B.C. Hydro's problems.  
Today: 1989, Czechoslovakia ends Communist rule.           
            1878, writer C.S. Lewis was born.
            1832, writer Louisa May Alcott was born.
I was reading an article in the most recent edition of The New Yorker last night that reminded me of the debate going on in Canada right now over the beaver as our national symbol.   It was a commentary by Adam Gopnik in honor of the U.S. Thanksgiving holiday last Thursday on how the turkey almost became the symbol of America.  Benjamin Franklin disliked the choice of the bald eagle as the national bird, and it was in a letter to his daughter, in 1784, that he proposed putting the turkey in its place.  The eagle, Franklin points out, is "a bird of bad moral character.  He does not get his living honestly….He watches the labor of the fishing hawk; and when that diligent bird has at length taken a fish, and is bearing it to his nest for the support of his mate and young ones, the bald eagle pursues him, and takes it from him."  Truly, a one-per-cent kind of bird. 
Photos of the day
November 29, 2011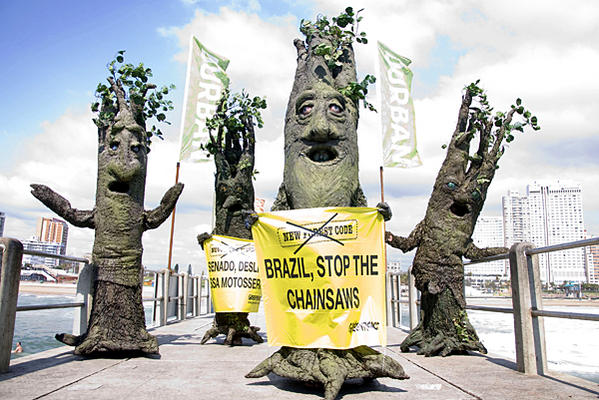 Green Peace activists dressed as trees protest the deforestation of the Brazilian Amazon jungle in Durban, South Africa on the second day of the two-week UN climate conference attended by 192 parties seeking agreement on future action to curb climate change. John Robinson/Green Peace/AP.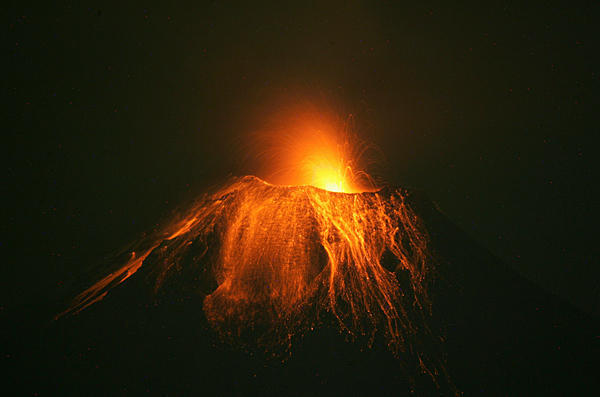 Ecuador's Tungurahua volcano spews volcanic lava accompanied by large clouds of gas and ash near Banos, south of Quito. Authorities are encouraging residents living near the volcano to evacuate. The Tungurahua volcano has been in an active state since October 1999. Carlos Campana/Reuters.
Market Commentary:
Canada
By Matt Walcoff
Nov. 29 (Bloomberg) — Canadian stocks rose for a second day as energy stocks gained with natural gas futures on forecasts for colder temperatures in the northern U.S. and banks and Research In Motion Ltd. rallied.
Canadian Natural Resources Ltd., Canada's second-largest energy company by market value, advanced 3.3 percent. Royal Bank of Canada, the country's biggest lender by assets, increased 1.6 percent after the U.S. Conference Board reported higher consumer confidence. RIM, the BlackBerry maker, climbed 5.8 percent after an analyst at Sanford C. Bernstein & Co. raised his rating on the shares.
The Standard & Poor's/TSX Composite Index rose 92.29 points, or 0.8 percent, to 11,732.50.
"Natural gas seems to have a little bit of life, and oil, no matter what the economy seems to be doing, stays around $100" a barrel, Marcus Xu, director of equity investments at Genus Capital Management in Vancouver, said in a telephone interview. The firm oversees about C$1.7 billion ($1.7 billion). "That's good for Canadian companies."
The S&P/TSX surged 1.6 percent yesterday after falling each of the previous four weeks, the longest streak of weekly drops since July 2008. The index has fluctuated with developments in the European debt crisis this quarter as concern that problems in Greece, Italy and Spain will hurt the global economy has overshadowed growth in Canadian companies' profits.
Energy stocks advanced after AccuWeather Inc. forecast below-normal temperatures for New York and Chicago. Crude oil increased for a third day on the U.S. consumer confidence report.
Canadian Natural climbed 3.3 percent to C$36.35. Suncor Energy Inc., the country's largest oil and gas producer, rose 1.5 percent to C$29.35. Athabasca Oil Sands Corp., PetroChina Co.'s partner in oil-sands development, jumped 5.1 percent to C$11.63.
Nexen Inc., an oil and gas producer with operations on five continents, advanced 4.5 percent to C$15.95 after agreeing to sell a 40 percent stake in British Columbia shale-gas fields to Tokyo-based Inpex Corp. and JGC Corp.
Canada's seven largest banks each climbed after the New York-based Conference Board said its index of consumer confidence rose more than all 70 economist forecasts in a Bloomberg survey.
Royal Bank gained 1.6 percent to C$45.01. Toronto-Dominion Bank, its biggest domestic rival, increased 1.1 percent to C$69.63. Bank of Montreal, Canada's fourth-largest lender by assets, advanced 1.2 percent to C$57.41.                        
RIM climbed 5.8 percent to C$18 after Pierre Ferragu, an analyst at Bernstein, raised his rating on the stock to "market perform" from "underperform." The shares had plunged 71 percent this year through yesterday.
"As the failure of RIM's current strategy becomes more obvious, we see shareholder activism leading to a change in management and a takeover — or at least the anticipation of it," Ferragu wrote in a note to clients.
Shares also rallied after Alan Panezic, vice president of platform product management said in an interview that RIM will offer companies software to support competing smartphones. Laszlo Birinyi, founder of Westport, Connecticut-based Birinyi Associates Inc., recommended RIM shares in an interview on CNBC.
Raw-materials producers in the S&P/TSX rose as the U.S. dollar fell against all other major currencies and gold and copper gained.
Goldcorp Inc., the world's second-biggest gold producer, advanced 1 percent to C$51.24. San Gold Corp., which operates in Manitoba, rallied 10 percent to C$1.80 after closing at the lowest since April 2009 yesterday. SouthGobi Resources Ltd., which mines coal in Mongolia, rose 7.6 percent to C$7.21.
Mercator Minerals Ltd., a copper and molybdenum producer, surged 9.8 percent to C$1.68. Jeffrey Woolley, an analyst at Paradigm Capital Inc., began coverage of the company with a "buy" rating in a note dated yesterday.
US
By Michael P. Regan and Rita Nazareth
Nov. 29 (Bloomberg) — Stocks and commodities rose for a second day as U.S. consumer confidence increased by the most since 2003 and European finance ministers discussed efforts to tame the region's debt crisis. Treasuries pared losses.
The Standard & Poor's 500 Index added 0.2 percent to 1,195.19 at 4 p.m. in New York, trimming its rally from 0.9 percent. The Stoxx Europe 600 Index rose 0.8 percent. The euro climbed 0.1 percent $1.3329 after earlier erasing a gain of as much as 0.9 percent. The S&P GSCI gauge of 24 commodities advanced 1.3 percent as oil approached $100 a barrel. Ten-year U.S. Treasury yields rose two basis points to 2 percent after dropping 1 point.
U.S. equities added to yesterday's rally after the Conference Board's sentiment gauge climbed to 56 from a revised 40.9 in October as consumers grew more optimistic about jobs and income prospects. Europe's effort to expand its bailout fund to 1 trillion euros ($1.3 trillion) is falling short and finance ministers tonight will discuss channeling European Central Bank loans to struggling nations through the International Monetary Fund.
"The economic reports have shown that the U.S. has been insulated from all the noise coming out of Europe," Paul Zemsky, the New York-based head of asset allocation for ING Investment Management, said in a telephone interview. His firm oversees $550 billion. "Consumers are not really bothered by that, at least not yet."
The S&P 500 snapped a seven-day slump yesterday, rallying 2.9 percent for its largest gain in a month, after Thanksgiving- weekend retail sales rose to a record and speculation grew that European leaders would increase efforts to fight the region's debt crisis.
Today's gains were led by energy, utility and consumer staples companies. Hewlett-Packard Co., Home Depot Inc. and Exxon Mobil Corp. climbed at least 1.3 percent to pace gains in the Dow Jones Industrial Average.
AMR Corp., the parent of American Airlines, tumbled 79 percent after filing for bankruptcy as it failed to secure cost- cutting labor agreements. Corning Inc., the world's largest maker of glass for flat-panel televisions, plunged 11 percent to lead a drop in technology shares after cutting its fourth- quarter earnings forecast because of the loss of a contract and lower glass prices.
The reading of 56 in the Conference Board's confidence gauge topped the most optimistic economist forecast in a Bloomberg survey and compared with the median estimate of 44.
The report was the third-strongest relative to expectations since at least 1999, Bespoke Investment Group LLC said in a note to clients today, and the S&P 500 has rallied on average 1.3 percent on days when the number beat the consensus forecast by 10 or more.
"What it may indicate is that the U.S. equity market has made its low for 2011 since major lows in the equity market do often coincide with lows in consumer confidence," Michael Shaoul, chairman of Marketfield Asset Management in New York, said in a note to clients.
The Dollar Index, which tracks the U.S. currency against those of six trading partners, declined 0.3 percent. The S&P GSCI index extended yesterday's 1.4 percent rally as wheat and natural gas climbed more than 2.9 percent to lead gains in 18 of 24 commodities.                     
Federal Reserve Vice Chairman Janet Yellen said the central bank has leeway to spur the U.S. recovery and reduce unemployment by purchasing more assets and clarifying its plan to sustain record-low borrowing costs. Fed Bank of Atlanta President Dennis Lockhart said expanding securities purchases is unlikely to give a sufficient boost to U.S. growth, without ruling out the strategy or other easing options.
Oil climbed 1.6 percent to $99.79 a barrel and earlier topped $100 a barrel in New York as Iranian protesters broke into and vandalized the British Embassy's compound in Tehran.
Among European stocks, Remy Cointreau jumped 2.9 percent after France's second-biggest distiller predicted "a substantial increase" in full-year earnings. BASF SE and K+S AG pulled a gauge of chemical makers higher, rising more than 2 percent. IG Group Holdings Plc rallied 9.3 percent, the most since 2010. Italy was again forced to sell bonds at rates exceeding 7 percent today, a level that led Greece, Portugal and Ireland to seek bailouts.               
 Italy sold 3.5 billion euros in three-year debt, 2.5 billion euros of 2022 bonds and 1.5 billion euros in 2020 bonds.
The 2014 note yielded 7.89 percent, the highest since 1996 for a three-year bond and up from 4.93 percent when similar-maturity debt was sold last month. Demand for the 2014 bond was 1.5 times the amount sold and the bid-to-cover for the 2022 bond was 1.34 times, both higher than Oct. 28 auctions.
"High yields are not a real surprise, given the recent developments in Italian yields," Annalisa Piazza, a strategist at Newedge Group in London, wrote in a report. "Bid-cover was higher than at the previous auction at the end of October as very cheap valuations might have attracted some interest."
The yield on Italian 10-year bonds increased less than one basis point to 7.24 percent after rising as high as 7.38 percent, while two-year yields slipped one basis point to 7.10 percent after increasing to as high as 7.37 percent earlier.
German 10-year bund yields increased three basis points to 2.33 percent, while yields on U.K. and French 10-year debt decreased. U.S. 30-year bond yields rose three points to 2.96 percent after earlier dropping below German counterparts for the first time since 2009.
Finance ministers tonight are holding an initial discussion on channeling ECB loans to cash-strapped euro nations through the International Monetary Fund, aiming to bring the central bank onto the front lines without violating its ban on direct lending to governments, said people familiar with the situation, who declined to be identified because the talks are at an early stage.
Luxembourg Finance Minister Luc Frieden said the European Financial Stability Facility alone won't be able to solve the euro region's debt crisis. The EFSF will need help from the IMF and the European Central bank, Frieden told reporters in Brussels today before a meeting of euro area finance chiefs.
The cost for European banks to fund in dollars rose to the highest level since October 2008 for a fifth day. The three- month cross-currency basis swap, the rate banks pay to convert euro payments into dollars, was 158 basis points below the euro interbank offered rate, from minus 149 basis points yesterday.
The gap has widened from as little as minus 8 basis points on May 4. The MSCI Emerging Markets Index climbed 1 percent.
Benchmark gauges for China, South Korea, Taiwan and Indonesia gained more than 1 percent, while indexes in Russia and India dropped. Egypt's EGX-30 Index jumped 5.5 percent, the most since 2009 on a closing basis, after a peaceful first day of parliamentary elections.
Have a wonderful evening everyone.
Be magnificent!
We think as our ancestors did, away back in pre-historic ages.
Where even tradition cannot pierce the gloom of that past,
there our glorious ancestors have taken up their side of the problem
and have thrown the challenge to the world.
Our solution is renunciation, giving up, fearlessness, and love;
these are the fittest to survive.  Giving up the senses makes a nation survive.
      -Swami Vivekananda, 1863-1902
As ever,
Carolann
Under capitalism , man exploits man.  Under communism,
it's just the opposite.
                 -John Kenneth Galbraith, 1908-2006