May 30th 2011, Newsletter
Dear Friends,
Fairly quiet Monday with the US markets closed; I wonder every year why we can't be in synch and have Victoria Day and Memorial Day fall on the same weekend.  
I read somewhere today that Memorial Day was originally observed as a holiday to commemorate soldiers who fell in the Civil War, 1861-1865, but now honors all those killed in war.  Such profound loss…
OK, this is reassuring to many of us with lots on our mind….life happens:  President Obama signed the guest book at Westminster Abbey last week – the year 2008: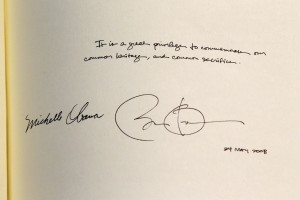 A detailed view of the page written by US President Barack Obama, in Westminster Abbey's Distinguished Visitor's Book shows the incorrect date 24 May 2008. (Oli Scarff/Getty Images)
Market Commentary:
Canada
By Matt Walcoff
     May 30 (Bloomberg) — Canadian stocks rose for a fourth day as higher natural-gas prices drove up energy shares and raw- materials producers posted a sixth straight advance.
     Equinox Minerals Ltd., which mines copper in Africa, rallied 4.5 percent on the Toronto Stock Exchange after sinking 6.1 percent on May 27. Cameco Corp., the world's largest uranium producer, lost 3.3 percent after German Chancellor Angela Merkel's coalition endorsed a plan to close all atomic-power plants by 2022. Canadian Natural Resources Ltd., the nation's second-largest energy producer by market value, gained 1.2 percent.
     The Standard & Poor's/TSX Composite Index increased 32.07 points, or 0.2 percent, to 13,829.66. Equities also gained after Canada's first-quarter economic growth accelerated to the fastest pace in a year.
     "A lot of the commodities and commodity-related stocks were in an oversold position," said Timothy Lazaris, chief executive officer of Red Sky Capital Management Ltd. in Toronto, which oversees C$52 million ($53 million). "With $100 crude, it's not that difficult to see why people would be interested in buying some large-cap energy stocks who have been underperforming."
     The S&P/TSX rose 3.1 percent in the two weeks that ended May 27 for the biggest two-week gain since Feb. 4. Raw-materials stocks surged 7 percent and energy companies gained 4.1 percent as analysts at banks including Deutsche Bank AG, Goldman Sachs Group Inc. and JPMorgan Chase & Co. forecast a rebound in commodity prices and gold, copper, corn, wheat and natural gas advanced. The resources industry makes up 49 percent of Canadian stocks by market value, according to Bloomberg data.                          
     Canadian stocks rallied after the national economy grew at an annualized rate of 3.9 percent in the first quarter, Statistics Canada said today. Analysts had forecast a gross domestic product increase of 4 percent, according to the median of 28 estimates in a Bloomberg survey.
     Equinox, which Barrick Gold Corp. agreed to buy, advanced 4.5 percent to C$7.94 on the Toronto Stock Exchange. The shares plunged to C$7.60, from C$8.09 the prior day, on May 27 after Barrick said talks with the Zambian government on the takeover are continuing. The African country's competition agency had said it conditionally approved the purchase.
     The companies should have "no cause for concern" over those conditions, Maxwell Mwale, Zambia's mines minister, said in an interview in the capital of Lusaka.
     Teck Resources Ltd., Canada's largest base-metals and coal producer, increased 1.1 percent to C$50.98 as copper climbed in Shanghai for a fourth day.                          
     Cameco lost 3.3 percent to C$27.36. Uranium One Inc., a mining company controlled by Moscow-based ARMZ Uranium Holding Co., slipped 2.6 percent to C$3.70. Merkel promised when re- elected in 2009 to extend the life of nuclear reactors. Her party finished behind the Green Party in a state election for the first time following Japan's earthquake and tsunami in March that caused the worst nuclear crisis since 1986.
     Energy shares gained after natural gas climbed 1.1 percent, adding to last week's 6.8 percent surge, amid forecasts for warmer U.S. weather. Canadian Natural rose 1.2 percent to C$42.09. Suncor Energy Inc., the country's biggest energy company, gained 0.6 percent to C$40.99. Encana Corp., Canada's largest natural gas producer, advanced 0.7 percent to C$33.43.
     Semafo Inc., which mines gold in Africa, climbed for an eighth day, soaring 4.8 percent to C$8.96 before the release of its first-quarter earnings.                        
     "We see a lot of room for further appreciation as the company continues to provide updates on its underground development program and regional exploration updates," Stuart McDougall, an analyst at Jennings Capital Inc., said in a note to clients.
     S&P/TSX fertilizer producers climbed for a fifth day after 23 of 29 traders in a Bloomberg survey forecast corn prices will rise this week. Potash Corp. of Saskatchewan Inc., the world's largest fertilizer producer, increased 0.8 percent to C$55.13.
Agrium Inc. gained 1.4 percent to C$85.65.
     The S&P/TSX Utilities Index fell 1.1 percent, the most since April 7.
     Fortis Inc. declined 2.1 percent to C$32.97 after agreeing to buy Central Vermont Public Service Corp. for about $470 million, paying a 44 percent premium, to enter the U.S. regulated electricity market. Fortis, Canada's largest publicly traded power producer, also said it will sell 9.1 million shares for C$33 each.                   
     Canadian Utilities Ltd., the owner of the Atco family of companies, lost 2.3 percent to C$58.
     Juan Plessis, an analyst at Canaccord Financial Inc., cut his rating on the shares to "hold" from "buy" in a note dated May 27. Plessis cited the stock's 21 percent surge from March 14 to May 26.
     Directory publisher Yellow Media Inc. retreated for a sixth day, slumping 6.4 percent to a record-low C$3.83 after Adam Shine, an analyst at National Bank of Canada, cut his 12-month share-price estimate to C$4 from C$5.
     "The company will report what we expect will be another relatively soft quarter when it reports Q2 results in early August and concurrently updates 2011 guidance, which will reflect a third consecutive year of downward revisions," Shine wrote in a note to clients.
Have a wonderful evening everyone.
Be magnificent!
The human voice can never reach the distance
that is covered by the still small voice of conscience.
-Mahatma Gandhi, 1869-1948
As ever,
Carolann
Love all, trust a few. 
Do wrong to none.
  -Wm. Shakespeare, 1564-1616
Carolann Steinhoff, B.Sc., CFP, CIM, FCSI
Senior Vice-President &
Senior Investment Advisor