March 31, 2016 Newsletter
Dear Friends,
Tangents:
On March 31, 1968, President Johnson stunned the country by announcing he would not run for another term of office.
1821 – McGill University granted a Royal Charter.
1949 – Newfoundland joins Confederation at midnight as Canada's 10th province
1958 – John Diefenbaker wins 208 ridings in the 24th federal election; largest ever majority by percentage of seats.
Tomorrow we wake up to a new month of April!
"April is the month of golden Aphrodite (Etruscan apru), modest, gentle goddess of love and beauty.  She is the spirit of youth in everything.  We find ourselves drawn outdoors again, into the breeze-filled air sitting warmly on our senses.  We ray out into the light, the sun-illumined world.  There are wider dawns and deeper twilights.  As nature stirs, new life germinates within us.  Outside, 'wild puffing of emerald trees and flame-filled bushes' (D.H. Lawrence): within, an awakening sense of self in seeing.  The intensity of nature's splendor all but overwhelms us.  Light – liquid, yellow, and caressing, is poured over everything.  Surrendering to its embrace with spontaneous devotion, our hearts are at peace.  We, too, are reborn.  We sense our freedom to do the good to know the true, and to love the beautiful.  We feel one with the world."  -from D.D.'s Urban Almanac.
PHOTOS OF THE DAY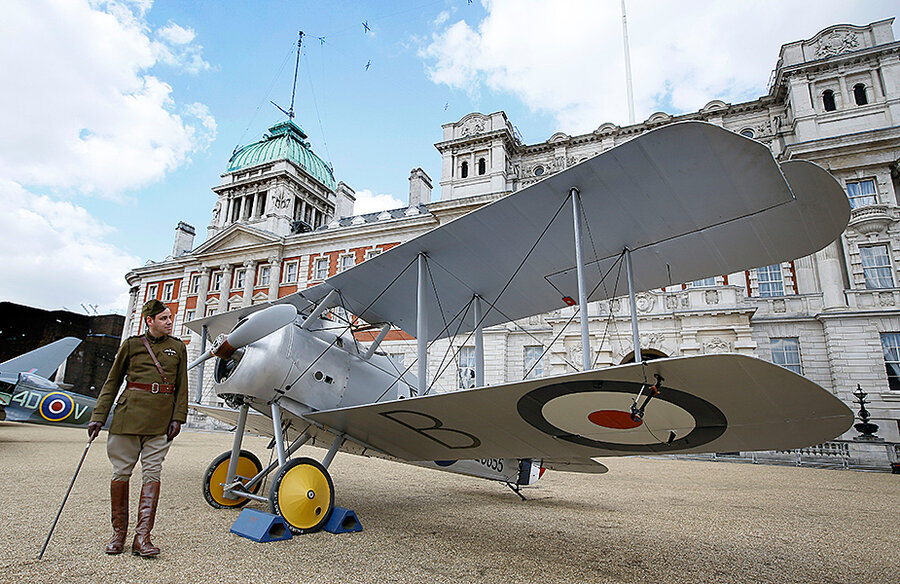 An RAF museum employee in authentic uniform looks towards a First World War Sopwith Snipe, on display in Horse Guards Parade in London, Thursday. Kirsty Wigglesworth/AP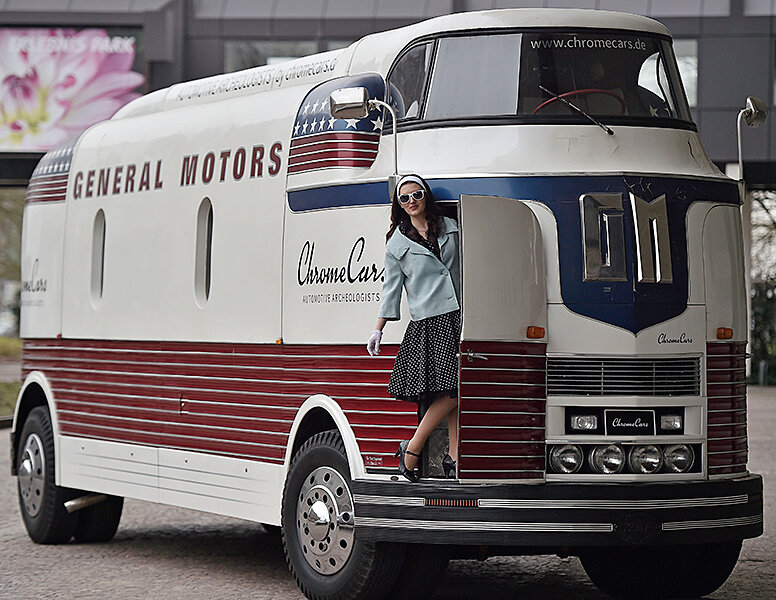 A model looks out of a vintage General Motors Futurliner to promote the vintage car show Techno Classica in Essen, Germany, Thursday.Martin Meissner/AP
Market Closes for March 31st, 2016
Market

Index

Close
Change
Dow

Jones

17685.09

-31.57

 

-0.18%

 

S&P 500

2059.74

-4.21

 

-0.20%

 

NASDAQ

4869.848

+0.554

 

+0.01%

 

TSX

13494.36

-9.62

 

-0.07%

 
International Markets
Market

Index

Close
Change
NIKKEI

16758.67

-120.29

 

-0.71%




 




 

HANG

SENG

20776.70

-26.69




 




 

-0.13%




 




 

SENSEX

25341.86

+3.28




 




 

+0.01%




 




 

FTSE 100

6174.90

-28.27




 




 

-0.46%




 




 
Bonds
Bonds
% Yield
Previous  % Yield
CND.

10 Year Bond

1.231

1.228




 




 

CND.

30 Year

Bond

2.009

2.012

U.S.   

10 Year Bond

1.7704

1.8623

 

U.S.

30 Year Bond

2.6127

2.6559




 




 
Currencies
BOC Close
Today
Previous  
Canadian $

0.76931

0.77127

 

US

$

1.29986

1.29657

 

 

 
Euro Rate

1 Euro=

 

Inverse

Canadian $

1.47942

0.67594




 




 

US

$

1.13814

0.87863
Commodities
Gold
Close
Previous
London Gold

Fix

1237.00

1236.25

 

 

 

Oil

Close

Previous

WTI Crude Future

38.34

38.32

 
Market Commentary:
Canada
By Jiayue Huang
     (Bloomberg) — Canadian stocks fell, with the Standard & Poor's/TSX Composite Index posting its biggest monthly advance since October 2011. Energy stocks in the benchmark gauge rose as the U.S. dollar slumped.
     The S&P/TSX dropped 9.62 points, or 0.1 percent to 13,494.36 at 4 p.m. in Toronto. The measure has jumped 4.9 percent in March and has climbed 3.7 percent this year, its best quarterly performance since the second in 2014. The index now trades at about 21.4 times earnings, roughly 14 percent more expensive than the valuation of the U.S. equity benchmark, the Standard & Poor's 500 Index, data compiled by Bloomberg show. Trading was 23 percent below the 30-day average, continuing a stretch of light volume.
     A report on Thursday showed that Canada's economy posted the strongest monthly gain in three years in January, driven by a growth in manufacturing.
     Oil prices closed near $38 a barrel. Crude's rebound from a 12-year low last month has slowed down as investors await the results of upcoming talks among OPEC producers in April on a possible output freeze. Bonterra Energy Corp.orp. added 5.7 percent to lead the rally in the sector.
     Silver Wheaton Corp.tumbled 5.8 percent after the company said yesterday it will raise at least $500 million by selling new shares.
     Health-care companies fell the most, trading near the lowest level since January 2011. Valeant Pharmaceuticals International Inc. retreated for a fifth day, losing 3 percent. It was reported yesterday that the drugmaker is offering lenders a one-time fee and extra interest on its loans in exchange for waiving a default caused by a delayed earnings filing. Moody's downgraded the drugmaker's stocks today. Stocks of the company have plunged 23 percent in five days.
US
By Joseph Ciolli
     (Bloomberg) — U.S. stocks slipped, with the Standard & Poor's 500 Index ending the first quarter virtually where it began after a whipsaw ride saw equities rally back from the worst-ever start to year.
     The S&P 500 edged lower Thursday ahead of a government jobs report likely to set the tone for the next week of trading. The index coasted to the end of a dichotomous quarter, capping a blistering comeback in the last six weeks to erase losses that reached more than 10 percent in mid-February. Stocks gained 0.8 percent in the past three months, leaving the S&P 500 nearly unchanged from its level at the end of March 2015.
     "We're still stuck in a market that hasn't done much in the past year and a half," said Matt Maley, an equity strategist at Miller Tabak & Co. LLC in New York. "What will be very important as we move into the second quarter will be whether we can get some upward follow-through as we get into earnings season. Until we break out of the current range, the market may sit on its hands for a little while longer."
     U.S. stocks joined equities around the world in a March rebound as central banks from Asia to Europe and America signaled they stand ready to bolster flagging growth. That spurred demand for risk assets after a six-week rout punished stocks amid concern China's slowdown would spread.
     Trading remained light Thursday, continuing a three-week stretch that's seen the S&P 500 go its longest without a daily move of 1 percent in more than a year. Friday's jobs report will focus attention on the strength of the world's largest economy as the second quarter kicks off, with corporate earnings season starting in two weeks.
     The S&P 500 slipped 0.2 percent to 2,059.74 at 4 p.m. in New York, bringing its March advance to 6.6 percent after three straight monthly declines. The Dow Jones Industrial Average lost 31.57 points, or 0.2 percent, to 17,685.09, trimming its monthly gain to 7.1 percent. The Nasdaq Composite Index increased less than 0.1 percent and rose 6.8 percent for the month. About 6.8 billion shares traded hands on U.S. exchanges, 20 percent below the 2016 average.
     The Chicago Board Options Exchange Volatility Index rose 2.9 percent today to 13.95. The gauge of market turmoil known as the VIX still snapped the longest streak of monthly increases in four years, falling yesterday to the lowest since Aug. 17 after slowing growth in China and a renewed rout in crude heightened investor anxiety in the first six weeks of the year.
     Oil and gas companies capped the best quarter since June 2014, after recovering from a drop of more than 9 percent. With oil rebounding from a rout, the group snapped the longest quarterly losing streak on record. Energy producers in the S&P 500 completed their first monthly climb since October, rising 9.2 percent in the period. Chesapeake Energy Corp. jumped 58 percent, the most in 15 years, to lead the group in March while Murphy Oil Corp. surged 47 percent, the most ever.
     Financial companies struggled to add to a March advance while finishing the strongest month in four years. Asset managers Legg Mason Inc. and Affiliated Managers Group Inc. soared more than 17 percent since February ended. The group has also staged a sharp recovery since Feb. 11, after a nearly 18 percent selloff to start the year as investors worried loans to energy companies would turn sour amid crude's tumble.
     Banks in the benchmark managed to rebound 5.6 percent this month, though the group closed with a 13 percent quarterly slide, the worst since 2011. Bank of America Corp. and Citigroup Inc. have each lost more than 19 percent since the year began.                    
     Raw-materials producers pared their biggest monthly advance since October. Freeport-McMoRan Inc. was the S&P 500's strongest first-quarter climber amid the copper miner's biggest gain in seven years, up 53 percent. Newmont Mining Corp. climbed 48 percent, the most since 1987 as gold rallied. After the worst monthly drop since 2011 in January, the group has rallied 15 percent as concerns on China have diminished and crude recovers from a 12-year low.
     One of the biggest boosters to technology shares in March, International Business Machines Corp., added 2.1 percent Thursday to its best month since 2002. IBM rose almost 16 percent in March to lead the Dow average and posted the strongest quarterly increase in three years. Yahoo! Inc. rallied more than 15 percent this month, the most since October, as it faces a battle with an activist investor for control of its board and considers selling its Internet businesses.
     In the tumultuous quarter, investors sought refuge in the relative safety of defensive stocks, with utilities rising 14 percent during the period, the steepest in nearly 13 years. It was the industry's best month since October 2014. Phone companies slipped Thursday, trimming their biggest quarterly advance in more than five years. Verizon Communications Inc. and AT&T Inc. have risen more than 13 percent since 2015 ended, marking their best quarter since at least 2012.
     Investors were prowling for some quarter-end bargains today as drugmakers helped limit declines in health-care shares, the biggest losers during the period. The Nasdaq Biotechnology Index advanced 2.2 percent, shaving its quarterly loss to 23 percent, the most in almost 14 years.
     Stocks rallied in the prior two sessions after Federal Reserve Chair Janet Yellen signaled on Tuesday the central bank will be cautious in raising interest rates because of heightened economic risks overseas. Fed Bank  of New York President William C. Dudley is scheduled to speak Thursday after the close of markets.
     Traders are pricing in no possibility of a rate boost in April, while the chances for a June increase have fallen to 20 percent from 46 percent last week. December is now the first month with at least even odds of higher borrowing costs.
     With policy makers focused on economic data to steer their rate decisions, attention is on the government's monthly jobs report tomorrow. Economists surveyed by Bloomberg estimate U.S. employers added 205,000 workers in March, compared with 242,000 the previous month as the unemployment rate remained at 4.9 percent. A report today showed the number of applications for unemployment benefits climbed last week to a two-month high, a sign of more moderate labor market progress.
     "There's a lot of anticipation around tomorrow's jobs data, as well as some other market-moving reports," said Tim Ghriskey, who helps oversee $1.5 billion as managing director and chief investment officer at Solaris Asset Management in New York. "That's keeping investors from either taking new positions or selling existing ones, at least so far."
     The quarter end means the earnings season looms, with Alcoa Inc. marking the unofficial start when it reports results on April 11. Analysts forecast profits at S&P 500 companies fell 9.3 percent in the period, compared with predictions for a 4.5 percent drop two months ago.
Have a wonderful evening everyone.
Be magnificent!
Knowledge is the annihilation of the separation between me and the other.
Swami Prajnanpad
As ever,
Carolann
Where you live in the world should not determine
whether you live in the world.
                                             -Bono, b. 1960 
Carolann Steinhoff, B.Sc., CFP®, CIM, CIWM
Portfolio Manager &
Senior Vice-President
Queensbury Securities Inc.,
St. Andrew's Square,
Suite 340A, 730 View St.,
Victoria, B.C. V8W 3Y7