March 25, 2020 Newsletter
Dear Friends,
Tangents:
Old New Year's Day was on this date until 1751
On March 25, 1965, the Rev. Martin Luther King Jr. led 25,000 marchers to the state capitol in Montgomery, Ala., to protest the denial of voting rights to blacks.  Go to article »
By Gary Zukav:
Your job and my  job while here is to align our personalities with our souls.  And we do that by becoming the personality that has the same intentions as the soul: harmony, cooperation, sharing, and reverence for life.  Suppose, for example, you've got three children, and you're overwhelmed a lot.
You can find yourself frustrated and/or exasperated by the child that's most demanding.  You can find yourself angry at your spouse.  What do you do?  This is exactly the time to create authentic power, and here's how you do it.  First, instead of acting on the impulse to tell the child, "Be quiet or you're going to go to your room for six months," or yelling at your spouse, instead go inside yourself.  That's the first step.  That is developing emotional awareness.
  The second step: Once you can do this, you put yourself in a very powerful position.  Because just by turning inward instead of acting in the moment, you have created a little gap between the impulse and the action.  And into that space, you can inject consciousness.  Into that  space, you can do something you couldn't have done before.  Choose consciously.  You can decide, I am going to say this to my spouse.  He or she is insensitive and I'm sick and tired of it.  But instead of reacting harshly, I'm going to act from the most loving part of my personality that I can reach for in that moment.
And it may be that the most loving part of your personality you can reach for is just not to say anything.
But you have then changed your universe.  It's your choice.  And you make the choice every time you choose an intention.  When you choose an intention of love instead of an intention of fear.  That is the spiritual journey.  That is the spiritual path. –The Path Made Clear, Oprah Winfrey, 2019.
Neighborhood restaurants are turning into liquor stores. –Bloomberg.
Take Yale's most popular course ever, "The Science of Well Being."-Bloomberg.
Take a video tour of the Winchester Mystery House. -Bloomberg.
PHOTOS OF THE DAY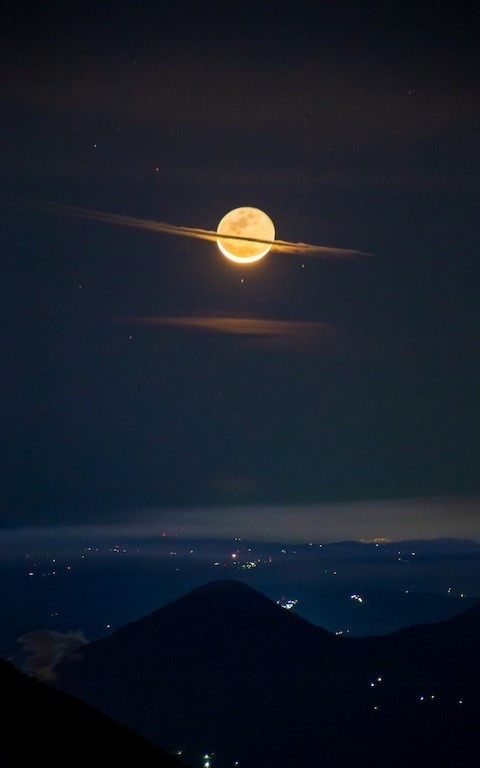 The moon disguised as Saturn as clouds form rings around it, above the base camp of volcano Acarenango, Guatemala.
CREDIT: FRANCISCO SOJUEL/ SWNS.COM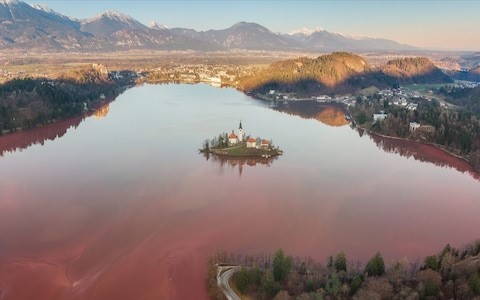 A lone 17th century church sits in the middle of a red lake. The water is turned red as a result of algae-phytoplankton -blooming. But this year, as a result of climate change and a mild winter, the colour is more intense.
CREDIT: ALES KOMOVEC/SOLENT NEWS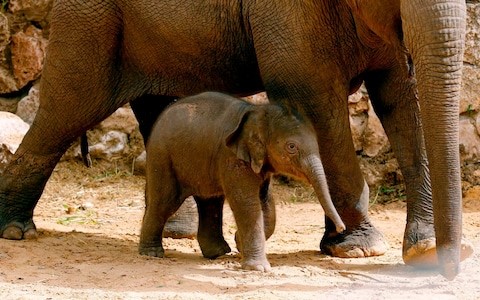 A 6-day-old baby Asian elephant walks with his mother "La Petite" at the Ramat Gan Safari, or the Tel Aviv Zoological Center-Ramat Gan in Israel.
CREDIT: JACK GUEZ/ AFP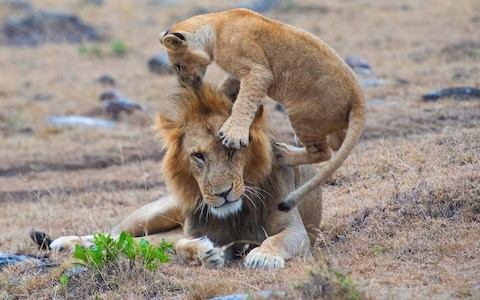 A playful lion cub, trying to get the attention of his father, jumps onto his head. The cub had been circling the lion and nipping his hear attempting to get him tp play-but the relaxed lion was unfazed. Masai Mara national reserve in Kenya.
CREDIT: MICHAEL SNEDIC/SOLENT NEWS
Market Closes for March 25th ,2020 
Market
Index
Close
Change
Dow
Jones

21200.55

+495.64

+2.39%

S&P 500

2475.56

+28.23

+1.15%

NASDAQ

7384.297

-33.560

-0.45%

TSX

13139.23

+568.15

+4.52%
International Markets
Market
Index
Close
Change
NIKKEI

19546.63

+1454.28

+8.04%

HANG
SENG

23527.19

+863.70

+3.81%

SENSEX

28535.78

+1861.75

+6.98%

FTSE 100*

5688.20

+242.19

+4.45%
Bonds
Bonds
% Yield
Previous % Yield
CND.
10 Year Bond

0.899

0.874

CND.
30 Year
Bond

1.380

1.334

U.S.   
10 Year Bond

0.8657

0.8482

U.S.
30 Year Bond

1.4424

1.3990
Currencies
BOC Close
Today
Previous  
Canadian $

0.70435

0.69076

US
$

1.41975

1.44767

Euro Rate
1 Euro=

Inverse

Canadian $

1.54435

0.64752

US
$

1.08791

0.91920
Commodities
Gold
Close
Previous
London Gold
Fix

1605.75

1525.40

Oil
WTI Crude Future

18.99

20.01
Market Commentary:
On this day in 1966, Bank of America executive Kenneth Larkin drafted a memo proposing that Bankamericard should expand outside the bank's home state of California and offer credit card services to merchants and retail customers nationwide. The Visa card, and the ability to borrow and spend anywhere at any time, were born.
Canada
By Divya Balji and Aoyon Ashraf
     (Bloomberg) — Canada's stock market surged for a second day, putting it on the cusp of a bull market, as investors saw hope that government spending plans will bolster a global economy hit by the coronavirus pandemic.
     The S&P/TSX Composite Index closed 4.5% higher, posting its first back-to-back gains since Feb. 20, the day the market peaked. The head-spinning rebound happened as Justin Trudeau's government won support in the House of Commons for his stimulus deal and the U.S. Senate moved toward a vote on a $2 trillion package of spending and tax breaks.
     "Canadian stocks are surging higher as fiscal stimulus measures across the globe get finalized and as some investors see the light at the end of the pandemic tunnel," said Ed Moya, a senior market analyst at Oanda Corp. in New York. With a 17% rise in two days, the S&P/TSX Composite is 335 points or 2.5% away from crossing 13,474.19, the level that would signal a new bull market. That would be a dramatic turn of events for a market that sank to the lowest level since 2011 only on Monday. Moya said investors should stay cautious. "Last week, panic selling seemed to have ended, but if history of past crashes holds true, investors should not be surprised if we see the majority of this two-day rally erased," he said.
     The economic hit of the coronavirus fallout in North America is only now starting to show. Last week, 929,000 Canadians applied for unemployment benefits and two new surveys suggested the economic pain is just beginning. The pandemic- induced shutdown of the economy has resulted in job loss or reduced work hours for 44% of Canadian households, the Angus Reid Institute said Wednesday.
     The Canadian Federation of Independent Business also reported that small business confidence in Canada collapsed in March to the lowest level on record. The confidence index fell to 30.8, from 60.5 in February, and widespread declines are seen in every province and industry.
     And while the benchmark's winning streak has helped investors recoup some losses from the rout, it's still down about 27% from its Feb. 20 record high. Markets will bounce back eventually, said Alicia Levine, chief strategist at BNY Mellon Investment Management. "Ultimately the stimulus will support the economy when we
get to the other side of this," she said on BNN Bloomberg. "The reality is that we all understand that all of our societies and economies have to be under lockdown for a while simultaneously to get through it."
     The loonie strengthened 1.9% to C$1.4194 per U.S. dollar and the yield on 10-year federal government debt climbed to 0.89%.
By Bloomberg Automation
     (Bloomberg) — The S&P/TSX Composite rose for the second day, climbing 4.5 percent, or 568.15 to 13,139.23 in Toronto.
     The index advanced to the highest closing level since March 13. Toronto-Dominion Bank contributed the most to the index gain, increasing 6.6 percent. Chorus Aviation Inc. had the largest increase, rising 28.5 percent.
     Today, 204 of 230 shares rose, while 26 fell; all sectors were higher, led by financials stocks.
Insights
* In the past year, the index had a similar or greater gain two times. The next day, it declined 9.9 percent once and advanced 4.5 percent once
* This quarter, the index fell 23 percent, heading for the biggest decline in at least 10 years
* This month, the index fell 19 percent, heading for the biggest decline in at least 10 years
* The index declined 18 percent in the past 52 weeks. The MSCI AC Americas Index lost 13 percent in the same period
* The S&P/TSX Composite is 26.9 percent below its 52-week high on Feb. 20, 2020 and 17.6 percent above its low on March 23, 2020
* The S&P/TSX Composite is up 12 percent in the past 5 days and fell 24 percent in the past 30 days
* S&P/TSX Composite is trading at a price-to-earnings ratio of 13.1 on a trailing basis and 13.1 times estimated earnings of its members for the coming year
* The index's dividend yield is 4 percent on a trailing 12-month basis
* S&P/TSX Composite's members have a total market capitalization of C$1.92t
* 30-day price volatility rose to 85.40 percent compared with 83.83 percent in the previous session and the average of 43.97
percent over the past month
=========================================
| Index Points | |
Sector Name | Move | % Change | Adv/Dec
=========================================
Financials | 263.1992| 6.7| 25/1
Energy | 93.5028| 5.9| 29/1
Utilities | 76.1062| 11.9| 16/0
Communication Services | 40.5146| 5.3| 7/1
Consumer Discretionary | 37.4546| 8.5| 16/0
Real Estate | 36.8795| 9.9| 25/0
Health Care | 7.4556| 5.7| 10/0
Materials | 5.5530| 0.3| 39/8
Consumer Staples | 5.1106| 0.9| 5/6
Industrials | 1.5156| 0.1| 25/6
Information Technology | 0.8726| 0.1| 7/3
US
By Vildana Hajric and Sarah Ponczek
     (Bloomberg) — U.S. stocks posted their first back-to-back gains since Feb. 12 as investors awaited unprecedented government spending packages aimed at countering the hit from the coronavirus pandemic. Ten-year Treasury yields were steady.
     The S&P 500 Index logged its biggest two-day advance since November 2008 after overnight negotiations in Congress paved the way for a vote on the stimulus bill this week. Boeing Co. rallied 24%, lifting the price-weighted Dow Jones Industrial Average toward its best two days since 1987. The blue-chip index is still down about 25% from its February record.
     Stocks fell from the day's highs late in the session after Republican senators raised objections to the unemployment benefits section of the stimulus bill, and Vermont Senator Bernie Sanders threatened to hold up the legislation unless those objections were dropped. Apple Inc. was said to be discussing delaying its 5G iPhone, also weighing on sentiment.
     Despite hopes surrounding the stimulus, James Bullard of the St. Louis Federal Reserve Bank told reporters that he expects jobless claims to surge and said the U.S. won't resume normal life until people feel safe. "The agreement of a $2 trillion stimulus can help cushion the blow to the economy, but we don't think that it's all systems go for risk assets," said Mark McCormick, global head of FX strategy at Toronto Dominion Bank. "At least, the path ahead will be choppy." Equities also gained in Europe, where leaders are inching toward a fiscal package of their own. In Asia, a regional stock benchmark is posting the best one-day increase since 2008. West Texas crude rebounded somewhat after falling below $25 a barrel.
     The dollar dropped for a second day versus its biggest peers. Investors are seeing U.S. and global equity indexes posting their first consecutive daily gains since just before the rout began a month ago, even as economies from Milan to Seattle reel from the deepening pandemic. With infections mounting globally and Spain reporting more than 700 deaths in a single day, traders are reminded that the threat to the global economy is well alive.
     "These markets are trading on sentiment. Shifting between panic to optimism," said Nathan Thooft, Manulife Investment Management's head of global asset allocation. "At the macro level, policy keeps evolving, and the economic data we know is going to be bad, but magnitudes are a wild card and there is little certainty on duration."
     Spot gold drifted lower after a squeeze of historic proportions pushed its prices to the biggest one-day gain since November 2008 on Tuesday. The closing of refineries and demand for physical gold had caused a disconnect between prices in London and New York.
     These are the main moves in markets:
Stocks
* The S&P 500 Index rose 1.2% as of 4:04 p.m. New York time.
* The Stoxx Europe 600 Index gained 3.1%.
* The MSCI Asia Pacific Index rose 5.6%.
Currencies
* The Bloomberg Dollar Spot Index declined 1.2%.
* The euro gained 0.9% to $1.0888.
* The British pound advanced 1.1% to $1.1886.
* The Japanese yen was little changed at 111.18 per dollar.
Bonds
* The yield on 10-year Treasuries was little changed at 0.84%.
* Germany's 10-year yield rose six basis points to -0.262%.
* Britain's 10-year yield slid three basis points to 0.445%.
Commodities
* Gold declined 1.3% to $1,610.41 an ounce.
* West Texas Intermediate crude gained 1.5% to $24.37 a barrel.
–With assistance from Jeremy Herron, Katherine Greifeld, Cecile Gutscher and Todd White.
Have a great night.
Be magnificent!
As ever,
Carolann
Nothing softeneth the arrogance of our nature like a mixture of some frailties. It is by them that we are best told, that we must not strike too hard upon others because we ourselves do so often deserve blows. They pull our rage by the sleeve and whisper gentleness to us in our censures.
                                                                         -Edward Frederick Lindley Wood, 1st Earl of Halifax, 1881-1959.
Carolann Steinhoff, B.Sc., CFP®, CIM, CIWM
Senior Investment Advisor
Queensbury Securities Inc.,
St. Andrew's Square,
Suite 340A, 730 View St.,
Victoria, B.C. V8W 3Y7
Tel: 778.430.5808
(C): 250.881.0801
Toll Free: 1.877.430.5895
Fax: 778.430.5828