June 30, 2015 Newsletter
Dear Friends,
Tangents:
Tonight PBS features the program, 1913: Seeds of Conflict.  It looks back at the region known as Palestine at the end of the Ottoman Empire, when Jews and Arabs lived near each other with more peaceful relations.  This one hour documentary, directed by Ben Loeterman airs tonight at 9 PM and seeks to unveil what has changed and what we can learn from this time period.   Should be interesting…
July: The seventh month, named by Mark Anthony in honour of Julius Caesar.  It was formerly called Quintilis, as it was the fifth month of the Roman year.  The old Dutch name for it was Hooy-maand – hay month – while the Anglo-Saxons knew it as Moedmonath – meadow month because the cattle were turned into the meadows to feed them.  In the French Revolutionary calendar, the equivalent was Messidor – harvest gift – corresponding to the period 20th June to 19th July.
Until the 18th century, July was accented on the first syllable.  Even as late as 1798, Wordsworth wrote:
In March, December, and in July,
'Tis all the same with Harry Gill,
The neighbours tell and tell you truly,
His teethe they chatter,chatter still.
'Goody Blake and harry Gild.'
                -from Brewer's Dictionary of Phrase & Fable
PHOTOS OF THE DAY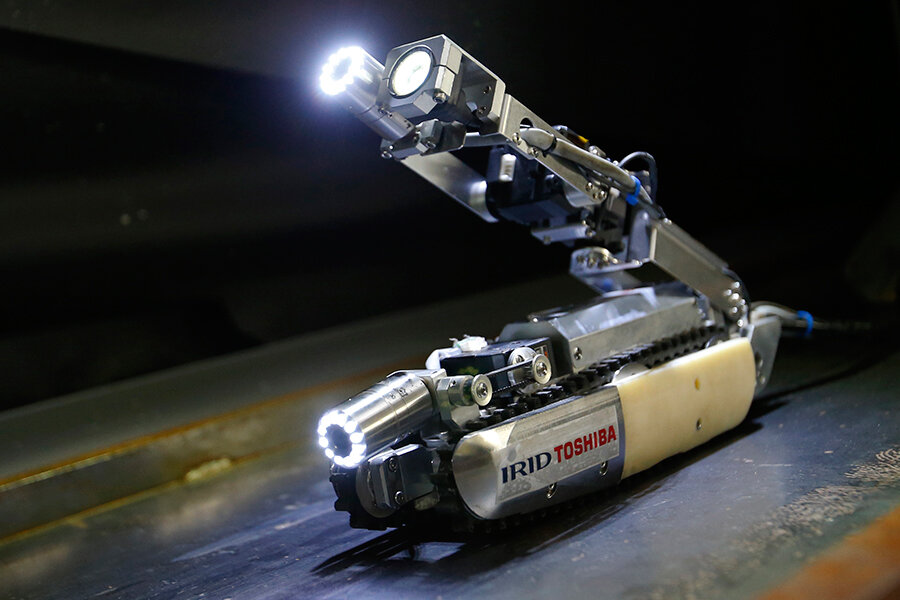 A robot developed by Toshiba Corporation gives a demonstration at its laboratory in Kawasaki, near Tokyo, Tuesday. As Japan struggles in the early stages of decades-long cleanup of the Fukushima nuclear crisis, Toshiba has developed this robot that raises its tail like a scorpion to collect data and will hopefully locate some of melted debris. The 'scorpion' robot, which is 54 cm (21 in) long when extended and has two cameras, LED lighting, and a dosimeter, will be sent into the Unit 2 reactor in August to look around. Shizuo Kambayashi/AP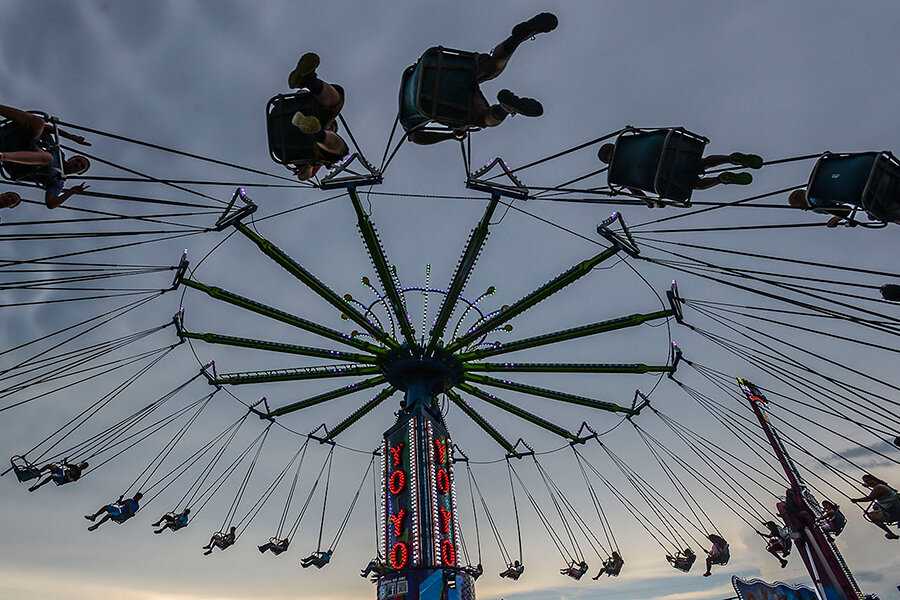 Riders have fun on the Yo Yo at the Lincoln County Fair near Stanford, Ky., Monday. Clay Jackson/AP
It was never my thinking that made the big money for me.  It was always my sitting.  Got that?  My sitting tight. – Jesse Livermore, 1877-1940, How to Trade in Stocks.
Market Closes for June 30th, 2015
Market

Index

Close
Change
Dow

Jones

17619.51

+23.16

 

+0.13%

 

S&P 500

2063.11

 

+5.47

 
 

+0.27%

 

NASDAQ

4986.867

 

+28.399

 
 

+0.57%

 

TSX

14553.33

+63.18

 
 

+0.44%




 

 
International Markets
Market

Index

Close
Change
NIKKEI

20235.73

+125.78

 

+0.63%

 

HANG

SENG

26250.03

+283.05

 

+1.09%

 

SENSEX

27780.83

+135.68

 

+0.49%

 

FTSE 100

6520.98

-99.50

 

-1.50%

 
Bonds
Bonds
% Yield
Previous  % Yield
CND.

10 Year Bond

1.683

1.742




 

 

CND.

30 Year

Bond

2.303

2.350

U.S.   

10 Year Bond

2.3531

2.3224

 
 

U.S.

30 Year Bond

3.1236

3.0917

 
 
Currencies
BOC Close
Today
Previous  
Canadian $

0.80074

0.80639




 




 

US

$

1.24884

1.24010

 

 

 
Euro Rate

1 Euro=

 

Inverse

Canadian $

1.39118

0.71882




 




 

US

$

1.11397

0.89769
Commodities
Gold
Close
Previous
London Gold

Fix

1171.00

1176.00

 

 

 

Oil

Close

Previous

WTI Crude Future

59.47

58.33

 
Market Commentary:
Canada
By Eric Lam
     (Bloomberg) — Canadian stocks rose, after erasing gains for the year yesterday, to pare a June decline as consumer and health-care shares rebounded.
     ProMetic Life Sciences Inc. soared 16 percent to lead health-care shares higher, while Valeant Pharmaceuticals International Inc. added 1.5 percent. Magna International Inc. gained 1.7 percent amid a report the auto parts company is interested in acquiring German transmissions maker Getrag. Element Financial Corp. climbed 2.9 percent to a record. Bankers Petroleum Ltd. added 5.8 percent as oil recovered from a two- month low.
     The Standard & Poor's/TSX Composite Index rose 63.18 points, or 0.4 percent, to 14,553.33 at 4 p.m. in Toronto, after plunging 2.2 percent yesterday. The benchmark equity gauge retreated 3.1 percent in June, and fell 2.3 percent for the quarter. It is down 0.5 percent for the year.
     "The fact we're seeing the bounceback so quickly is evidence the market is still confident and optimistic," said Kash Pashootan, a portfolio manager at First Avenue Advisory of Raymond James Ltd. in Ottawa. His firm manages about C$225 million. "So it's a positive. But the question marks around Greece yesterday still exist today, so we're a bit cautious about buying in now."
     All 10 industries in the S&P/TSX rose, led by a 1.6 percent advance in health-care shares, on trading volume 6.5 percent higher than the 30-day average.
     German Chancellor Angela Merkel dismissed a request for aid from Greece hours before its bailout expires and a payment deadline to the International Monetary Fund passes. Merkel rejected talks before a July 5 referendum in Greece on further budget cuts. Greece has until 6 p.m. New York time to make a $1.7 billion payment to the IMF as Europe's funding program expires.
     Canada's economy unexpectedly shrank for the fourth month in a row, opening the door to a second interest-rate cut from the central bank this year. Output slipped 0.1 percent in April as oil and mining slumped, according to data from Statistics Canada. None of the 20 economists surveyed by Bloomberg predicted a decline and their median estimate was for a 0.1 percent expansion.
     The Shanghai Composite Index climbed 5.5 percent, rebounding after entering a bear market yesterday. China's stock market has plunged as leveraged speculators unwind their positions and a growing number of analysts warn that valuations have climbed too far. China is Canada's second-largest trading partner after the U.S.
US & INTERNATIONAL:
By Jeremy Herron
     (Bloomberg) — U.S. stocks halted a nine-quarter winning streak and European equities capped the worst three months since 2012 as Greece's last-ditch bid to secure aid before its bailout expires was rebuffed. Treasuries saw their first quarterly retreat since 2013 with the Federal Reserve poised to raise interest rates this year, while oil surged.
     The Standard & Poor's 500 Index rallied 0.3 percent by 4 p.m. in New York, following its steepest one-day slump since April 2014. The gauge slid 0.2 percent in the quarter, extending its worst start to a year since 2010. The Stoxx Europe 600 Index sank 1.3 percent Tuesday to cap a 4 percent slide in the three- month period. The euro lost 0.8 percent to $1.1147, paring its first quarterly gain since early 2014. Yields on 10-year Treasuries added 43 basis points this quarter.
     Greece has until 6 p.m. New York time to make a $1.7 billion payment to the International Monetary Fund, with an 11th hour proposal from the government shut down by German Chancellor Angela Merkel. Merkel rejected talks before the July 5 referendum as capital controls start to be felt in the indebted nation. The S&P 500 is up 0.2 percent in 2015, after three years of double-digit gains in the period, on prospects the economy is strong enough to withstand higher rates this year.
     "Greece of course coming right at the end of the quarter is scrambling everything up," John Fox, director of research at Fenimore Asset Management in Cobleskill, New York, said by phone. "Our stocks are trading at 100 percent fair value. They're not really over-valued but they're not cheap. Fixed income has really struggled."                         
     The final day of the second quarter saw intensifying drama in the Greek debt standoff as the country embarked on a round of last ditch efforts to receive a financial lifeline. The government asked for a two-year bailout program from the European Stability Mechanism, sought an extension from the IMF and asked the European Central Bank to extend emergency financing.
     The S&P 500 opened sharply higher after plunging 2.1 percent on Monday to its lowest level since March. The gauge then erased the gains on signs that Greece's creditors wouldn't entertain the new proposals, leaving it up to the government to accept a deal it has deemed untenable.
     The S&P 500 fell this week to within 5 points of its average price during the past 200 days before reversing. Stocks have only crossed the level once since 2012 — the period of last October's selloff, which gave way to an 11 percent advance at the end of 2014.                     
     The U.S. equities benchmark climbed as much as 3 percent during the quarter, setting a fresh all-time high on May 21. Health-care companies added 2.6 percent amid merger activity. The increased in bond rates that hit Treasuries boosted financial shares, while utility stocks, long in favor for their dividend yield, plunged 6.6 percent.
     Data Tuesday showed U.S. consumer confidence increased more than forecast in June as Americans grew more optimistic about the economy and the labor market. Employers added 280,000 jobs in May, the most in five months, and hourly earnings climbed from a year ago by the most since August 2013, a Labor Department report showed June 5. June payrolls data will be available later this week.
     Energy shares in the S&P 500 didn't benefit from U.S. crude oil's best quarterly gain since 2009. The group slumped 2.4 percent, a fourth straight retreat that brings their decline in the past year to 24 percent. West Texas Intermediate oil jumped 25 percent in the three months to June 30, outperforming a 15 percent gain for Brent.
     Oil declined in June as the Greek debt crisis prompted investors to avoid risky assets, while signs of a global supply glut persisted. Crude is still down by more than 40 percent from its June 2014 high.
     European assets were whipsawed Tuesday by comments from government officials all over the euro zone on the Greek crisis.
     The Global X FTSE Greece 20 ETF added 6 percent in New York after slumping 19 percent on Monday. American depositary receipts of National Bank of Greece SA rose 7.9 percent following a 24 percent plunge.
     The Stoxx 600 fell a second day after its worst slide of the year on Monday. Greece's ASE Index rose 2.8 percent in the second quarter, before the exchange was closed on Monday. The Stoxx 600 rallied 16 percent in the first quarter and hit a record in April, spurred higher by the European Central Bank's stimulus program.
     The advance was stymied by the Greek crisis, a rebound in the euro and a rout in the region's sovereign debt markets. Germany's DAX Index plunged 8.5 percent in the quarter, the biggest decline since 2011 and among the worst performances among 24 developed markets.
     While Greek turbulence played out in European bond markets, moves reflected investor optimism that contagion would be contained by euro-area and European Central Bank firewalls.
     Italian government bonds rose Tuesday, halting a two-day decline as the nation sold 6.8 billion euros ($7.6 billion) of debt.
     "If you were looking for serious contagion we would expect auctions to fail or have very meager demand," said Marius Daheim, a senior rates strategist at SEB AB in Frankfurt.                         
     Euro-area sovereign securities handed investors a 5.7 percent loss this quarter through June 29, according to Bank of America Merrill Lynch's Euro Government Index, the worst performance in data going back to 1985.
     The euro's decline Tuesday came after a 0.6 percent increase on Monday. It's up 3.9 percent against the dollar this quarter, the most since September 2013.
     The euro has defied forecasters who saw the currency slumping to $1.06 by the end of June as recently as three months ago. Analysts now see it close to that level — at $1.05 — by year-end, the median of more than 60 estimates compiled by Bloomberg show.
     The MSCI Emerging Markets Index added 1.3 percent Tuesday, paring a 3.2 percent drop in June. The gauge declined 02 percent in the quarter, trimming its gain in 2015 to 1.7 percent.                         
     The Shanghai Composite Index index rose for the first time in four days Tuesday to finish the quarter 14 percent higher, a fifth straight quarterly advance. The gauge tumbled from a seven-year high on June 12 into a bear market on Monday. The Hang Seng China Enterprises Index of Chinese shares listed in Hong Kong capped a third straight quarterly advance.
     Puerto Rico bonds tumbled for a second day, extending their biggest selloff in at least two decades, after Governor Alejandro Garcia Padilla moved to restructure the junk-rated island's $72 billion of debt to ease a fiscal crisis.
     Japan's Topix index rebounded from its worst drop since January to finish the quarter higher by 5.7 percent, a fifth straight gain.
     Platinum fell for a fourth quarter in the longest run of losses since March 1997. Prices touched $1,060.20 on June 22, a six-year low. Gold for immediate delivery slipped 1 percent in the three-month period to cap a fourth decline, its longest run of quarterly losses since June 1997.
Have  a wonderful evening and Canada Day everyone!
Be magnificent!
There is no master, there is no instructor,
there is no person to tell you what you must do.
Krishnamurti
As ever,
Carolann
There is no failure except in no longer trying.
                     -Elbert Hubbard,1856-1915
Carolann Steinhoff, B.Sc., CFP®, CIM, CIWM
Senior Portfolio Manager &
Senior Vice-President
Queensbury Securities Inc.,
St. Andrew's Square,
Suite 340A, 730 View St.,
Victoria, B.C. V8W 3Y7