July 31, 2015 Newsletter
Dear Friends,
Tangents:
Full Moon Tonight!
AUGUST
Leo/ Virgo
Birthstone: Peridot
Flower: Gladiolus
The days seem to shorten.  The nights, deep and warm, grow longer.  Tree frogs and crickets echo in the darkness.  Summer is short.  Apples are on  the trees.  The first fruits are gathered.  It's the Celtic feast of Lugh, the God of Light, Christian Lammastide or Loaf Mass, when the first grains are ground and baked and placed upon the alter.  For the Celts, Lugh ordained the feast be held in honor of his mother Tailltiu, the Earth Mother.  Christians, too, celebrate Mary, Mother of Compassion, who carried all things in her heart and gave birth to the light.  What gifts!  What freedom!  This is the time to put on the garments of the spirit, to hold memories in our hearts.  Something is germinating secretly, silently within us.  Tread softly and take care of yourself and the world so that what your are carrying might come to birth. -by Cosmo Doogood
PHOTOS OF THE DAY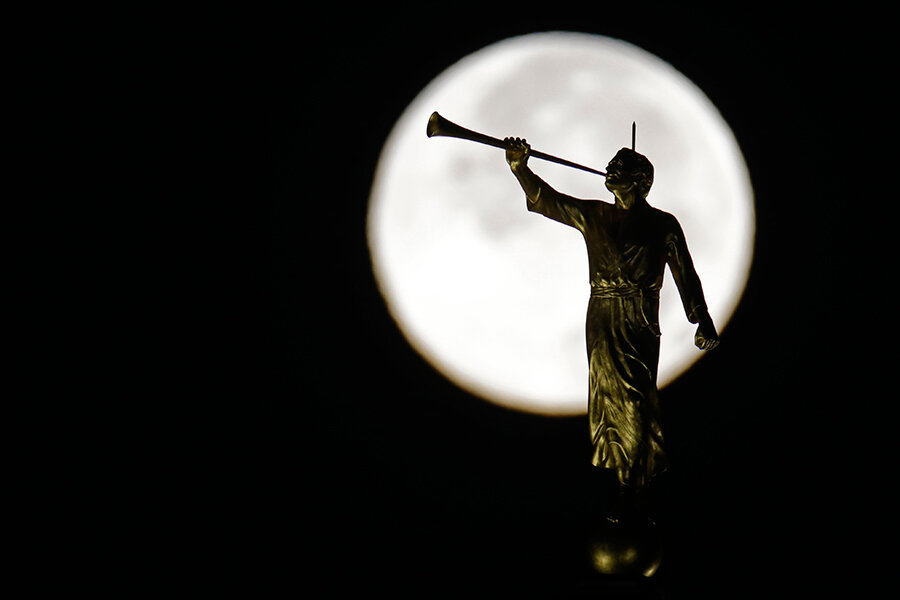 The moon sets behind a gilded statue of the angel Moroni atop the Indianapolis, Indiana Temple of The Church of Jesus Christ of Latter-day Saints in Carmel, Ind., early Friday morning. Michael Conroy/AP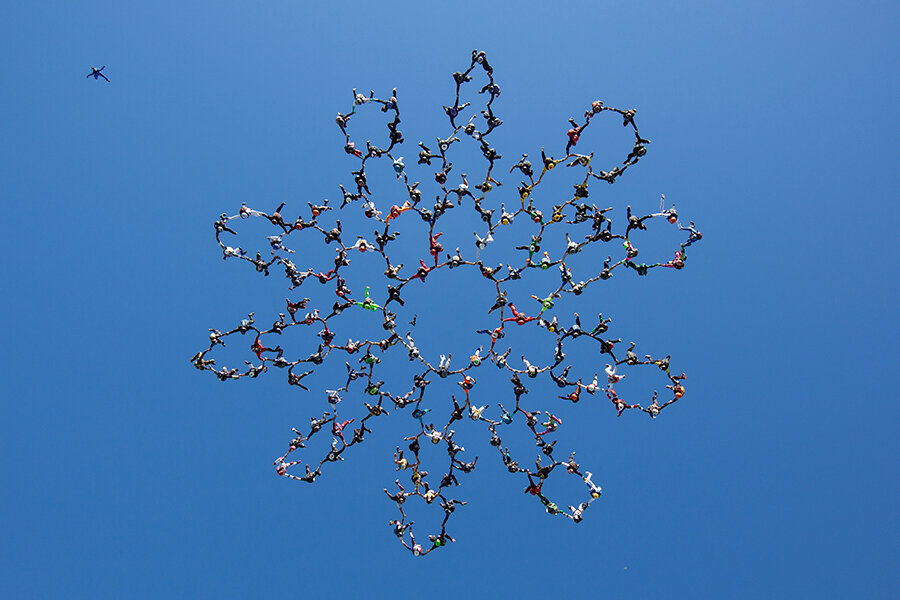 Members of an international team of skydivers join hands in a head-first dive to build their world record-breaking skydiving formation over Ottawa, Ill., Friday. It took the team 13 attempts to build the formation, resembling a giant flower, to beat a 2012 record set by 138 skydivers. Jason Peters/AP
Market Closes for July 31st, 2015
Market

Index

Close
Change
Dow

Jones

17691.53

-54.45

 

 

-0.31%

 

S&P 500

2103.58

 

-5.05

 
 

-0.24%

 

NASDAQ

5128.281

 

-0.503

 

-0.01%

 

TSX

14450.65

+67.87

 

+0.47%

 
International Markets
Market

Index

Close
Change
NIKKEI

20585.24

+62.41

 

+0.30%

 

HANG

SENG

24636.28

+138.30

 

+0.56%

 

SENSEX

28114.56

+409.21

 

+1.48%

 

FTSE 100

6696.28

+27.41

 

+0.41%




 




 
Bonds
Bonds
% Yield
Previous  % Yield
CND.

10 Year Bond

1.441

1.493




 




 

CND.

30 Year

Bond

2.126

2.161

U.S.   

10 Year Bond

2.1890

2.2625

 

U.S.

30 Year Bond

2.9116

2.9476




 




 
Currencies
BOC Close
Today
Previous  
Canadian $

0.76436

0.76907




 




 

US

$

1.30828

1.30028

 

 

 
Euro Rate

1 Euro=

 

Inverse

Canadian $

1.43696

0.69592

 

US

$

1.09835

0.91045
Commodities
Gold
Close
Previous
London Gold

Fix

1098.40

1087.50

 

 

 

Oil

Close

Previous

WTI Crude Future

47.30

48.52

 
Market Commentary:
Canada
By Eric Lam
     (Bloomberg) — Canadian stocks rose, capping the best week since April and paring a monthly loss, as raw-materials producers increased with a rebound in the price of gold.
     Yamana Gold Inc. and Semafo Inc. added more than 8.8 percent to pace gains among gold producers. CCL Industries Inc. climbed 9.6 percent after second-quarter earnings topped analysts' estimates. Gildan Activewear Inc. tumbled 7.6 percent after the apparel maker cut its revenue target for the year. Bombardier Inc. lost 7.4 percent to a 1993 low.
     The Standard & Poor's/TSX Composite Index rose 85.95 points, or 0.6 percent, to 14,468.73 at 4 p.m. in Toronto. It rose 2 percent for the week, the most since April. The S&P/TSX slumped 0.6 percent in July for a third monthly decline. Canadian equity markets will be closed on Monday for a civic holiday.
     Eldorado Gold Corp. jumped 11 percent and Goldcorp Inc. rallied 6 percent as raw-materials producers gained 2.8 percent as a group. Seven of 10 industries in the S&P/TSX advanced on trading volume 5.6 percent higher than the 30-day average today.
     Gold posted the first gain in four days as investors look for hints on when the Federal Reserve will raise interest rates. Wages and salaries in the U.S. rose in the second quarter at the slowest pace on record, a setback that may prompt some Fed policy makers to call for a delay in raising rates for the first time since 2006.
     Canadian gross domestic product fell 0.2 percent in May, bringing the decline since the start of the year to 0.8 percent as the economy struggled with plunging oil prices. Economists surveyed by Bloomberg projected no change in May output. The five-month decline is the longest slump since the 2008-2009 recession.
     Raw-materials and energy companies are the worst performers in the S&P/TSX this year, down at least 13 percent, amid a rout in commodities prices that has driven oil into a bear market and gold to a five-year low.
     Volatility in Europe and China has increased concern the global economy is slowing, resulting in lower demand for raw materials.
     The Bloomberg Commodity Index has retreated 11 percent in July, for the biggest monthly decline in almost four years after sinking to a 13-year low this week.
US
By Annelise Alexander and Joseph Ciolli
     (Bloomberg) — The Standard & Poor's 500 Index pared its best monthly gain since February after disappointing results from Exxon Mobil Corp. and Chevron Corp.
     Energy shares fell the most since January as Exxon and Chevron slumped at least 4.5 percent. LinkedIn Corp. tumbled 10 percent amid concerns growth is slowing in its main business. Amgen Inc. rallied 2.9 percent and Expedia Inc. jumped 13 percent on better-than-estimated earnings. Coca-Cola Enterprises Inc. added 12 percent after a report said it's considering a three-way merger with two other bottlers.
     The S&P 500 declined 0.2 percent to 2,103.84 at 4 p.m. in New York, falling for the first time in four days. The Dow Jones Industrial Average slipped 56.12 points, or 0.3 percent, to 17,689.86, with a 55-point drag from Chevron and Exxon. The Nasdaq Composite Index decreased less than 0.1 percent. About 6.8 billion shares traded hands on U.S. exchanges, 6 percent above the three-month average.
     A report today showed wages and salaries in the U.S. rose in the second quarter at the slowest pace on record, dashing projections that an improving labor market would boost pay. The data sparked speculation that slow wage growth will temper Federal Reserve plans for higher interest rates.
     "This came as a pretty big stunner for the markets," said Robert Sinche, a strategist at Amherst Pierpont Securities LLC in Stamford, Connecticut. "The dovish wing of the Fed is going to latch on to this wage data pretty aggressively."
     Fed Chair Janet Yellen and her colleagues are counting on rising wages to boost the economy and bring inflation closer to their 2 percent goal. The setback may prompt some officials to call for a delay in raising interest rates for the first time since 2006.                           
     Yellen has said the Fed is likely to tighten policy this year should the economy continue to improve in line with her expectations. She has emphasized that the timing of rate liftoff is less important than the subsequent pace of increases, which she said would be gradual. Economists have put the chance of a September increase at 50 percent.
     "It makes it that much tougher for the Fed to raise rates when you have no wage growth," said Bruce Bittles, chief investment strategist at Milwaukee-based Robert W. Baird & Co., which oversees $110 billion. "In a market that's trading in such a tight trading range, investors are taking any piece of material that comes out as potentially being important to changing the character of the market."
     Separate data Friday showed consumer confidence retreated in July as Americans' expectations deteriorated to an eight- month low.
     The S&P 500 rose 2 percent in July after dropping 2.1 percent in the previous month. The gauge gained 1.2 percent for the week, as shares rallied on Tuesday and Wednesday to end the longest losing streak since January. Equities had fallen 2.9 percent over a five-session stretch amid concerns about growth in China and some corporate earnings disappointments.
     About two-thirds of the S&P 500 companies have reported earnings this season, with 74 percent beating profit estimates and half of them topping sales projections. Analysts expect a 2.8 percent drop in second-quarter earnings, shallower than calls for a 6.4 percent fall two weeks ago.
     "The most important thing is earnings," said Karyn Cavanaugh, a senior market strategist at Voya Investment Management LLC. "If the sky is falling, companies wouldn't be able to make money. The fact that earnings are coming in pretty decently has a settling effect on the market."
     Five of the S&P 500's 10 main groups declined Friday, led by energy companies as the sector had its worst month since November. Utilities and health-care gained the most today. The Chicago Board Options Exchange Volatility Index slipped 0.1 percent to 12.12. The gauge, known as the VIX, had its biggest monthly drop since February, down 33 percent.
     Exxon Mobil and Chevron, the biggest U.S. energy producers, pulled energy shares lower. The group is the S&P 500's worst performer in July, down 7.8 percent. Murphy Oil Corp. and Transocean Ltd. sank more than 4.9 percent Friday, while ConocoPhillips lost 3.3 percent.
     Exxon retreated the most in nearly four years after its lowest profit since 2009, as crude prices fell twice as fast as the oil giant could cut expenses.
     Chevron recorded its lowest earnings in more than 12 years after oil's rout forced $2.6 billion in asset writedowns and related charges, sending its shares down the most since November. West Texas Intermediate crude slid 2.9 percent, capping its biggest monthly drop since 2008.
     LinkedIn Corp. fell after the company attributed a bump in its annual revenue forecast to its acquisition of the education website Lynda.com. Shares fell 11 percent, the most since May.
     Semiconductors fell for a second day as Micron Technology Inc. and Qorvo Inc. lost more than 4.1 percent. Broadcom Corp.
declined 1.4 percent after its second-quarter profit missed analysts' estimates, and the chipmaker's third-quarter revenue forecast was below the midpoint of analysts' views.
     Hanesbrands Inc. tumbled 9.1 percent, the underwear maker's biggest drop in four years, after cutting its 2015 revenue forecast. The shares had rallied 4.2 percent during the three previous sessions.
     Utilities rose 1 percent to end their best month since October as bond yields retreated. The yield on the 10-year U.S. Treasury marked its biggest monthly slide since January. Declining yields make utilities' dividend payout more attractive to investors.
     Amgen paced gains in health-care, rising 2.9 percent to a record after posting second-quarter profit that beat analysts' estimates, driven by higher sales of rheumatoid arthritis drug Enbrel and lower operating expenses. The biotech also raised its revenue and earnings forecast for the year. The Nasdaq Biotechnology Index advanced 1 percent.
     Royal Caribbean Cruises Ltd. jumped 8.6 percent, the most since 2011, to an all-time high. The cruise line's quarterly earnings exceeded estimates, and it boosted its full-year profit view. Carnival Corp. gained 2.7 percent to a more than nine-year high. Expedia also topped a record, leading consumer- discretionary shares higher after second-quarter sales and profit topped analysts' estimates.
     Coca-Cola Enterprises Inc., an independent bottler of Coke products in Europe, surged 12 percent to a record after the Wall Street Journal said the company is considering a merger with Coca-Cola Erfrischungsgetränke AG in Germany and Coca-Cola Iberian Partners, which serves Spain and Portugal.
Have a wonderful weekend everyone.
 
Be magnificent!
The universal power that manifests itself in the universal law
is at one with our true power.
Rabindranath Tagore
As ever,
Carolann

To be prepared is half the victory.
–Miguel de Cervantes, 1547-1616
Carolann Steinhoff, B.Sc., CFP®, CIM, CIWM
Portfolio Manager &
Senior Vice-President
Queensbury Securities Inc.,
St. Andrew's Square,
Suite 340A, 730 View St.,
Victoria, B.C. V8W 3Y7