July 29, 2016 Newsletter
Dear Friends,
Tangents:
Carolann is out of the office, I will be writing the newsletter on her behalf.
PHOTOS OF THE DAY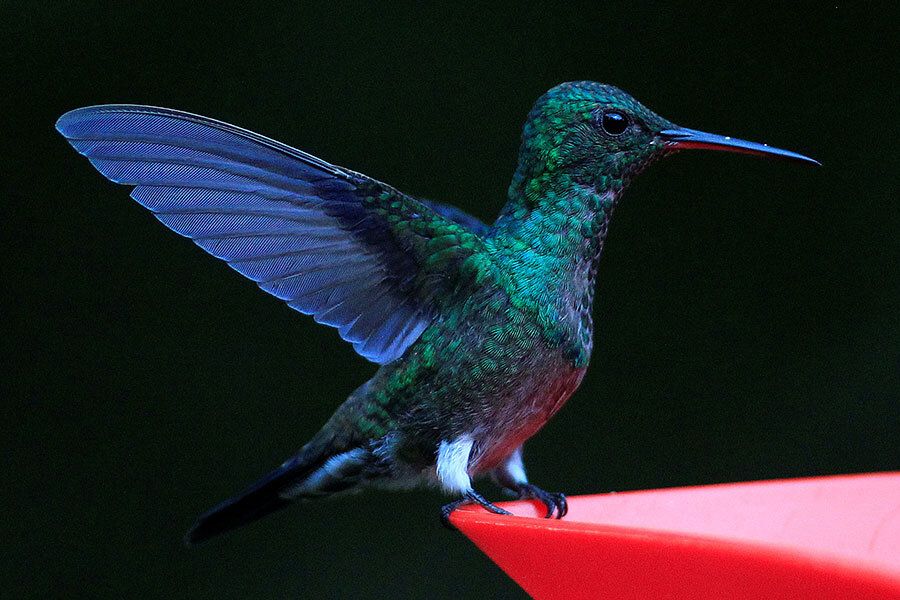 A hummingbird flies in the sanctuary El Paraiso de los Colibries near Cali, Colombia, on Thursday. Jaime Saldarriaga/Reuters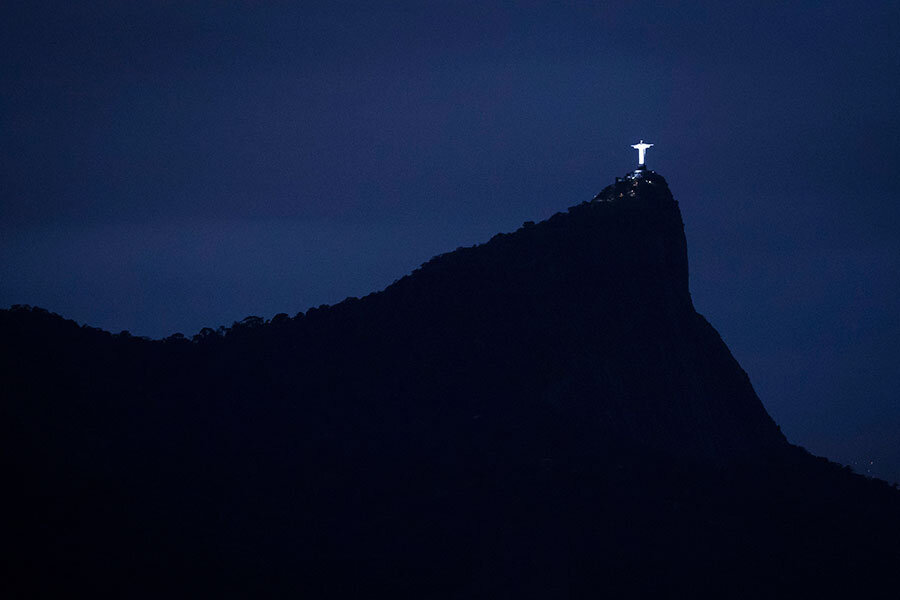 The Christ the Redeemer statue stands atop Corcovado Mountain at dawn in Rio de Janeiro on Friday. Felipe Dana/AP
Market Closes for July 29th, 2016
Market

Index

Close
Change
Dow

Jones

18432.24

-24.11

 

-0.13%

 

S&P 500

2173.60

+3.54

 

+0.16%

 

NASDAQ

5162.133

+7.150

 

+0.14%

 

TSX

14582.74

+30.02

 

+0.21%

 
International Markets
Market

Index

Close
Change
NIKKEI

16569.27

+92.43




 




 

+0.56%




 




 

HANG

SENG

21891.37

-282.97




 




 

-1.28%




 




 

SENSEX

28051.86

-156.76




 




 

-0.56%




 




 

FTSE 100

6724.43

+3.37




 




 

+0.05%




 




 
Bonds
Bonds
% Yield
Previous  % Yield
CND.

10 Year Bond

1.027

1.067




 

CND.

30 Year

Bond

1.641

1.685

U.S.   

10 Year Bond

1.4531

1.5027




 

U.S.

30 Year Bond

2.1827

2.2255




 
Currencies
BOC Close
Today
Previous  
Canadian $

0.76734

0.76012




 




 

US

$

1.30320

1.31559

 

 

 
Euro Rate

1 Euro=

 

Inverse

Canadian $

1.45611

0.68676




 




 

US

$

1.11733

0.89499
Commodities
Gold
Close
Previous
London Gold

Fix

1342.00

1341.75

 

 

 

Oil

Close

Previous

WTI Crude Future

41.60

41.14




 




 
Market Commentary:
Canada
By Eric Lam
     (Bloomberg) — Canadian stocks pared a weekly decline as energy producers advanced after crude oil rebounded from the precipice of a bear market. The nation's equity benchmark completed a monthly gain, after swinging between gains and losses, with disappointing economic data and earnings setting the tone on the last day of July trading.
     The S&P/TSX Composite Index rose 0.2 percent to 14,582.74 at 4 p.m. in Toronto. The equity gauge rose 3.7 percent in July, its best month since March. Trading volume was 12 percent lower than the 30-day average. Equity markets will be closed on Monday for a holiday. 
     The Canadian benchmark is up 12 percent in 2016, one of the best gains among developed markets this year. The rally has made Canadian stocks more expensive than their U.S. peers, with a price-earnings ratio of 23.1 for the S&P/TSX, about 14 percent higher than the S&P 500 Index.
     Seven of the 10 main groups in the index retreated Friday, as data showed Canada's gross domestic product contracted at the fastest pace in more than seven years in May after wildfires curbed Alberta oil production. In the U.S., the economy expanded slower than forecast, driving the biggest drop in the U.S. dollar in almost two months and boosting commodities prices.
     Even with oil-sands production having recovered since the May wildfires, "the underlying weakness of the economy means that second-quarter GDP still contracted between 1 percent and 1.5 percent," said Paul Ashworth, chief North America economist at Capital Economics in a note to clients. "With the U.S. economy clearly struggling too, hopes of a non-energy export led recovery in Canada look less realistic now."
     Energy producers bolstered gains Friday. The group rose 1.2 percent, reversing an earlier decline of as much as 0.7 percent. Enbridge Inc. climbed 3 percent after reporting second-quarter earnings just short of expectations. Crude rebounded, rising as much as 1.2 percent, pulling back from earlier losses that would have pushed prices into a bear market. Raw-materials producers climbed 1 percent led by gold and silver producers. The two industries account for about a third of S&P/TSX companies by market capitalization.
     The Canadian benchmark posted a fifth monthly gain in six, led by advances across every industry in the S&P/TSX except for energy producers. Technology stocks have the biggest increase in July at 9.2 percent, with Celestica Inc. and supply-chain company Kinaxis Inc. advancing at least 19 percent.
     Mining stocks are the top group in the S&P/TSX this year, up 61 percent so far in 2016, the best year-to-date performance for the group in at least 30 years, according to data compiled by Bloomberg. 
     Mining and energy stocks have propelled Canada to the second-best performance among developed markets this year with a 12 percent increase, trailing only New Zealand. The S&P/TSX has joined global markets extending gains this month following a brief post-Brexit vote swoon amid a stretch of solid U.S. economic data and improving earnings.
US
By Anna-Louise Jackson and Bailey Lipschultz
     (Bloomberg) — U.S. stocks edged higher, with the S&P 500 Index capping a fifth monthly gain, after data showing the American economy grew slower than forecast last quarter gave the Federal Reserve no reason to accelerate its time table for higher interest rates. Earnings from Alphabet Inc. boosted technology shares.
     The S&P 500 rose 0.2 percent to 2,173.55 at 4 p.m. in New York, closing within two points of its record. The gauge climbed 3.6 percent in July. The Dow Jones Industrial Average fell 0.1 percent to 18,432, a fifth straight loss for the longest slide since June 15. The 30-stock index rose 2.8 percent in July, a sixth consecutive advance. The Nasdaq 100 Index rose 0.2 percent Friday, leaving it 7 percent higher in the month.
     The U.S. economy stumbled in the first half of 2016 as companies retrenched, leaving consumers to shoulder the burden of sustaining growth heading into the presidential election. That didn't deter equity gains, with the S&P 500 overcoming the longest stretch without a record outside of a bear market since 1985 as central banks signaled additional stimulus and corporate earnings topped estimates.
     "The market seems to shed anything that would otherwise disrupt its desire to climb higher," said Mark Luschini, chief investment strategist at Philadelphia-based Janney Montgomery Scott LLC, which manages $54 billion. "While these numbers are a little bit in hindsight, you have to at least take into account their momentum and see that the validation for the market is that the economic situation is going to be sufficiently decent to improve the earnings picture going forward."
     While the Federal Reserve earlier in the week held its rates unchanged as forecast, it reiterated its intention to raise rates only gradually. At the same time, the Bank of Japan on Friday damped expectations for looser policy by keeping its key monetary tools unchanged and saying it will mount a comprehensive review of its policy framework.
     The GDP data come as investors sift through one of the busiest weeks of the earnings season. Halfway through, more than 80 percent of the S&P 500 companies that have reported so far beat profit projections and almost 60 percent topped sales estimates. Analysts have eased their expectations for a drop in second-quarter earnings to 4.5 percent.
     Google parent Alphabet rose to the highest since December after its quarterly profit topped estimates. Amazon.com Inc. climbed after forecasting sales that may exceed analysts' projections. Cigna Corp. declined after the health insurer reported quarterly earnings that missed estimates and cut its full-year forecast. Exxon Mobil Corp. and Chevron Corp. each retreated after results disappointed.
Have a wonderful long weekend everyone.
Be magnificent!
 
"In order to carry a positive action we must develop here a positive vision." Dalai Lama 
As ever,
Karen
"It is not in the stars to hold our destiny but in ourselves". William Shakespeare 

Carolann Steinhoff, B.Sc., CFP®, CIM, CIWM
Portfolio Manager &
Senior Vice-President
Queensbury Securities Inc.,
St. Andrew's Square,
Suite 340A, 730 View St.,
Victoria, B.C. V8W 3Y7