July 29, 2011 Newsletter
Dear Friends,
Tangents:
Something to read and contemplate over the long weekend:
The 12 Common Causes and Proven Cures for Unhappiness
                                              Posted by Marc, May 29, 2011
For the average person happiness is a choice, yet numerous people are unhappy.  There are many reasons, but it all boils down to one simple principle:  They choose something else over happiness.  Because it often takes less effort to be unhappy.
For example, instead of seeking happiness, they…
Lazily follow the path of least resistance.
Refuse to accept change.
Aimlessly try to control the uncontrollable.
Etc. etc. etc.
Averting these poor choices and the negative attitudes that accompany them is the key.  The list below will give you some ideas on how to do just that.
Most people are about as happy as they make up their minds to be.
– Abraham Lincoln
1.  Lack of meaning in one's day to day life.
Franklin D. Roosevelt once said, "Happiness is not in the mere possession of money; it lies in the joy of achievement, in the thrill of creative effort."  With the modern 9 to 5 work schedule it's so easy to trap yourself into doing what you don't want to do for 40 hours every week and then mindlessly waste all your free time being lazy.
Sure you have responsibilities.  And no, you won't be able to do what you want to do every waking minute of your life.  But you almost always have a choice to do more of what you really want to do – to work on something that matters to you – something that moves you and gives your life meaning.
You must leave time to follow your inner curiosity and passion.  The Happiness Project is a great read on this topic.
2.  Obsession with the past or future.
Right now is life.  If you dwell on things that happened in the past, or obsess yourself too much with the things that might happen in the future, you'll miss everything.
Focus on the present, not yesterday or tomorrow.  As Helen Keller once said, "When one door of happiness closes, another opens, but often we look so long at the closed door that we do not see the one that has been opened for us."
Oftentimes we fixate our minds on the way things can be, should be, or will be someday.  But life always takes place in the present.  You never know what the future holds – whether or not you and your loved ones will still have good health or even be alive.  The opportunity to enjoy life is now.  Make time to do so.
3.  Feeling out of shape and unhealthy.
Remember, your health is your life, and your body is the greatest tool you'll ever own.
If you are a little overweight, cut back on some of the fatty foods, get outside and take a two mile walk every day.  Losing extra body fat decreases your health risks, makes you look and feel better, and generally increases your self-esteem and happiness.
Don't go on binge diets and crash exercise regimens.  Instead, gradually change the way you eat and live so you create new health habits that can be sustained for a lifetime.  Read The 4-Hour Body for a solid, entertaining read on getting in shape.
4.  Unfavorably comparing oneself to others.
When you catch yourself comparing yourself to a colleague, neighbor, friend, or someone famous, stop!  Realize that you are different, with different strengths – strengths these other people don't possess.  Take a moment to reflect on all the awesome abilities you have and to be grateful for all the good things in your life.
The problem with many of us is that we think we'll be happy when we reach a certain level in life — a level we see others operating at – your boss with her corner office, that friend of a friend who owns a mansion on the beach, etc.  Unfortunately, it takes awhile before you get there, and when you get there, you might have a new destination in mind.
Instead, appreciate where you are and what you have right now.  Try comparing yourself to those who have less, those who are dealing with tragedy, and those who are struggling to survive. Hopefully it opens your eyes to all the things you should be grateful for.  PS:  Help people who have less if you're able… you'll see why.
5.  Focusing on negatives.
You can't control everything that happens to you, but you can control how you react to things.  Everyone's life has positive and negative aspects — whether you're happy or not depends greatly on which aspects you focus on.  For instance:
Did you get catch a head cold?  At least it's only a temporary virus and nothing life-threatening.
Did you lose a basketball game?  Thankfully you got to spend the afternoon with friends doing something fun and healthy.
Did your stock market savings go down?  It'll bounce back in the long-term.  And besides, it's great that you've been diligent and fortunate enough to save a nest egg of savings when many people are barely making ends meet.
You get the idea — almost everything in life has a positive side, and focusing on these positives injects happiness into your atmosphere.  So stop concentrating on how difficult things are and why you don't want to do them.  Focus instead on the benefits these things have and the opportunities they will create for you — the positives.
6.  Avoiding personal accountability.
Either you take accountability for your life or someone else will.  And when they do, you'll become a slave to their ideas and dreams instead of a pioneer of your own.
You are the only one who can directly control the outcome of your life.  And no, it won't always be easy.  Every person has a stack of obstacles in front of them.  You must take accountability for your situation and overcome these obstacles.  Choosing not to is choosing a lifetime of mere existence.
7.  Perfectionism and fear of failure.
If you work hard, do your best and then condemn yourself for not achieving perfection, you're sabotaging your future.  Likewise, if your fear of failure, or of not being perfect, has driven you to take the safe road of doing nothing, you have already failed.
Perfect is the enemy of good.  Learn to accept the good – learn to love things when they are less than 'perfect.'
If you find yourself at a point of intense decision making where you're caught in a spiral of over-analysis and you're making no progress, take a deep breath, break the spiral, make an educated guess on the next logical step, and take it.  Even if you get it wrong you've learned something, which is better than doing nothing.  Your failures along the road to your goals are simply opportunities to learn and grow.
Remember, the real world doesn't reward perfectionists; it rewards people who get things done.
8.  A low self-esteem.
Don't belittle yourself and don't put up with people who try to belittle you.
Marcus Aurelius once said, "Very little is needed to make a happy life; it is all within yourself, in your way of thinking."  Boost your self-esteem by recognizing your accomplishments and celebrating them.  Acknowledge your positive qualities, and when you come across a quality in yourself that you aren't proud of, don't sulk in your sorrows, proactively work on correcting it.
How you view yourself and your world are conscious choices and habits.  The lens you choose to view everything through determines how you feel about yourself and everything that happens around you.
9.  Financial debt.
The only way to get out of debt is to understand why you're in debt in the first place.
But the sad truth is, if you're a spendthrift…
You will not save money when you get your next raise.  You will not save money when your car is paid off.  You will not save money when your kids are supporting themselves someday.  And you wouldn't even save a dime if I handed you $100,000 in cash right now.
How do I know this?
Because saving money has very little to do with the amount of money you have.  In fact, you will only start to save money when saving becomes an emotional habit – when you start treating the money you handle everyday differently.  The Millionaire Next Door is an excellent read on eliminating debt and building wealth.
In general, live a comfortable life, not a wasteful one.  Do not spend to impress others.  Do not live life trying to fool yourself into thinking wealth is measured in material objects.  Manage your money wisely so your money does not manage you.  Always live well below your means.
10.  All work and no play.
Fun is way underrated.  With all of our responsibilities, fun seems like an indulgence.  It shouldn't be.  It should be a requirement.  Ponder what you did to have fun when you were younger and go do it again.  Leave the house messy and the yard un-mowed for a weekend and get out on the town.  When you're older, you will remember the fun, not the clean house or yard.
Go to a carnival, play a card game, shoot darts with a friend, play catch with a kid, etc.
Make time for fun!
11.  Neglecting personal relationships.
The quality of our personal relationships correlates directly with our overall sense of worth and happiness.  Sometimes in the midst of life's chaos we forget to do the little things that remind us we're part of something greater than ourselves.  We need a certain amount of meaningful contact with other people to feel fully alive.
Make time for people, even if it's just a quick meal at lunchtime.  It's worth sacrificing a few minutes here and there to experience life outside your own inner bubble.
And remember, you don't need a certain number of friends, just a number of friends you can be certain of.
12.  Procrastination.
Nothing is so draining and stressful as the eternal presence of an unfinished task.
There are plenty of ways to sabotage your personal happiness, dreams and desires.  Procrastination, however, is the number one killer.  Procrastinators self-destruct.  They hinder their own potential by placing colossal road-blocks along the path to happiness and success.  In other words, they subconsciously choose to fail.
Do you put off doing things that would bring you closer to your desired goals?  I know I do at times.  But why are we so foolish?
It has something to do with how our daily responsibilities overwhelm us.  In the midst of all the important things we know we need to do, we somehow convince ourselves that none of these things need to be done right now.  In other words, we decide that some peace and relaxation in the short term is what's most important.
So we take another break, read another blog post, watch another TV show and just kick back and relax.  And life is blissfully dandy… for a little while.  But then suddenly the inevitable deadline has arrived.  Ahhh!  It's panic time!
By taking the time and initiative to understand your own reasons for procrastinating and devoting a little energy to take the necessary steps to move forward, you can beat procrastination.  We all can.  In fact, simply writing this article was a testament to this.  I kept procrastinating on writing it because I lacked focus.  So I locked myself in my bedroom, eliminated all distractions, kept the end in mind and started writing.  And as usual, starting was the hardest part.  Now I'm done.
Read Eat That Frog for practical advice on conquering procrastination.
Photo of the day 
July 29, 2011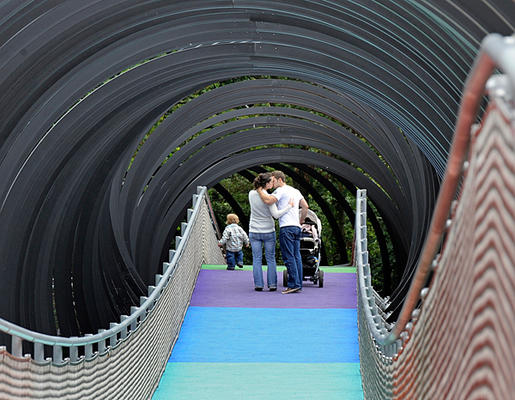 A couple kisses on the 'Slinky springs to fame' bridge in Oberhausen, Germany. The new bridge over the Rhine-Herne canal is by German artist Tobias Rehberger. Martin Meissner/AP.
Market Commentary:
Canada
By Matt Walcoff and Victoria Taylor
July 29 (Bloomberg) — Canadian stocks fell, completing their worst weekly decline in a year, as commodity producers and financial companies slid after Canada and the U.S. reported economic growth figures that trailed economists' forecasts.
Royal Bank of Canada, the country's largest lender, dropped 1.3 percent after Canada reported the biggest monthly decline in gross domestic product in two years. Suncor Energy Inc., Canada's largest oil and gas producer, slipped 1.3 percent as crude slumped 1.8 percent to $95.70 a barrel. Barrick Gold Corp. and Goldcorp Inc., the biggest producers of the precious metal, declined after analysts cut their price estimates.
The Standard & Poor's/TSX Composite Index decreased 102.15 points, or 0.8 percent, to 12,945.63 at 4:00 p.m. in Toronto, extending its weekly retreat to 4.1 percent, the most since July 2, 2010.
"The macro scene dominates today," Marcus Xu, Vancouver- based director of equity investments at Genus Capital Management, said in a telephone interview. Genus oversees C$1.7 billion. "For the overall general economy to recover, you need the price of oil" to fall to the $80-a-barrel range and "stay low," he said.
The index fell 3.3 percent over the past four days as U.S. lawmakers failed to reach a deal to raise the country's debt ceiling and that country reported a decline in durable-goods orders. Seventy-five percent of Canadian exports went to the U.S. last year, according to Statistics Canada.                        
U.S. gross domestic product rose at a 1.3 percent annual rate in the second quarter after a 0.4 percent gain in the prior quarter that was less than earlier estimated, Commerce Department figures showed today. The median forecast of economists surveyed by Bloomberg News called for a 1.8 percent increase.
Canada's gross domestic product fell 0.3 percent, missing every economist forecast, as production in the mining and oil and gas sector declined, government data showed. Output fell 0.3 percent in May to C$1.26 trillion ($1.32 trillion). The median growth estimate in a Bloomberg survey was 0.1 percent.
A gauge of financial companies in the S&P/TSX fell to the lowest level since December 2010.
National Bank of Canada, country's sixth-largest bank, declined 2.3 percent to C$74.05. Royal Bank of Canada dropped 1.3 percent to C$51.40. Bank of Nova Scotia, Canada's third- biggest lender by assets, decreased 1.3 percent to C$54.18.                       
 Crude oil futures fell for their first weekly drop since June, on concern that the failure to reach a debt deal in the U.S. threatens the economy of the biggest crude consumer. The index of energy companies in the S&P/TSX slipped 0.7 percent.
Suncor Energy slipped 1.3 percent to C$36.62. Capital Power Corp., an electricity generator, fell 1.9 percent to C$24.45, the lowest price since Feb. 8. Trilogy Energy Corp., a western Canadian oil and gas producer, dropped 2.4 percent to C$27.20.
Goldcorp, fell 1.7 percent to C$45.69 as its price estimate was cut by HSBC Securities USA Inc., Scotia Capital Inc., UBS AG and Cormark Securities Inc. following a reduction in its production forecast. It dropped 11 percent this week, its biggest loss since January 2009. Gold gained 0.7 percent after dropping for two days.
"Investors continue to flock to the safety of the gold bullion in a risk-off play, and not to the gold stocks because of their equity market exposure," said Kenneth Mack, an analyst and trader at Stone Asset Management in Toronto in an e-mail. Stone Asset Management oversees about C$850 million.
Barrick slid 0.7 percent to C$45.55, after the 12-month price estimate on its U.S. shares was trimmed to $60 from $64 at UBS AG, which cited an increase in capital spending estimates. The shares were cut to "market perform" from "buy" by an analyst at Cormark.                       
"The mining sector is getting bigger and bigger in Canada and it is getting to be more important," Genus's Xu said. "High energy prices will impact them as well."
Dundee Precious Metals Inc., a gold producer with mines in Bulgaria and Armenia, lost 3.2 percent to C$8.29. Silver Wheaton Corp., Canada's fourth-largest precious-metals company by market value, fell 2.4 percent to C$34.41.
Gildan Activewear Inc., the country's biggest clothing maker, tumbled 7.3 percent to C$28.64, the most in the S&P/TSX. Susan Anderson, an analyst at Citigroup Inc., cut the stock to "sell" from "hold," saying the company will have to cut prices to drive sales.
Potash Corporation of Saskatchewan Inc. dropped 1.9 percent to C$55.16. The world's largest fertilizer producer by market value was cut to "sector perform" from "sector outperform" by Scotia Capital, even after its second-quarter earnings beat the average analyst estimate by 14 percent. Potash's earnings have risen to levels that are unsustainable beyond 2015-2016, Scotia analysts led by Ben Isaacson wrote in a report.
Imax Corp., which makes widescreen projection technology, tumbled 6.4 percent to C$18.19. The shares fell 33 percent this week, the most since August 2006. The company said "disappointing film performance" contributed to a drop in second quarter profit.
US
By Nikolaj Gammeltoft
July 29 (Bloomberg) — U.S. stocks slid, pushing the Standard & Poor's 500 Index to its biggest weekly loss in a year, as economic growth trailed forecasts and investors awaited the outcome of negotiations to avoid a federal default.
Energy and materials stocks led declines in the S&P 500 after the report on gross domestic product sent the gauge tumbling as much as 1.4 percent. Exxon Mobil Corp. and DuPont Co. dropped at least 1.6 percent. Merck & Co. fell 2.3 percent as the drugmaker said it plans to slash its workforce by an additional 12 to 13 percent by 2015. Insurers MetLife Inc. and Genworth Financial Inc. gained more than 3.5 percent on better- than-estimated earnings.
The S&P 500 fell 0.7 percent to 1,292.28 at 4 p.m. in New York. The benchmark for U.S. equities extended declines for a third straight month, the longest slide since 2008. The Dow Jones Industrial Average lost 96.87 points, or 0.8 percent, to 12,143.24 after slumping as much as 157 points.
"The economy appears to be almost at stall speed, which means the politicians are playing with fire because any type of event could push us into a recession," Tim Hoyle, director of research at Radnor, Pennsylvania-based Haverford Trust which manages $6 billion, said in a telephone interview. "Today's GDP number is a bigger concern to us as long-term investors than when a bill is going to get passed in Congress, but this mess is hurting business and consumer confidence."
The S&P 500 has tumbled 3.9 percent this week as concern mounted that lawmakers will fail to agree to increase the U.S. debt ceiling by the Treasury Department's Aug. 2 deadline.
President Barack Obama said Republicans and Democrats are in "rough agreement" on their plans to raise the U.S. debt limit with just four days before a threatened U.S. default and the time for compromise is "now."
House Republicans said they have secured the votes to pass House Speaker John Boehner's plan today. Obama opposes that plan. Senate Majority Leader Harry Reid said he will take action to move to a vote on his competing plan, and at the same time held out hope for a deal with Republican leaders.
"If we don't come to an agreement, we could lose our country's AAA credit rating, not because we didn't have the capacity to pay our bills — we do — but because we didn't have a AAA political system to match our AAA credit rating," Obama said at the White House.
Equities retreated today as the Commerce Department reported GDP rose at a 1.3 percent annual rate in the second quarter following a 0.4 percent gain in the prior quarter that was less than previously estimated. The median forecast of economists surveyed by Bloomberg News called for a 1.8 percent increase. Household purchases, about 70 percent of the economy, climbed 0.1 percent.
In a separate report, the Institute for Supply Management- Chicago Inc. said today its business barometer fell to 58.8 in July, lower than forecast, from 61.1 the prior month. Figures greater than 50 signal expansion.
"There are a lot of moving parts to this market from economic reports to this drama over the debt ceiling," Mike Shea, a managing partner and trader at Direct Access Partners LLC in New York, said in telephone interview. "Investors and traders seem to feel confident that a deal will get done in Washington."
Investors last week pulled more money from money-market mutual funds than any week this year as U.S. lawmakers failed to resolve the impasse over raising the debt ceiling.
Withdrawals reached $37.5 billion, with about 70 percent of the redemptions coming from institutional funds that invest in U.S. government securities, according to data from the Investment Company Institute, a Washington-based trade group.                    
The S&P 500 has declined 5.2 percent from an almost three- year high in April amid speculation that the sovereign debt crisis in Europe is spreading and concern that U.S. lawmakers will fail to reach a deal on raising the nation's debt limit. The gauge has rallied 91 percent since reaching a 12-year low in March 2009.
"Earnings look good, but macro uncertainty remains. The macro data has to turn," Binky Chadha, Deutsche Bank AG's chief U.S. equity strategist in New York, said in a telephone interview. "This market hasn't moved up since the low in March 2009 unless the two key boxes of earnings and macro are checked."
The standoff in Washington has overshadowed an earnings season that has seen per-share profit top analyst estimates at about 78 percent of the 305 companies in the S&P 500 that released results since July 11, data compiled by Bloomberg show. Net income has grown 20 percent and sales have increased 13 percent for the group, the data show.
Merck dropped 2.3 percent to $34.13 for the second-biggest decline in the Dow. The second-largest U.S. drugmaker said it plans to slash its workforce by an additional 12 to 13 percent by 2015, expanding a restructuring program to save as much as $4.6 billion a year.
Newmont Mining Corp. retreated 3.7 percent to $55.61. The largest U.S. gold producer reported second-quarter profit that trailed analysts' estimates as mining costs increased.Energy stocks decreased 1.2 percent, the most among 10 S&P 500 groups.
Southwestern Energy Inc., the biggest natural-gas producer in Arkansas' Fayetteville Shale, fell the second-most in the S&P 500, losing 6.1 percent to $44.56 after production declined at some of its wells in the second quarter.
Exxon Mobil, the largest U.S. oil company, slipped 2.1 percent to $79.79 as the price of oil fell, capping its first weekly drop since June.
Yahoo! Inc. sank 3 percent to $13.10, after rising as much as 4.2 percent. Alibaba Group Holding Ltd. reached an agreement with its largest shareholders Yahoo, ending a four-month spat over how to compensate investors after an ownership change in China's most-popular online-payment service.
Starbucks Corp. rose 0.3 percent to $40.09 after climbing as much as 2.3 percent. The world's largest coffee-shop operator reported third-quarter earnings that exceeded analysts' estimates as customer traffic increased in the U.S. Profit was 36 cents a share, compared with the average estimate of analysts surveyed by Bloomberg of 34 cents. Insurance companies gave a boost to financial stocks, which dropped the least among S&P 500 groups, losing 0.3 percent.
Genworth Financial rose 6.4 percent to $8.32. The mortgage guarantor and life insurer reported second-quarter sales of $2.66 billion, beating the average analyst estimate of $2.63 billion in a Bloomberg survey. Chief Executive Officer Michael Fraizer also said he is weighing a split of the company and the possibility of share buybacks.
MetLife increased 3.5 percent to $41.21. The biggest U.S. life insurer posted second-quarter results that beat analysts' estimates as profit climbed outside its home market. MetLife has freed up $1 billion in capital by selling operations in Venezuela and Taiwan and portions of the businesses in Japan and the U.K., Chief Executive Officer Steven Kandarian said.
Real estate investment trusts that buy mortgage debt tumbled the most in more than a year on concern the markets that finance them will be roiled if the U.S. government defaults on its debt.
A Bloomberg index of the shares of 32 mortgage REITs, including New York-based Annaly Capital Management Inc. and Atlanta-based Invesco Mortgage Capital Inc., dropped 2 percent after falling as much as 8.5 percent, the most since May 2010.
The companies fell as the cost of overnight repurchase agreements, or repo, financing for government-backed mortgage securities jumped 0.09 percentage point to 0.2 percentage point as of 9:35 a.m., the highest since Jan. 19, according to data from ICAP Plc.                     
 Newell Rubbermaid Inc. gained 8 percent to $15.52. The maker of Sharpie pens and Rubbermaid containers reported second- quarter profit excluding some items of 46 cents a share, 9 percent higher than the average analyst estimate, Bloomberg data show.
Expedia Inc. climbed 9.3 percent to $31.69 for the biggest gain in the S&P 500. The online travel site reported second- quarter earnings excluding some items of 55 cents a share, beating the average analyst estimate by 12 percent, Bloomberg data show.
"Valuations remain supportive and earnings are fairly strong, but we're not out of the woods yet," Liz Ann Sonders, who helps oversee about $1.7 trillion as New York-based chief investment strategist at Charles Schwab Corp., said in a telephone interview. "Our base case is still that we're looking for a stronger second half of 2011, but we're in a standstill until we get this nonsense in Washington out of the way because it's such a confidence crush."
Have a wonderful weekend everyone.
Be magnificent!
We cross the infinite with every step, and encounter the eternal with every second.
-Rabindranath Tagore, 1861-1901
As ever,
Carolann
The greatest discovery of our generation is that
human beings can alter their lives by altering their
attitudes of mind. 
As you think, so shall you be.
               -William James, 1842-1910