January 31, 2017 Newsletter
Dear Friends,
Tangents:
The Poem
The Pigeon
        -by DM Black
                      …This interminable wet winter,
we found a dead pigeon lying on its back
(no obvious cause of death) beside a rose-bed.
Two or three days later, overcoming some reluctance,
I prepared it for burial: two spits deep in the mounded
earth behind our Buddha who in spring
is surrounded by daffodils.  I arranged the pigeon
deep in the shining clay and spaded down the overspill
over that subtle plumage; then set on top
an old heavy drain-cover to keep off the foxes,
and was turning to clean the spade when I noticed
another pigeon obsequious in the shrubbery,
hunched like a small football, and watching me.
I started toward her, as, at a funeral,
one might toward a fellow-mourner, not known but,
for an instant, kin in loss.  She didn't scare , or move, and I,
aware of our difference of species, stopped halfway –
and we both stayed still then, silenced, and somehow respecting
a truth we neither of us could get on top of.
From The Arrow Maker, Arc Publications.
On this day in 1865, the U.S. House of Representatives passes the 13th Amendment to the Constitution, abolishing slavery.
PHOTOS OF THE DAY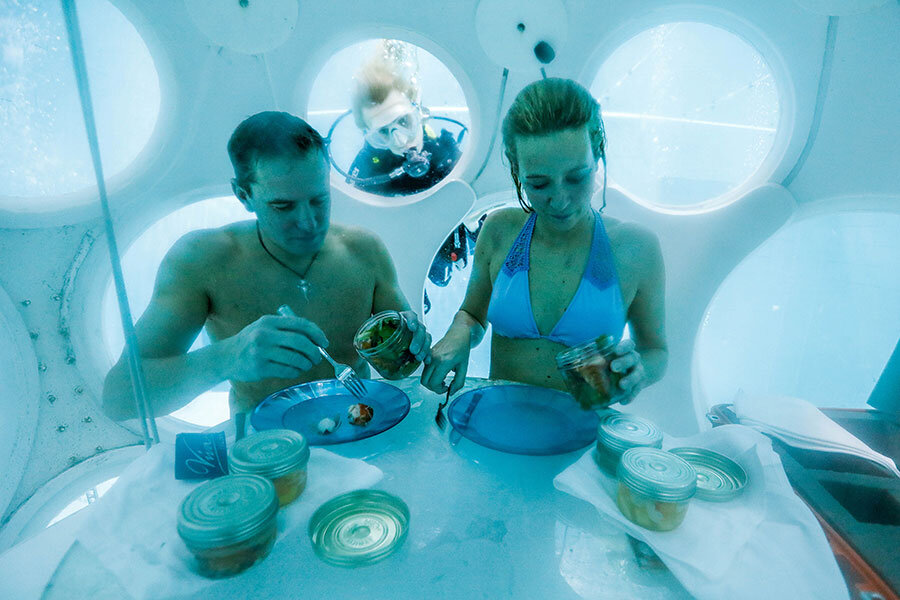 Florence Lutje Spelberg and Nicolas Mouchart have dinner while sitting inside 'The Pearl,' a spheric dining room five meters underwater at the NEMO33 diving center in Brussels, Belgium, on Monday. The center has one of the world's deepest pools at 33 meters (36 yards), built to train professional divers. Yves Herman/Reuters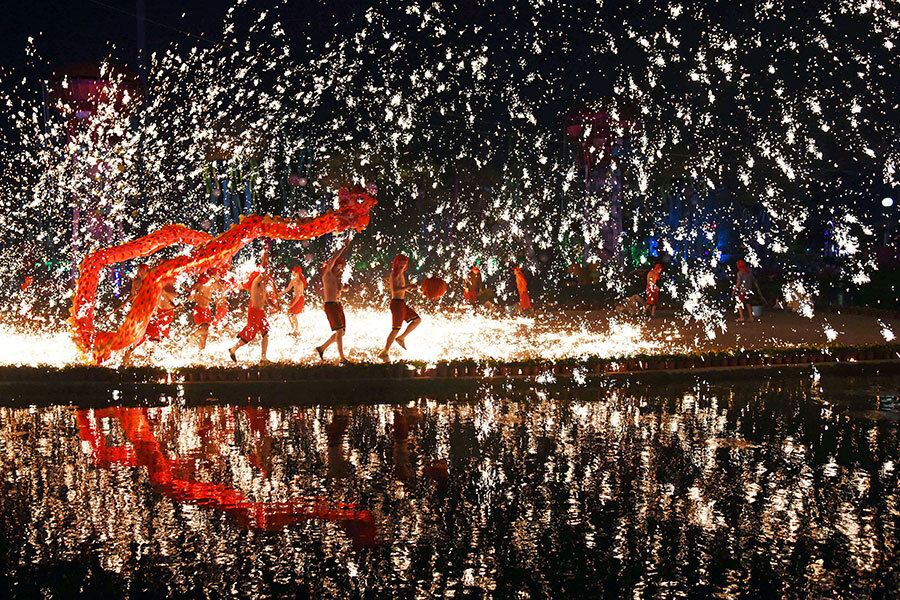 People perform a fire dragon dance under a shower of sparks from molten iron during the Chinese Lunar New Year holidays in Wuhan, Hubei province, China, on Monday night. Reuters
Market Closes for January 31st, 2017
Market

Index

Close
Change
Dow

Jones

19864.09

-107.04

 

-0.54%

 

S&P 500

2278.87

-2.03

 

-0.09%

 

NASDAQ

5614.785

+1.074

 

+0.02%

 

TSX

15385.96

-19.16

 

-0.12%

 
International Markets
Market

Index

Close
Change
NIKKEI

19041.34

-327.51

 

-1.69%




 




 

HANG

SENG

23360.78

-13.39




 




 

-0.06%




 




 

SENSEX

27655.96

-193.60




 




 

-0.70%




 




 

FTSE 100*

7099.15

-19.33




 




 

-0.27%




 




 
Bonds
Bonds
% Yield
Previous  % Yield
CND.

10 Year Bond

1.761

1.785




 




 

CND.

30 Year

Bond

2.409

2.435

U.S.   

10 Year Bond

2.4624

2.4881

 

U.S.

30 Year Bond

3.0654

3.0785




 




 
Currencies
BOC Close
Today
Previous  
Canadian $

0.76655

0.76223

 

US

$

1.30455

1.31193

 

 

 
Euro Rate

1 Euro=

 

Inverse

Canadian $

1.40905

0.70970

 

US

$

1.08011

0.92583
Commodities
Gold
Close
Previous
London Gold

Fix

1212.80

1192.80

 

 

 

Oil

Close

Previous

WTI Crude Future

52.81

52.63

 
Market Commentary:
Number of the Day
$630 million
The amount Deutsche Bank has agreed to pay to end probes by U.K. and New York regulators into Russian equity trades that transferred $10 billion out of that country in violation of anti-money-laundering laws.
Canada
By Lu Wang
     (Bloomberg) — Canadian stocks retreated for a fourth day, as investors studied better-than-expected November data on gross domestic product before a speech from Bank of Canada Governor Stephen Poloz.
     The S&P/TSX Composite Index, which hit a record high last week, fell 19.16 points, or 0.1 percent, to 15,385.96 at 4 p.m. in Toronto. Industrial and technology shares led the decline, offsetting gains among utility and health-care stocks.
     Canada's economic momentum gathered steam in November, with GDP growing 0.4 percent. That's slightly higher than economist expectations of 0.3 percent, Statistics Canada reported Tuesday in Ottawa.
     The stronger performance may come as a relief to policy makers who struggled to cope with a near-stagnant economy, as the nation dealt with the impact of an oil price shock and a faltering export sector.
     Poloz is due to give a speech after the market close at the University of Alberta School of Business in Edmonton. The lecture, entitled "Models and the art and science of making monetary policy," will be followed by a press conference.
     In other movers:
     * Detour Gold Corp. (DGC CN) jumped 12 percent after saying it will keep West Detour out of its 2017 plans as it's not sure it can obtain permits in time. The removal should ease some concerns of an imminent capital raise, BMO analyst Brian Quast wrote in a note.
     * New Gold Inc. (NGD CN) slumped 11 percent. Cormark and GMP became the latest brokerages to downgrade the stock after the company said earlier this week that it has a $100 million liquidity shortfall due to increased capital spending.
US
By Oliver Renick
     (Bloomberg) — U.S. stocks were mixed, with the Dow Jones Industrial Average lower as companies in the Nasdaq Composite Index ended little changed.
     The S&P 500 Index fell less than 0.1 percent to 2,278.87 at 4 p.m. in New York. The Dow lost 107 points to 19,864. Stocks fell on Monday as Trump's executive order halting some immigration stoked concern that potentially isolationist policies may overshadow a pro-growth agenda. Four days straight without gains in the S&P 500 marks the longest dry spell since Nov. 4.
* Industrial stocks led market lower with a 0.9% decline, followed by financials, tech, materials — some of the biggest winners after the election
* Utilities, real estate and health care at front of pack with gains of at least 0.7%
* The S&P 500 has lost 0.8% over the past four days; up 1.8% in January for a third consecutive monthly advance
* VIX up 0.9% after adding 12% Monday — down 15% in the month
* Exxon Mobil Corp., Pfizer Inc. and Apple are among more than 30 companies reporting on Tuesday
* About a third of S&P 500 members have released quarterly figures so far this season, of which about three-quarters beat profit estimates and half topped sales forecasts, according to data compiled by Bloomberg
* EARNINGS
** After-market Tuesday: Boston Properties (BXP), Electronic Arts Inc (EA), Fortune Brands Home & Security (FBHS), United States Steel (X), Illumina (ILMN), CH Robinson Worldwide (CHRW), Aflac (AFL), Arconic (ARNC), Oclaro (OCLR), Advanced Micro Devices (AMD), Anadarko Petroleum (APC), Equity Residential (EQR), Apple (AAPL)
** Pre-market Wednesday: Automatic Data Processing (ADP), Anthem (ANTM), Dominion Resources (D), Ingersoll-Rand (IR), Avery Dennison (AVY), Johnson Controls International (JCI), International Paper (IP), Pitney Bowes (PBI), Altria Group (MO), WEC Energy Group (WEC)
Have a wonderful evening everyone.
Be magnificent!
We must refuse to be lifted off our feet.
A drowning man cannot save others.
Mahatma Gandhi
As ever,
Carolann
Education costs money, but then so does ignorance.
                                     -Claus Moser, 1922-2015
Carolann Steinhoff, B.Sc., CFP®, CIM, CIWM
Portfolio Manager &
Senior Vice-President
Queensbury Securities Inc.,
St. Andrew's Square,
Suite 340A, 730 View St.,
Victoria, B.C. V8W 3Y7
Tel: 778.430.5808
(C): 250.881.0801
Toll Free: 1.877.430.5895
Fax: 778.430.5828
www.carolannsteinhoff.com