January 29, 2016 Newsletter
Dear Friends,
Tangents:
On Jan. 29, 1963, poet Robert Frost died in Boston.
Memorized when we were children:
Dust of Snow
     Robert Frost
The way a crow
Shook down on me
The dust of snow
From a hemlock tree
Has given my heart
A change of mood
And saved some part
Of a day I had rued.
The Secret Sits
     Robert Frost
We dance round in a ring and suppose,
But the Secret sits in the middle and knows.
PHOTOS OF THE DAY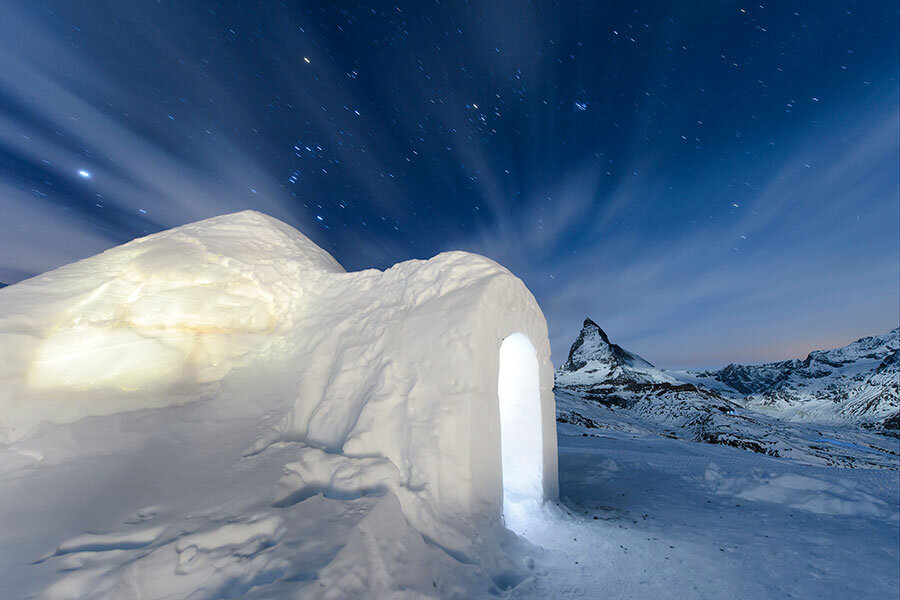 A long exposure shows an igloo at 'Igloo village' (Iglu Dorf) in front of the famous Matterhorn mountain in Zermatt, Switzerland, Thursday night. The hotel-igloo village, made of snow and ice and located at 2815 meters above sea level, has a bar, a restaurant, and bedrooms and is celebrating its 20th anniversary. Jean-Christophe Bott/Keystone/AP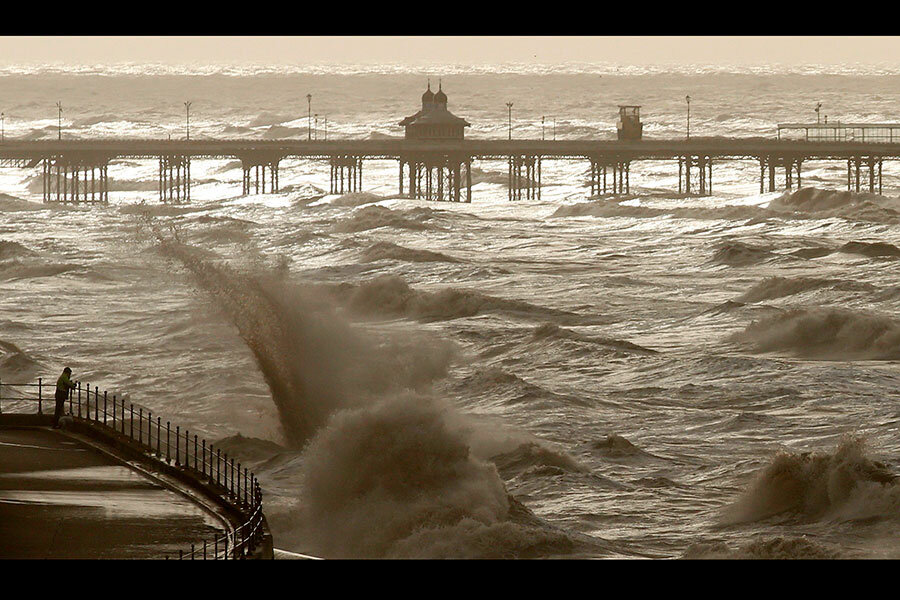 A man watches as Storm Gertrude whips up the Irish sea off Blackpool as it crosses over northwest Britain Friday. Red weather warnings are in place as Gertrude whips up winds of up to 90 m.p.h. Phil Noble/Reuters
Market Closes for January 29th, 2016
Market

Index

Close
Change
Dow

Jones

16466.30

+396.66

 

+2.47%

 

S&P 500

1940.24

+46.88

 

+2.48%

 

NASDAQ

4613.953

+107.277

 

+2.38%

 

TSX

12822.13

+230.20

 

+1.83%

 
International Markets
Market

Index

Close
Change
NIKKEI

17518.30

+476.85




 




 

+2.80%

 

HANG

SENG

19683.11

+487.28




 




 

+2.54%




 




 

SENSEX

24870.69

+401.12




 




 

+1.64%

 

FTSE 100

6083.79

+152.01

 

+2.56%

 
Bonds
Bonds
% Yield
Previous  % Yield
CND.

10 Year Bond

1.225

1.240




 

CND.

30 Year

Bond

2.035

2.050

U.S.   

10 Year Bond

1.9226

1.9784

 
 

U.S.

30 Year Bond

2.7468

2.7844




 




 
Currencies
BOC Close
Today
Previous  
Canadian $

0.71580

0.71218




 




 

US

$

1.39704

1.40415

 

 

 
Euro Rate

1 Euro=

 

Inverse

Canadian $

1.51314

0.66088

 

US

$

1.08310

0.92327
Commodities
Gold
Close
Previous
London Gold

Fix

1111.80

1114.00

 

 

 

Oil

Close

Previous

WTI Crude Future

33.62

33.22

 
Market Commentary:
Canada
By Eric Lam
     (Bloomberg) — Canadian stocks climbed a fourth day, trimming a monthly drop that sent shares into a bear market earlier this year, as crude prices rose and data showed the resource-rich nation's economy expanded for the first time in three months.
     The Standard & Poor's/TSX Composite Index rose 1.8 percent to 12,822.13 at 4 p.m. in Toronto. The index has rallied 8.3 percent since hitting a 2 1/2-year low on Jan. 20. While the benchmark equity gauge posted its first negative January since 2010, the late rally among energy producers has boosted the S&P/TSX's performance to the best among developed markets this year.
     "It's a dash for trash," said John Stephenson, chief executive officer of Stephenson & Co. Capital Management in Toronto. His firm manages about C$50 million. "We've had a few days in a row of rising oil prices and it's disproportionately benefiting Canada. Energy rallies a bit and people buy the energy names, especially the most beat up."
     Health-care and raw material companies posted the biggest gains Friday as all 10 groups in the S&P/TSX advanced. Valeant Pharmaceuticals International Inc. jumped 5.3 percent after a two-day rout of 13 percent. Yamana Gold Inc. climbed 7.1 percent as the price of gold advanced.
     "There's some good opportunities in the markets today if you're a long-term investor," said Sadiq Adatia, chief investment officer at Sun Life Global Investments in Toronto.
His firm manages C$12.3 billion. "In the energy sector, we were buyers last week. There are great opportunities looking out two to three years from now."
     Energy shares ended higher in a see-saw day of trading after Alberta left royalty rates unchanged for bitumen, recognizing the "existential threat" the beleaguered industry faces from the U.S. shale boom. The review had initially stirred concerns that costs would rise for producers.
     West Texas Intermediate capped a second weekly gain, rising 40 cents to settle at $33.62 a barrel in New York. Futures advanced 4.4 percent this week and has pared declines this year to about 9 percent from a 12-year low of $26.55 on Jan. 20. Oil prices spiked after Russia's Energy Minister Alexander Novak on Thursday said the Organization of Petroleum Exporting Countries and other producers may meet to discuss output.
     The broader S&P/TSX remains in the red for January, weighed down by losses among health-care and consumer discretionary stocks. Bombardier Inc., Concordia Healthcare Corp. and auto- parts manufacturer Linamar Corp. have been among the worst performers so far in 2016.
     The S&P/TSX joined a global rally Friday after the Bank of Japan surprised investors by adopting a negative interest-rate strategy. The MSCI All-Country World Index advanced 2.1 percent for a second day of gains, to a three-week high.
     "Green arrows abound on this last trading day of the month in what has otherwise been a horrible start to the year," David Rosenberg, chief economist and strategist at Gluskin Sheff & Associates Inc. in Toronto, wrote in a note.
     A rebound in manufacturing and wholesaling helped Canada's gross domestic product expand by 0.3 percent in November, matching economists' forecasts and indicating the nation is shaking off the damage from a drop in commodity prices.
     The S&P/TSX has performed better relative to other benchmarks after having "taken it on the chin" in 2015, when it was one of the worst performers in the developed world, Stephenson said.
     "There is a huge amount of pent-up enthusiasm for energy and investors are excited to see a rally," he said.
US
By Oliver Renick
     (Bloomberg) — U.S. stocks ended the worst January since 2009 with the best one-day gains in more than four months, after earnings from Microsoft Corp. exceeded expectations and the Bank of Japan stepped up monetary stimulus.
     The equity rally accelerated in the final hour of trading, with the strong finish a fitting end to a weak month that featured sharp reversals on an almost daily basis. Microsoft led the surge Friday with its biggest gain in three months. Nine of the S&P 500's 10 main groups rose at least 1.7 percent. Amazon.com Inc. was a blemish, tumbling 7.6 percent as earnings for the holiday quarter missed estimates.
     The Standard & Poor's 500 Index rose 2.5 percent to 1,940.24 at 4 p.m. in New York, the strongest advance since Sept. 8. Still, the gauge slumped 5.1 percent for the month, its worst start to a year since the height of the financial crisis. The Dow Jones Industrial Average advanced 396.66 points, or 2.5 percent, to 16,466.30, its best day in five months. The Nasdaq Composite Index added 2.4 percent, still finishing with its worst month since May 2010. The Russell 2000 Index jumped 3.2 percent, capping its worst month since 2011 with its biggest rally in four years.
     "Part of the strength in the markets today is central banks in the developed world being accommodative, and the other is a surprisingly strong Chicago manufacturing number that was really a blowout," said Phil Orlando, who helps oversee $360 billion as chief equity-market strategist at Federated Investors Inc. in New York. "Earnings have been better than expected so far."
     Stocks swung between gains and losses this week as investors assessed corporate earnings and the degree to which central banks will intervene to help stem increasing volatility and a dimming outlook for global growth. The S&P 500's rally Friday lifted it to a second consecutive week of gains for the first time since Dec. 4.
     Prior to today's unexpected action from the Bank of Japan to adopt a negative interest-rate strategy, the European Central Bank signaled last week it could boost stimulus as soon as March. The Federal Reserve said Wednesday it was watching to see how the global economy and markets impact the U.S. outlook.                         
     Data today showed the economy expanded at a slower pace in the fourth quarter, in line with forecasts, as households tempered spending while businesses cut back on capital investment and made further adjustments to inventories. A separate report showed consumer confidence cooled in January, shaken by the stock-market downturn, while a gauge on Chicago- area manufacturing jumped more than forecast to the highest in a year.
     "With today's GDP there's modest economic growth and Japan overnight pursuing lower interest rates means the Fed is not likely to raise four times this year," said Michael Arone, the Boston-based chief investment strategist at State Street Global Advisors' U.S. Intermediary Business. "Events like what happened with Japan going to negative interest rates puts downward pressure on our own interest rates and impacts the Fed's ability to raise rates."
     Investors are also scouring earnings for indications on how well U.S. companies are weathering weakness emanating from China. Analysts estimate profits at index members fell 5.6 percent in the fourth quarter, better than predictions two weeks ago that called for a 7 percent slump. Of those that have already posted results, 80 percent beat earnings projections, while 48 percent have exceeded sales estimates.                      
     Among companies moving after their reports today, Honeywell International Inc. rose 5.3 percent to pace gains in the S&P 500's industrial group after its aerospace sales increased and the company reiterated its 2016 outlook. Visa Inc. climbed the most in 15 months after its profit exceeded estimates as consumer card spending increased. Video-game publisher Electronic Arts Inc. sank 7.5 percent after forecasting fiscal fourth-quarter results that fell short of estimates.
     Anxiety fueled by China's slowdown and a rout in oil prices have battered stocks since the start of the year. The rout has pushed valuations down to 2014 levels and erased more than $2 trillion from the value of American equity markets. The S&P 500 is down 8.9 percent from its record set in May, after climbing 4.4 percent from a 21-month low reached on Jan. 20.
     The Chicago Board Options Exchange Volatility Index fell 9.9 percent Friday to 20.20, a three-week low. The measure of market turbulence known as the VIX increased 11 percent in January, after rising as much as 52 percent for the month. About 10.1 billion shares traded hands on U.S. exchanges, 31 percent above the three-month average.                        
     Technology companies rallied Friday to the biggest one-day climb in five months, bolstered by Microsoft's gains. The group rose 3.6 percent to lead the S&P 500's 10 main industries. Raw- material, financial and industrial shares each added at least 2.7 percent. Phone companies had the best performance this month, up 5.5 percent, while raw-materials were the worst, losing almost 11 percent.
     Joining Microsoft to power the tech group, Apple Inc. increased 3.5 percent to trim its drop this week, while Facebook Inc. and Google parent Alphabet Inc. advanced more than 1.7 percent. Hard-drive maker Seagate Technology Plc capped its biggest rally in more than three years after reporting sales that beat some analysts' predictions amid a tough market for computer components.
     Semiconductor and equipment companies posted their steepest climb since September, rising 4 percent. Micron Technology Inc. and Qorvo Inc. led with gains of more than 7.9 percent. Intel Corp. rose 3.5 percent, the most since August.                     
     In addition to the boost from Honeywell, 3M Co. rose for a fourth day to help lift industrials to the best gain in more than three months. 3M increased 8.2 percent this week, its best since 2009, after the company reported better-than-estimated results on Tuesday. General Electric Co. added 3.2 percent, the most since October.
     Energy companies in the benchmark climbed to a three-week high. Consol Energy Inc., the second-biggest loser in the S&P 500 last year, surged 18 percent, even after its quarterly loss was wider than estimated. Kinder Morgan Inc. added 7.6 percent. Phillips 66 rose 1.8 percent, erasing a 3.7 percent drop. The largest U.S. independent refiner by market value reported a decline in profit as refining margins narrowed.
     Consumer discretionary companies advanced 1.2 percent, overcoming the drag from Amazon's biggest drop since October 2014. Home Depot Inc. and Walt Disney Co. added at least 2.4 percent to help boost the group.
Have a wonderful weekend everyone.
Be magnificent!
No matter how insignificant the thing you have to do,
do it as well as you can,
give it as much of your care and attention as you would give to the thing
you regard as most important.
Mahatma Gandhi
As ever,
 
Carolann
Drawing on my fine command of language, I said nothing.
                                      -Robert Benchley, 1889-1945
Carolann Steinhoff, B.Sc., CFP®, CIM, CIWM
Portfolio Manager &
Senior Vice-President
Queensbury Securities Inc.,
St. Andrew's Square,
Suite 340A, 730 View St.,
Victoria, B.C. V8W 3Y7