February 28, 2017 Newsletter
Dear Friends,
Tangents:  TODAY IS MARDI GRAS
And so ends Carnival for Christians around the world.  Carnival derives from the Italian, carnevale, going back ultimately to Medieval Latin carnelevamen, "raising flesh" from Latin caro, carnis, "flesh", and levare, "to raise."  To "raise flesh" is to abstain from meat which is the regime that Lent strictly entails.  It is the great fast that begins tomorrow, Ash Wednesday, and extends to Easter.  The fast of 36 days was introduced in the 4th century, but it did not become fixed at 40 days until the early 7th century, thus corresponding with Christ's fast in the wilderness. –from Brewar's.
**On this day in 1964, just under three years after breaking the 700 mark, the Dow Jones Industrial Average breaks through 800 for the first time, closing at 800.14.**
PHOTOS OF THE DAY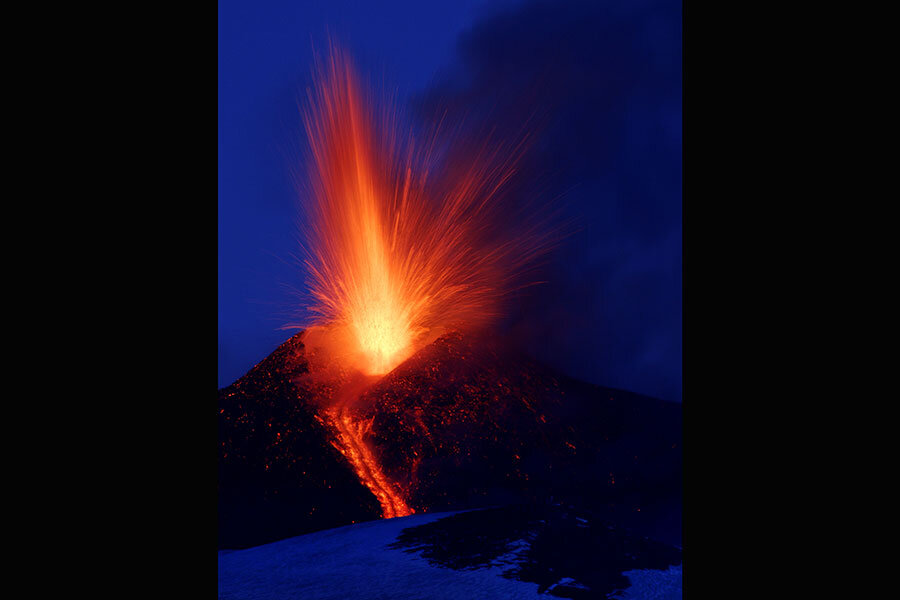 Italy's Mount Etna, Europe's tallest and most active volcano, spews lava as it erupts on the southern island of Sicily, Italy, on Tuesday.Antonio Parrinello/Reuters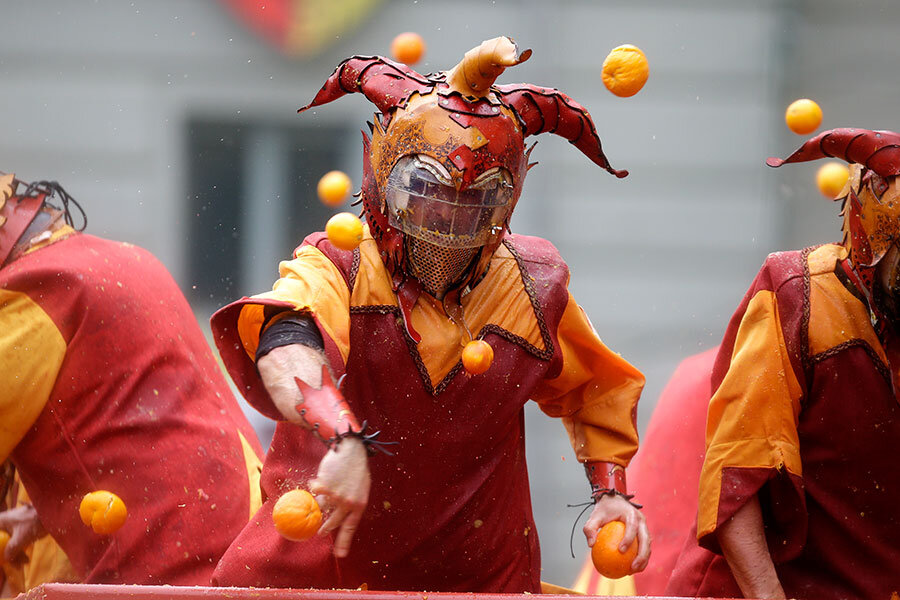 Costumed revelers, in protective helmets, throw oranges during Carnival in the northern Italian Piedmont town of Ivrea on Tuesday. The traditional orange-throwing battle has its roots in the middle of the 19th century. Luca Bruno/AP
Market Closes for February 28th, 2017
MarketIndex
Close
Change
DowJones

20812.24

-25.20

 

-0.12%

 

S&P 500

2363.64

-6.11

 

-0.26%

 

NASDAQ

5825.438

-36.461

 

-0.62%

 

TSX

15399.24

-64.26

 

-0.42%

 
International Markets
MarketIndex
Close
Change
NIKKEI

19118.99

+11.52

 

+0.06%

 

HANGSENG

23740.73

-184.32

 

-0.77%




 




 

SENSEX

28743.32

-69.56




 




 

-0.24%




 




 

FTSE 100*

7263.44

+10.44




 




 

+0.14%




 




 
Bonds
Bonds
% Yield
Previous  % Yield
CND.10 Year Bond

1.635

1.647




 

CND.30 Year

Bond

2.342

2.364

U.S.   10 Year Bond

2.3899

2.3650




 

U.S.30 Year Bond

2.9952

2.9833




 

 
Currencies
BOC Close
Today
Previous  
Canadian $

0.75135

0.75882




 




 

US$

1.33093

1.31783

 

 

 
Euro Rate1 Euro=

 

Inverse

Canadian $

1.40729

0.71058




 




 

US$

1.05737

0.94574
Commodities
Gold
Close
Previous
London GoldFix

1255.60

1257.20

 

 

 

Oil

Close

Previous

WTI Crude Future

54.01

54.05




 




 
Market Commentary:
Canada
By Linda Nguyen
     (Canadian Press) — TORONTO — Mixed earnings results from some of Canada's biggest companies dominated a quiet trading day Tuesday, as the Toronto Stock Exchange pulled back for a fifth straight session in a row.
The S&P/TSX composite index fell a moderate 64.27 points at 15,399.24, as health-care stocks led decliners amid a weak earnings release by drugmaker Valeant Pharmaceuticals.
The Quebec-based company warned that revenues and profits will drop more than analysts had anticipated for this year.
Shares in Valeant lost 85 per cent of its value last year after it came under scrutiny for a strategy of acquiring drug companies and imposing dramatic price increases. It also faces a series of shareholder lawsuits and criminal fraud investigations by U.S. authorities.  Valeant (TSX:VRX) shares plunged 13.9 per cent, or $3.05, to $18.89 on Tuesday.
In other corporate news, two of Canada's largest financial institutions reported better than expected results.
The Bank of Montreal (TSX:BMO) reported net income of $1.49 billion, up 39 per cent from a year ago. Its shares rose 2.24 per cent, or $2.21, to $100.79.
Scotiabank (TSX:BNS) had $2.01 billion of net income during the first quarter, up 10 per cent compared to the same period last year. Its shares declined 2.79 per cent, or $2.21, to $77.04. Four out of the five major Canadian banks have reported strong results so far this quarter. TD Bank (TSX:TD) is the last of the group and is scheduled to release earnings on Thursday. On Wall Street, major New York indices were barely changed ahead of a highly-anticipated speech Tuesday night in front of Congress by U.S. President Donald Trump. Colum McKinley, a vice-president of Canadian equities at CIBC Asset Management, said investors are hoping to "get another look" at what might be coming down the road from the new commander-in-chief.  "Potentially, we'll hear more about taxation plans, the fiscal stimulus program, whether or not there will be a repatriation of capital, cash sitting offshore and whether that is used to finance bigger infrastructure spending," he said.
     "And potentially we'll have more information about how the U.S. budget will unfold. For Canada, one area that we're watching for is more news on the border taxation issue and what that could mean for Canadian companies."  McKinley said stock markets will react according to how much is touched on in the speech, and whether there will be any concrete details announced. "There is the chance that we receive no greater clarity than we have today," he said.  If markets react to the downside, McKinley said it could be a positive buying opportunity because economic indicators show growing strength, particularly in the U.S.
     The Canadian dollar declined 0.67 of a U.S. cent to 75.30 cents US, the currency's lowest close since Feb. 7.  Commodities were mixed as the April crude contract retracted four cents at US$54.01 per barrel and April natural gas added eight cents at US$2.77 per mmBTU. 
     April gold gave up $4.90 at US$1,253.90 an ounce and May copper was up two cents at US$2.71 a pound.
US
By Oliver Renick
     (Bloomberg) — U.S. stocks fell as investors awaited details on specific policy plans from U.S. President Donald Trump's first address to Congress.
     The S&P 500 Index lost 0.3 percent to 2,363.64 at 4 p.m. in New York as the Dow Jones Industrial Average lost 25 points to 20,812, ending a 12-day streak that marked its longest rally since 1987.
* Consumer discretionary stocks down 0.7% for biggest loss in market
* Industrial and telecommunications shares down at least 0.4%
* Traders are seeking answers from Trump tonight on how he plans to bring the fundamental changes he has promised to U.S. health- care policy, the tax system, defense spending and immigration
* With the earnings season drawing to a close, about three- quarters of S&P 500 members that have reported so far beat profit estimates and a little over half exceeded sales forecasts, according to data compiled by Bloomberg
* While the reflation trade is still intact, stocks look stretched in the short term, Bank of America Merrill Lynch strategist James Barty wrote in a note; S&P 500 closed on Monday about 6 points above its year-end average strategist consensus level of 2,364
* ECONOMY:
** The U.S. economy grew in the fourth quarter at an unrevised 1.9% pace, as slower investment by businesses and state and local agencies offset stronger household purchases
** Core PCE — which is tied to consumer spending and strips out food and energy costs — climbed at a 1.2% annualized pace, compared with a previously reported 1.3 percent
** Chicago Business Activity at 57.4 after 50.3 the prior month
* EARNINGS:
** After-market Tuesday: Envision Healthcare (EVHC), AMC Entertainment Holdings (AMC), Sarepta Therapeutics (SRPT), LogMeIn (LOGM), Palo Alto Networks (PANW), TESARO (TSRO), ACADIA Pharmaceuticals (ACAD), salesforce.com (CRM)
** Pre-market Wednesday: Dollar Tree (DLTR), Lowe's Cos (LOW), Best Buy (BBY)
* Stoxx Europe 600 Index rose 0.2% at the close, trimming intraday declines on Monday as construction companies rallied on Trump's comments about "big" spending on infrastructure
Have a wonderful evening everyone.
Be magnificent!
I do not want my house to be walled in on all sides and my windows to be stuffed.
I want the cultures of all the lands to blow about my house as freely as possible.
But I refuse to be blown off my feet by any.
Mahatma Gandhi
As ever,
Carolann
Just remember the world is not a playground but a schoolroom.
Life is not a holiday but an education.
                                              -Barbara Jordan, 1936-1996
Carolann Steinhoff, B.Sc., CFP®, CIM, CIWM
Portfolio Manager &
Senior Vice-President
Queensbury Securities Inc.,
St. Andrew's Square,
Suite 340A, 730 View St.,
Victoria, B.C. V8W 3Y7
Tel: 778.430.5808
(C): 250.881.0801
Toll Free: 1.877.430.5895
Fax: 778.430.5828
www.carolannsteinhoff.com