December 30th, 2011 Newsletter
Dear Friends,
"…Champions keep playing until they get it right…"
           — Billie Jean King
 Photo of the Day: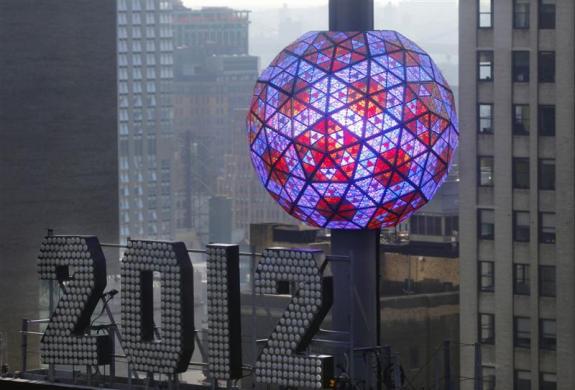 The New Year's Eve Ball, which measures 12 feet, weighs 11,875 pounds, and is adorned with 2,688 Waterford crystal triangles of various sizes is tested atop One Times Square in New York December 30, 2011. (Reuters)
Market Commentary 
  Canada
 By Matt Walcoff
 Dec. 30 (Bloomberg) — Canadian stocks rose, paring their first yearly loss since 2008, as financial and energy shares gained.
Toronto-Dominion Bank, Canada's second-biggest lender by assets, increased 1.2 percent. Canadian Natural Resources Ltd., the country's second-largest energy company by market value, advanced 1.4 percent. Canadian Pacific Railway Ltd., the country's second-largest railroad, rallied 3.2 percent after a person familiar with the matter said its biggest shareholder urged the company to replace its chief executive officer. The Standard & Poor's/TSX Composite Index rose 84.62 points, or 0.7 percent, to 11,926.32 at 1:48 p.m. Toronto time. "You've had a decline in the market of approximately 12 percent," Robert McWhirter, a money manager at Selective Asset Management Inc. in Toronto, said in a telephone interview. McWhirter oversees about C$140 million ($138 million). "Meanwhile, earnings in Canada have risen at a time when you have had declining bond yields. That should make yields on bank stocks and stocks in general more attractive." The S&P/TSX lost 12 percent this year through yesterday as energy and raw-materials producers retreated on concern the European debt crisis will hamper global growth. The index is set to end December with its ninth monthly drop of the year, the most since 1981. The yield on 10-year Canadian government bonds fell to a record-low close on Dec. 19. The S&P/TSX trades at 14.4 times earnings, 23 percent below its 10-year average.
 The S&P/TSX Financials Index narrowed its annual decline. TD rose 1.2 percent to C$76.18, extending a third-straight yearly gain. Royal Bank of Canada, its bigger domestic rival, increased 0.9 percent to C$51.93. Sun Life Financial Inc., Canada's third-largest insurer, advanced 3.5 percent to C$18.79 after slumping 40 percent this year through yesterday.
 Energy stocks in the S&P/TSX climbed as crude futures completed a third-straight yearly increase. Canadian Natural rose 1.4 percent to C$37.99. Suncor Energy Inc., the country's largest oil and gas producer, gained 1 percent to C$29.40.
Nexen Inc., an energy producer with operations on five continents, advanced 3.5 percent to C$16.16. Shares of the Calgary-based company are set for their first back-to-back annual losses since 1986. CP rallied 3.2 percent to C$68.64 after the person familiar with the matter said William Ackman's Pershing Square Capital Management LP wants the railroad to hire Hunter Harrison as CEO. Harrison, the former chief of Canadian National Railway Co., would replace Fred Green, said the person, who asked not to be identified because the details are private. CN, Canada's largest railroad, climbed for a seventh day, increasing 1.5 percent to C$80.09 after surging 19 percent this year through yesterday.
 US
 By Inyoung Hwang and Katia Porzecanski
 Dec. 30 (Bloomberg) — U.S. stocks fell, leaving the Standard & Poor's 500 Index little changed for the year, as concern over Europe's debt crisis overshadowed optimism that the American economy will expand in 2012.
The S&P 500 fell 0.4 percent to 1,257.61 at 4 p.m. New York time, according to preliminary closing data. "Today's another day of worry for Europe and there's some concern Europe hasn't quite gotten their act together yet," Uri Landesman, who helps oversee more than $1 billion as managing general partner of New York-based hedge fund Platinum Partners LLP, said in a telephone interview.
 An 11 percent rally since the end of September resulted in the best fourth quarter for the S&P 500 since 2003. Both the S&P 500 and the Dow were among the 10 best performers this year among 91 national indexes tracked by Bloomberg. Still, Wall Street strategists' average forecast at the beginning of the year that the S&P 500 would rise to 1,371 in 2011 proved 9 percent too high, according to a Bloomberg News survey. Forecasters predict the index will advance to 1,348 next year. The S&P 500 started the year with a rally, rising as much as 8.4 percent to a three-year high by the end of April and extending its rebound from a March 2009 bear-market low to 102 percent. The index tumbled throughout the summer as Congress and President Barack Obama struggled over U.S. deficit cuts, and sank further amid concern that Europe's debt crisis was threatening the global economic recovery. The S&P 500 fell as much as 19 percent from April to its low for the year on Oct. 3.
The market rebounded amid tumbling valuations and data signaling that the world's largest economy was weathering Europe's crisis. The U.S. unemployment rate fell to 8.6 percent in November, the lowest since March 2009, after lingering at 9 percent or above for seven straight months.
 The S&P 500's price-earnings multiple reached the lowest level in more than two years on Oct. 3, falling to 11.6, a 27 percent decline from its high in February of 15.8. The measure's average valuation was 14.1 in 2011. The S&P 500 rose 1.1 percent yesterday amid further signs of strength in the U.S. economy. Stock fell today after Spain said its budget deficit will reach 8 percent of gross domestic product this year, more than the previous forecast of 6 percent. Luxembourg's Jean-Claude Juncker, who leads the group of euro- area finance ministers, said economic growth in the euro region "isn't good" and the world economy is growing only in some Asian and African countries. China's official Xinhua News Agency reported the world's second-largest economy may face "downside pressure" next year, even though growth will be more than 9 percent in 2011. "The story of this year is really interesting outperformance of the U.S. equity market versus everything else," Michael Shaoul, chairman of Marketfield Asset Management in New York, which oversees $1 billion, said in a telephone interview. "If you strip financials and materials out of the U.S., you had a pretty good year."
 Happy New Year Everyone!