August 31st, 2015
Dear Friends,
Tangents:
On this day in 1980, the communist government of Poland signed an accord with striking shipyard workers in the city of Gdansk. Lech Walesa, who led the striking workers, went on to form Solidarity, the first independent labor union to develop in a Soviet bloc country.
August 31, 1896; Gold discovered in the Klondike.
August 31,1800.  Coleridge describes the end of his cross-country walk from Keswick to Dove Cottage, the Wordsworths' home at Grasmere, in his Notebook.  He and Wordsworth "invented" the idea of walking for pleasure.
Descended.  As I bounded down, noticed the moving stones under the soft moss, hurting my feet.  Ascended that steep and narrow ridge.  On my right that precipice and the morass at its feet.  On my left the twp tarns and another precipice twice as lofty as the other, but its white stones more coated and lined with moss.  Am now at the top of Helvellyn…No words can convey any idea of this prodigious wildness.  That precipice… its ridge, sharp as a  jagged knife, level so long, and then ascending so boldly.  What a frightful bulgy precipice I stand on and to my right how the crag…plunges down like a waterfall, reaches a level steepness, and again plunges!  The moon is above Fairfield almost at the full.  Now descended over a perilous peat-moss then down a hill of stones all dark, and darkling.  I climbed stone after stone down a half-dry torrent and came out at the Raise Gap.  And Oh! My God! How did that opposite precipice look in the moonshine – its name Stile Crags.
Dorothy Wordsworth Journal, August 31, 1800:
At eleven o'clock Coleridge came, when I was walking in the still, clear moonshine in the garden…We sat and chatted till half-past three, W. in his dressing-gown.  Coleridge read us a part of Christabel.
PHOTOS OF THE DAY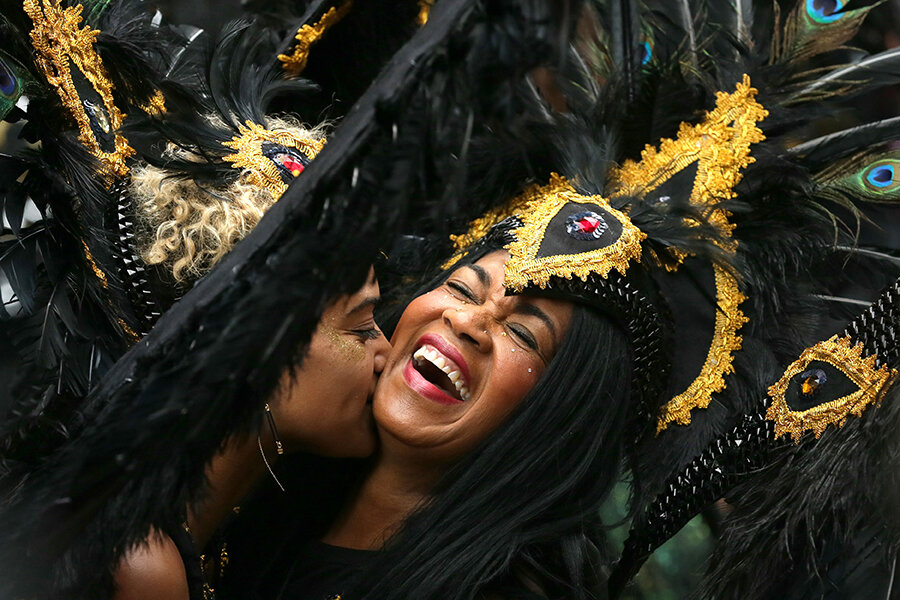 Costumed revelers perform in the Notting Hill Carnival in London, Monday. Held each August Bank Holiday since 1966, the Notting Hill Carnival is the largest festival celebration of its kind in Europe. Tim Ireland/AP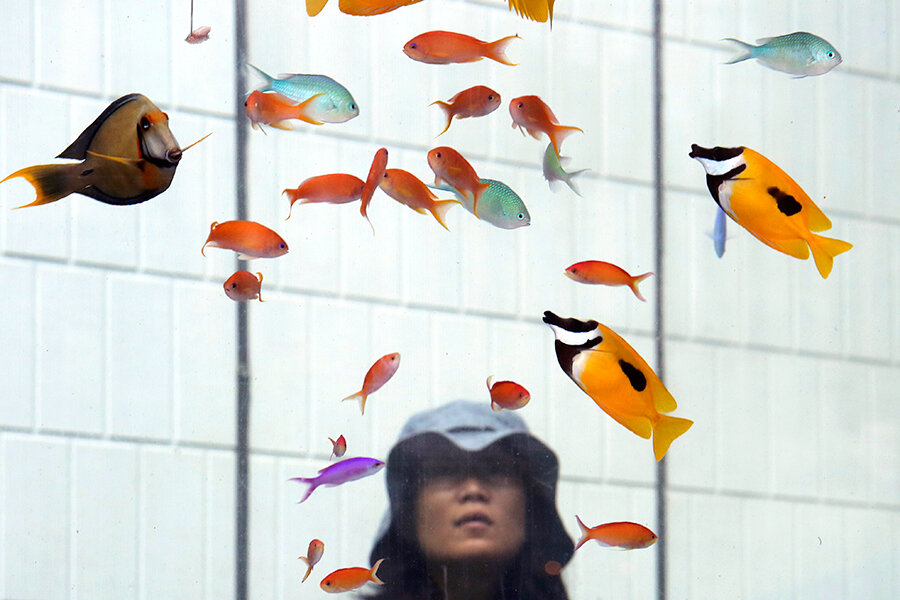 A woman watches tropical fish from Okinawan sea on display in a glass tank placed outside Sony Building at Tokyo's Ginza shopping district on Monday. Koji Sasahara/AP
Market Closes for August 31st, 2015
Market

Index

Close
Change
Dow

Jones

16528.03

-114.98

 

-0.69%

 

S&P 500

1972.18

-16.69

 

-0.84%

 

NASDAQ

4776.508

-51.817

 

-1.07%

 

TSX

13859.12

-5.95

 

-0.04%

 
International Markets
Market

Index

Close
Change
NIKKEI

18890.48

-245.84

 

-1.28%




 




 

HANG

SENG

21670.58

+58.19




 




 

+0.27%




 




 

SENSEX

26283.09

-109.29




 




 

-0.41%

 

FTSE 100

6247.94

+55.91

 

+0.90%

 
Bonds
Bonds
% Yield
Previous  % Yield
CND.

10 Year Bond

1.490

1.444




 

CND.

30 Year

Bond

2.235

2.190

U.S.   

10 Year Bond

2.2126

2.1824




 

U.S.

30 Year Bond

2.9579

2.9103




 
Currencies
BOC Close
Today
Previous  
Canadian $

0.76104

0.75752

 

US

$

1.31398

1.32009

 

 

 
Euro Rate

1 Euro=

 

Inverse

Canadian $

1.47390

0.67847

 

US

$

1.12170

0.89150
Commodities
Gold
Close
Previous
London Gold

Fix

1135.00

1135.00

 

 

 

Oil

Close

Previous

WTI Crude Future

49.20

45.36




 




 
Market Commentary:
Canada
By Callie Bost
     (Bloomberg) — Canadian stocks slipped, capping the worst month of trading in nearly a year as concern that global growth will slow sank equities around the world.
     The benchmark Canadian equities index fell 4.2 percent in August, sucked lower in the downdraft created by China's shock devaluation of its currency on Aug. 11. Equities tumbled as concerns mount that China's policy makers won't be able to prop up its markets at the same time Federal Reserve officials signaled they're preparing to raise interest rates.
     Canadian stocks lost as much as 10 percent in a 19-day drop this month before jumping 6.2 percent in four days last week. The Standard & Poor's/TSX Composite Index slid less than 0.1 percent to 13,859.12 at 4 p.m. in Toronto. The gauge almost erased a slide of 1.5 percent as energy shares rallied with the price of crude. Volume in S&P/TSX stocks was 27 percent above the 30-day average.
     All of the 10 main industries in the S&P/TSX declined in August, led by an 8.9 percent rout in health-care shares, the most in four years. The group declined 2.1 percent Monday, led by a 2.3 percent slump in Valeant Pharmaceuticals International Inc. ProMetic Life Sciences Inc. slid 2.1 percent.
     The resource-rich S&P/TSX has been one of the worst- performing developed markets in the world this year amid the collapse in crude prices, though energy shares rallied 2.6 percent Monday to pare a monthly drop to 3.3 percent.
     Paramount Resources Ltd., Canadian Energy Services & Technology Corp. and Pengrowth Energy Corp. surged more than 12 percent, as oil capped the biggest three-day gain in 25 years.
     A volatility gauge for 60 of the largest, most liquid stocks in Canada jumped 5.8 percent to 24.47. The measure added 78 percent in August, its biggest monthly climb in data back to 2009.
US
By Oliver Renick
     (Bloomberg) — U.S. stocks declined, with the Standard & Poor's 500 Index posting its worst month in more than three years, as investors harbored concerns about slowing global growth and the impact of a potential interest-rate increase by the Federal Reserve as soon as September.
     Merck & Co. and Celgene Corp. sank at least 2.7 percent to weigh on the health-care group. Yahoo! Inc. and Facebook Inc. slumped more than 1.7 percent to drag technology shares lower. Energy erased an earlier drop along with oil, as Consol Energy Inc. and ConocoPhillips gained more than 4.9 percent. Phillips 66 rose 2.4 percent as Warren Buffett's Berkshire Hathaway Inc. has amassed a $4.5 billion stake in the oil refiner. Berkshire fell 1.3 percent.
     The S&P 500 lost 0.8 percent to 1,972.18 at 4 p.m. in New York, capping its biggest monthly slide since May 2012. The gauge in earlier trading fell as much as 1.2 percent. The Dow Jones Industrial Average sank 114.98 points, or 0.7 percent, to 16,528.03, completing its worst monthly drop since May 2010. The Nasdaq Composite Index declined 1.1 percent to also finish its steepest retreat since May 2012. About 7.8 billion shares traded hands on U.S. exchanges, 11 percent above the three-month average.
     "There's so much emotion right now, and in this environment you can come in any morning and have something out of Europe or Asia crossing us and that's what causes us to move," said Steve Bombardiere, an equity trader at Conifer Securities LLC in New York. "There were a lot of people who wanted to buy a correction, but after last week they paused and are thinking about how long it is going to last."
     Equities trimmed their losses in the late morning after energy shares in the benchmark index reversed a 2.5 percent selloff to rally as much as 1.4 percent. The move followed a jump in oil prices after a government report reduced its crude production estimates and OPEC said it's ready to talk to other global producers to achieve "fair prices." Stocks have been whipsawed by gains and losses since last week as markets remain subject to sudden shifts in investor sentiment.
     The S&P 500 ended down 6.3 percent this month as China's currency devaluation on Aug. 11 spurred concern over global growth, erasing more than $5.3 trillion in equity market values worldwide. The benchmark's 0.9 percent gain last week masked a volatile period in which the S&P 500 plunged the most since 2011 to enter a correction, only to rally more than 6 percent over two days for its best back-to-back gains since the beginning of the bull market in 2009.
     The Chicago Board Options Exchange Volatility Index rose 9.1 percent Monday to 28.43. The measure of market turbulence known as the VIX had a record monthly jump, up 135 percent. More than $2 trillion of share value was erased from U.S. markets between the end of July and the lowest levels of last week, a sum equal to roughly two years of S&P 500 earnings, data compiled by Bloomberg show.
     The S&P 500 had its worst August since 2001, while the Dow's 6.6 percent drop was its biggest since it fell 15 percent in August 1998.
     While August ranks in the middle among months based on share performance, it has produced some of the worst returns of the year since 2009. During the week ended August 12, 2011, the S&P 500 alternated between gains and losses of at least 4 percent for four days, something never seen in 88 years of data compiled by Bloomberg. In 2013, the S&P 500 fell 3.1 percent in August, one of only two months of negative returns in a year when the index surged 30 percent.                          
     Despite this month's equities rout, remarks by Federal Reserve Vice Chairman Stanley Fischer suggested the central bank hasn't ruled out raising interest rates when the Federal Open Market Committee gathers on Sept. 16-17. Bets on a September liftoff climbed after Fischer said there is "good reason" to believe inflation will accelerate. Traders are now pricing in a 40 percent chance the central bank will act in September, up from a one-in-four chance last Wednesday.
     The Fed has said it will be appropriate to raise rates when it has seen some further improvement in the labor market and is "reasonably confident" inflation will move back to its 2 percent target over the medium term. Investor attention will focus this week on the government's August jobs report, due Friday, as the last major data point before the Fed's meeting.
     "August was a rough month for everybody," said Michael Block, chief equity strategist at Rhino Trading Partners LLC in New York. "There's a little scare now where people are getting this feeling from Fischer saying we could see a hike as soon as September, that they don't care about volatility and that we're on our own. You could argue a rate hike is good for stocks, but it's a big unknown and the market is undecided, that's where the fear is."
     Nine of the S&P 500's 10 main groups fell Monday, with utilities, health-care and industrial shares sliding the most. Energy companies were up 1.1 percent as crude oil surged 8.8 percent.
     The health-care group was August's worst performer in the benchmark index, down 8.1 percent, the steepest monthly decline since February 2009. Amgen Inc. slid 2.6 percent today and had its weakest month in more than seven years. The Nasdaq Biotechnology Index sank 3.1 percent, its largest monthly loss since March 2014.
     Kroger Co. fell 1.7 percent to pace a drop among consumer staples companies. The supermarket chain extended its August decline to 12 percent, the most in a month since January 2009. Drug-store chain CVS Health Corp. retreated 1.7 and lost 9 percent in August, its biggest monthly slide in five years.
     Boeing Co. and Textron Inc. declined at least 1.9 percent to lead industrial companies lower. General Electric Co. and United Technologies Corp. lost more than 1.3 percent. GE had its worst month since January, falling 4.9 percent.
     Netflix Inc. slipped 2.2 percent. The online streaming service said it won't renew its contract with cable network Epix, preferring to develop original movies rather than stick with films it had to share with other providers.
     Consol Energy rose 5.8 percent amid crude's biggest three- day gain since 1990, leading energy companies higher. Hess Corp., Marathon Oil Corp. and Chesapeake Energy Corp. each gained at least 3.4 percent. The group pared its monthly decline to 4.7 percent after losing 7.8 percent in July and sliding for the fourth straight month.
Have a wonderful evening everyone.
Be magnificent!
When the mind and intellect developed, man asked,
Who am I?  who is it before me?
The search for reality began…
Moving one step towards finding the answer to the question,
Who am I, we brought  consciousness from outside to inside.
Wisdom turned the direction of the consciousness within and
we perceived our soul.
The journey of the soul in the outer world was over and the journey within had begun.
Acharya Mahaprajna
As ever,
 
Carolann
A wise man will make more opportunities than he finds.
                                     -Francis Bacon, 1561-1626
Carolann Steinhoff, B.Sc., CFP®, CIM, CIWM
Portfolio Manager &
Senior Vice-President
Queensbury Securities Inc.,
St. Andrew's Square,
Suite 340A, 730 View St.,
Victoria, B.C. V8W 3Y7