August 31st, 2011 Newsletter
Dear Friends,
Tangents:
I read this essay last night and I thought it was beautiful….hope you do too…
START THE DAY WITH A MASTERPIECE
I woke this morning to an empty and quiet house and happily so.  My husband, an otherwise sensible man, has the regrettable habit of turning on the television each and every morning, like a moth to the flame.  But this morning the moth has gone fishing and the flame is firmly extinguished.  The resulting quiet is happy and rare.
  I go to the back door, for the purpose of retrieving the newspaper from its delivery box out at the road, and am stopped in my slippered tracks.  Beads of water cling to its screen, necklaces unstrung, locked by the screen's grid into something like a checkerboard, if checkerboards wore jewelry.  A spider was here, its web connecting the dots of the beads of water, web and water all catching the early morning light, all shimmering, all fragile, all splendidly so.  I did nothing, I know, to deserve this caught breath and am grateful again for spiders.  One must be always grateful for spiders.
  I step out into the untelevised world, easing the screen door closed behind me, careful curator of this masterpiece that has fallen in my lap. And walk the length of the driveway.  I am still in my pajamas.  One of the privileges of being of a certain age is the wearing of disreputable pajama, which these are.  I breathe in air that is so fresh it is almost wet, air that invites wringing out.  I could wash my face in it.
  The cornfield across the road does not seem nearly so tall or so green as it ought to be, given the time of year, but I am not discouraged.  I, for one, believe the corn can still do it.  I believe there is still time.  I so not give up on the corn just as, in different circumstances, I hope the corn will not give up on me.
  In the treetops at the far side of the cornfield there are crows screaming bloody crow murder at each other.  They lift up from one treetop to settle in another, lift up and settle, lift up and settle, all the while hurling crow epithets, taking names, threatening lawsuits, swearing revenge, demanding retribution.  If crows did not invent the art of having the last word, they are among its most ecstatic practitioners.
  Beyond the crows' treetops are banks of clouds.  These are not the giddy and frivolous clouds of summer.  These are the serious and thoughtful clouds of fall, clouds that make lists, pay their bills on time, vote in every election.  These clouds know nothing of beaches but would work for world peace if given a chance.
  I collect my newspaper and turn for home.  Dawn is just past, but no trace of it remains in the eastern sky toward which I am now walking.  No ethereal pinks.  No heavenly golds.  Only blue and plenty of it. if this blue could be contained in a paint bucket, its name would be New Day Blue and it would fly off the shelves.  We would slather every wall and every ceiling with the stuff.  There would be no stopping us.
  There are some jobs that have been done so absolutely and so correctly by others that the rest of us, the lesser and undistinguished and indistinguishable rest of us, should make no attempt.  Oscar Hammerstein said it first.  Oscar Hammerstein said it best.
  Oh, what a beautiful mornin'.  Oh, what a beautiful day.  
                                                                                         -Mary Frances
Photos of the day 
August 31, 2011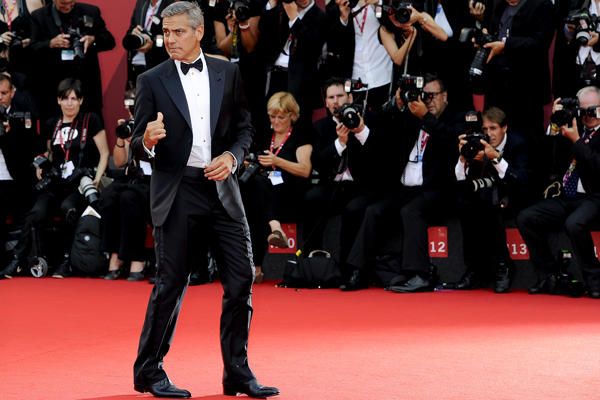 Actor George Clooney arrives on the red carpet for the premiere of his movie 'The Ides of March', which opens the 68th edition of the Venice Film Festival in Venice, Italy. Jonathan Short/AP.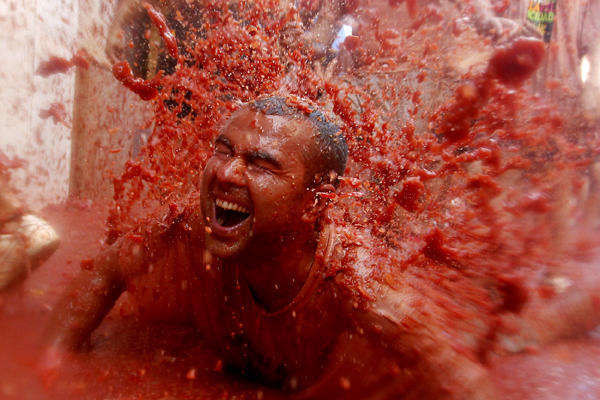 A reveller is covered with tomato pulp after the annual 'Tomatina' (tomato fight) in the Mediterranean village of Bunol, near Valencia. The origin of the tomato fight is disputed, but most agree it started around 1940, in the early years of General Francisco Franco's dictatorship. Heino Kalis/Reuters.
Market Commentary:
Canada
By Matt Walcoff
Aug. 31 (Bloomberg) — Canadian stocks rose for a fourth day, paring a monthly decline, as financial companies rallied after Canadian Imperial Bank of Commerce reported earnings that beat the average analyst estimate.
CIBC, Canada's fifth-largest lender by assets, gained 3.9 percent after raising its dividend. Enbridge Inc., the country's biggest pipeline company, advanced 1.7 percent as natural gas jumped as much as 4.1 percent. Potash Corp. of Saskatchewan Inc., the world's largest fertilizer producer by market value, fell 2.3 percent as corn and wheat dropped.
The Standard & Poor's/TSX Composite Index climbed 71.52 points, or 0.6 percent, to 12,706.23 at 2:32 p.m. in Toronto, reducing its monthly loss to 1.7 percent.
"Going into the quarter, most people were expecting the banks to disappoint," Jeff Bradacs, a money manager at Manulife Financial Corp. in Toronto, said in a telephone interview. Bradacs's team oversees C$1.7 billion ($1.7 billion). "The results beat consensus, but the big thing was the dividend increase."
The stock benchmark is heading for its sixth-straight monthly drop. Energy stocks have led the retreat, tumbling 7.7 percent through yesterday as crude oil slumped on concern the global economic recovery is slowing. Energy companies make up 26 percent of Canadian stocks by market value, according to Bloomberg data.
 CIBC gained 3.9 percent to C$75.89 after its third-quarter earnings beat the average estimate of analysts in a Bloomberg survey by 5.9 percent, excluding certain items. The lender raised its quarterly dividend for the first time in four years, increasing it 3.4 percent to 90 Canadian cents a share.                    
 Toronto-Dominion Bank, which is scheduled to report quarterly financial results tomorrow, climbed 2.1 percent to C$77.02. Royal Bank of Canada, its larger domestic rival, advanced 2 percent to C$49.91.
Bank of Nova Scotia, Canada's third-largest lender by assets, rose 1.9 percent to C$54.49 after Robert Sedran, an analyst at CIBC, boosted his rating on the shares to "sector outperformer" from "sector performer." Scotiabank reported third-quarter earnings yesterday that beat its average analyst estimate by 2.2 percent, excluding certain items.
The S&P/TSX Energy Index reduced its largest monthly drop since December 2008 as natural gas futures gained on forecasts for above-normal temperatures in the U.S.
 Enbridge advanced 1.7 percent to C$32.34. Canadian Natural Resources Ltd., the country's second-largest energy company by market value, increased 1 percent to C$36.73. Encana Corp., Canada's biggest natural gas producer, climbed 1.9 percent to C$24.79.                         
 Base-metals and coal producers rose as copper futures gained after closing at a three-week high yesterday.
Teck Resources Ltd., Canada's largest company in the industry, advanced 1 percent to C$43.59, extending its four-day surge to 11 percent. First Quantum Minerals Ltd., the country's second-biggest publicly traded copper producer, increased 4.7 percent to C$23.65. Quadra FNX Mining Ltd., which operates in the U.S., Canada and Chile, climbed 4.6 percent to C$13.15.
Women's clothing retailer Reitmans (Canada) Ltd. jumped 6.8 percent to C$14.93 after reporting second-quarter earnings of 48 Canadian cents a share, excluding certain items. Two analysts in a Bloomberg survey had estimated profit of 41 Canadian cents a share and 46 Canadian cents a share, respectively. Earlier today, the shares soared as much as 7.2 percent, the most intraday since May 2010.
Potash Corp. fell 2.3 percent to C$56.53 as corn futures dropped after settling at the highest since June 9 yesterday. Corn is heading for its biggest monthly surge since December 2010 on speculation hot weather will limit yields in the U.S.
Bombardier Inc., the maker of trains and airplanes, sank 6.3 percent to C$4.80 after reporting financial results for the second quarter. The company said it expects to use up all of its free cash flow this year. The stock plunged as much as 8 percent, the most intraday since November, earlier today.
US
By Rita Nazareth
Aug. 31 (Bloomberg) — U.S. stocks rose, capping the best eight-day gain since 2009 for the Standard & Poor's 500 Index, as speculation the economy will keep expanding overshadowed a tumble in AT&T Inc. following a government antitrust lawsuit.
Ford Motor Co. and Alcoa Inc. gained at least 2.3 percent as companies most-tied to economic growth rallied. Joy Global Inc. added 1.3 percent after the maker of mining equipment forecast earnings that beat analysts' estimates. AT&T tumbled 3.9 percent, limiting the market's gain, as the U.S. government sued to prevent its planned purchase of T-Mobile USA Inc., saying the deal would curb competition in the wireless market.
The S&P 500 rose 0.5 percent to 1,218.89 at 4 p.m. in New York, after climbing 1.5 percent earlier. The benchmark gauge surged 8.5 percent since Aug. 19 while still completing a fourth straight monthly loss, the longest slump since March 2008. The Dow Jones Industrial Average added 53.58 points, or 0.5 percent, to 11,613.53 today, erasing its year-to-date decline.
"People want to nibble because if we avert a recession stocks would appear to be cheap," Mark Luschini, chief investment strategist at Philadelphia-based Janney Montgomery Scott LLC, which manages $54 billion, said in a telephone interview. "At the same time, given the overall levels of volatility, you know you can wake up and the market is easy up or down 300 points. Part of that uncertainty is that investors are dealing with the heavy hand of government intervention infusing itself in the capital markets."                         
Stocks advanced after reports showed U.S. business activity and factory orders expanded at a faster pace than economists forecast. The S&P 500 pared its August decline to 5.7 percent, still the biggest monthly retreat since May 2010. U.S. equities rose yesterday after the Federal Reserve said some policy makers wanted to take more action to stimulate the economy during their meeting this month.
"The economy is not falling off a cliff, and at the same time, policy makers are aware that growth is slow and they are prepared to do something to accelerate it," Peter Jankovskis, who helps manage about $2.6 billion at Oakbrook Investments in Lisle, Illinois, said in a telephone interview. "Much of the selling that we've experienced was overdone and left the market poised for a rally when sentiment began to change."
The S&P 500 slid 16 percent between July 22 and Aug. 19 after the U.S. government lost its AAA rating at S&P and investors speculated the European debt crisis was intensifying.
The index has rallied 8.9 percent since Aug. 8 after the S&P 500 traded at 12.2 times earnings, the lowest level since 2009, according to data compiled by Bloomberg.
Earlier today, benchmark gauges pared gains after Nouriel Roubini, co-founder and chairman of Roubini Global Economics LLC, said "we're going into a recession based on my numbers" while the Federal Reserve and other authorities no longer have the ability to provide emergency support.
"We have reached stall speed in the economy," Roubini said in an interview today on Bloomberg Television's "InBusiness with Margaret Brennan." "Unfortunately we are running out of policy tools" in the U.S. and European governments no longer have the resources to bail out their troubled banks, said Roubini, also a professor at New York University's Stern School of Business.
This year, numbers on the economy will "come out worse and worse and worse" and the "markets are going to fizzle out," Roubini said.
The Morgan Stanley Cyclical Index of companies whose earnings are most-dependent on economic growth rallied 0.7 percent. Ford gained 2.3 percent to $11.12. Alcoa rose the most in the Dow, gaining 3.6 percent to $12.80.
Joy Global advanced 1.3 percent to $83.45. The maker of P&H and Joy mining equipment lifted its earnings forecast in 2011 to as much as $6 a share, exceeding the average analyst estimate of $5.72, according to data compiled by Bloomberg.
AT&T slumped 3.9 percent to $28.48. The U.S. government said its purchase of T-Mobile would "substantially lessen competition" in the wireless industry. The purchase would combine the second- and fourth-largest mobile-phone carriers in the country, surpassing No. 1 Verizon Wireless. Verizon Communications Inc., which co-owns the biggest operator with Vodafone Group Plc, fell 0.4 percent to $36.17. Sprint Nextel Corp. advanced 5.9 percent to $3.76.
AT&T Chief Executive Officer Randall Stephenson's proposed purchase of Bellevue, Washington-based T-Mobile, announced in March, would combine the second- and fourth-largest carriers to create a new market leader ahead of No. 1 Verizon Wireless. The new company would dwarf current No. 3 carrier Sprint Nextel, which argued against the deal.
Lions Gate Entertainment Corp. sank 7.5 percent to $6.96.
Billionaire Carl Icahn agreed to sell his Lions Gate shares for $7 each, roughly his cost, to end a battle for control over the independent film and television studio. The parties also agreed to end all litigation, according to a statement issued yesterday by Icahn and Lions Gate, the studio behind the "Saw" movies and "Mad Men" TV show.
Pessimism about U.S. stocks among newsletter writers increased to a one-year high, a bullish signal to analysts who track investor sentiment as a contrarian indicator of equity performance. The share of bearish publications among those tracked by Investors Intelligence rose to 36.6 percent yesterday, the highest since August 2010, from 33.3 percent a week earlier.
"The stock market is poised for a rebound if data begins to be more encouraging," Marshall Front, who helps oversee $600 million as chairman of Front Barnett Associates LLC in Chicago, said in an interview. "Stocks have gotten to a point where they are discounting a degree of slowness in the economy that is not likely to evolve."
Have a wonderful evening everyone.
Be magnificent!
The key to an easy relationship with other people is not to impose your ego,
nor to crush the ego of others.
-Swami Prajnanpad, 1891-1974
As ever,
Carolann
Turn your wounds into wisdom.
        -Oprah Winfrey, 1954-