April 28th, 2011 Newsletter
Dear Friends,  There is light at the end of the tunnel for all our amazing accountants out there – the end of the month draws nigh.  I am always so impressed by their tenacity at this time of year, their voices betraying little of the inevitable weariness they must feel after weeks of number crunching….
Today is the anniversary of Mutiny on the Bounty in 1789.  On April 28, 1789, the mutiny on HMS Bounty took place as the crew of the British ship set Capt. William Bligh and 18 sailors adrift in a launch in the South Pacific.  (They of course, survived, and made it back to Britain to report the mutiny.) Attracted by the idyllic Tahitian lifestyle, the mutineers sailed the British Royal Navy Ship to Pitcairn Island, where they burned it offshore in order to avoid detection and to prevent desertion.  There are still descendants of the mutineers and Tahitians living on Pitcairn Island today. 
And speaking of boats, this Saturday is the official opening day of the Royal Victoria Yacht Club – hard to believe sailing season is upon us again.  I was speaking with a client this morning who will be heading down to Colorado in a few weeks to visit a friend she met many years ago on a beach in Tahiti.  The friend and her husband were sailing around the world and they struck up a friendship with my client – thirty years younger than them – and invited her to sail with them for awhile, which she did for five weeks.  My client was describing her friend as being the most amazing 80 year old person she has ever met.  Right now, for example, in her eighties, she is in Africa doing volunteer work!  Isn't that wonderful?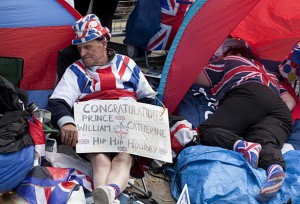 Royal enthusiasts sleep in their tents in front of Westminster Abbey in London. Revelers are camping outside the Abbey where Prince William and Kate Middleton are due to get married tomorrow, April 29.
Gero Breloer/AP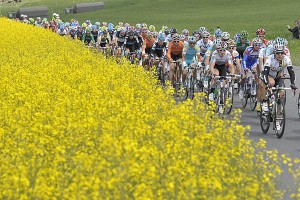 The pack rides during the second stage, a 171.8 km race from Romont to Romont, at the 65th Tour de Romandie UCI ProTour cycling race in Sedeilles, Switzerland.
Dominic Favre/Keystone/AP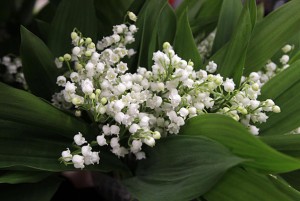 Sprigs of Lily of the Valley, the symbol of Labour Day in France, are seen at the Rungis International food market in Rungis, south of Paris. The sprigs of Lily of the Valley will be rare and expensive next Sunday for Labour Day in France because of an early and too sunny Spring, which has reduced deliveries to wholesalers from between 40 and 50 percent.
Jacky Naegelen /Reuters
Market Commentary:
 Canada
By Matt Walcoff
     April 28 (Bloomberg) — Canadian stocks rose as Canadian National Railway Co. gained for a second day after reporting earnings that topped analyst estimates and natural gas producers advanced as the fuel climbed to a three-month high.
     CN, the country's largest railroad, rallied 2.4 percent a day after at least 15 analysts boosted their share-price estimates. Encana Corp., Canada's biggest natural gas producer, rose 2.2 percent after U.S. supplies increased less than most economists had forecast and crude settled at $112.86 a barrel.
Potash Corp. of Saskatchewan Inc., the world's largest fertilizer producer, fell 2.8 percent as corn and wheat dropped.
     The Standard & Poor's/TSX Composite Index rose 1.83 points, or less than 0.1 percent, to 13,894.40. Among S&P/TSX stocks, 131 gained, 112 declined and five were unchanged.
     "People were mostly too bearish with the winter that we got as well as fuel at $113," Luc Girard, director of the portfolio advisory group at Desjardins Securities in Montreal, which manages about C$18 billion, said of CN. "Investors were too negative about the earnings."
     The index is poised to end April with its first negative monthly total return including dividends since June, ending the longest streak of gains since 1983. Energy and financial stocks have dropped on data and forecasts indicating the U.S. economic recovery is slowing.
     CN advanced for a seventh day, increasing 2.4 percent to C$73.14 after Norfolk Southern Corp. reported profit that topped analyst estimates. CN raised its own full-year profit forecast on April 26.
     The shares have risen 4.7 percent since April 24, when CN said Microsoft Corp. Chairman Bill Gates' Cascade Investment LLC has become its biggest shareholder. CN's seven-day streak of gains is the longest since November 2009.
     Energy companies climbed after the U.S. Energy Department said natural gas supplies increased 31 billion cubic feet last week, compared with the median analyst estimate of 38 billion cubic feet.
     Encana Corp., Canada's largest natural gas producer, rose 2.2 percent to C$31.42, erasing four days of losses. Nexen Inc., an oil and gas producer with operations on five continents, gained for a sixth day, advancing 3.1 percent to C$24.71.
Canadian Oil Sands Ltd., the largest owner of the Syncrude project, climbed 1 percent to C$31.66.
     Enbridge Inc., Canada's largest pipeline company, declined 1.8 percent to C$61.23 after Sam Kanes, an analyst at Bank of Nova Scotia, cut his rating on the shares to "sector perform."
The shares had surged 64 percent since Kanes rated them "sector outperform" in October 2008.
     Sterling Resources Ltd., which explores for oil and gas in Europe, slumped 11 percent, the most in 26 months, to C$3.91 after declaring force majeure on its offshore licenses in Romania. In a press release, the company cited what it called political obstacles from the Romanian government.
     Oilfield-services company Flint Energy Services Ltd. sank 7.8 percent, the most since July 2009, to C$14.94 after saying it had a first-quarter loss of 8 Canadian cents a share to 14 Canadian cents a share. All six analysts in a Bloomberg survey had forecast a profit.
     BlackBerry maker Research In Motion Ltd. advanced 2 percent to C$53.83 after Jeff Kvaal, an analyst at Barclays, said Barclays' survey of stores found most PlayBook buyers' feedback has been positive. Shares of the Waterloo, Ontario-based company plunged 27 percent in the 12 months ending yesterday.                        
  Fertilizer producers retreated as corn slumped the most in six weeks after a U.S. government report showed slowing demand.Wheat tumbled as rain fell in parts of the U.S. that had suffered dry spells.
     Potash Corp. dropped 2.8 percent to C$52.69. Agrium Inc., Canada's second-largest fertilizer producer, slipped 1.4 percent to C$85.17.
     Producers of raw materials used in industry fell after the U.S. Commerce Department said gross domestic product rose at a 1.8 percent annualized rate in the first quarter. Economists had estimated economic growth of 2 percent, according to the median of 80 estimates in a Bloomberg survey.
     U.S. initial jobless claims increased to 429,000 last week from a revised 404,000 the previous week, the Labor Department said in Washington. The median economist forecast in a Bloomberg survey was 395,000.
     Teck Resources Ltd., Canada's largest base-metals and coal producer, dropped 2.5 percent to C$51.08. Ivanhoe Mines Ltd., which is building a copper and gold mine in Mongolia with Rio Tinto group, declined 1 percent to C$24.83. Grande Cache Coal Corp., which produces coal used in steel mills, lost 3.1 percent to C$8.12, extending its monthly tumble to 21 percent.
     Thomson Reuters Corp., the financial news and information provider, decreased 2.6 percent to C$38.11 after its first- quarter profit trailed the average of 14 analyst estimates by 2.3 percent, excluding certain items. Bloomberg LP, the parent of Bloomberg News, competes with Thomson Reuters in selling financial and legal information and trading systems.
     Imax Corp., the maker of giant-screen movie-projection systems, climbed 6 percent to a 10-year high of C$32.55 after raising its 2011 forecast for theater signings by 40 percent. In a note to clients, James M. Marsh, an analyst at Piper Jaffray Cos., called the estimate "massive."
     Gold explorer European Goldfields Ltd. soared 12 percent to C$12.96 after Reuters said Greece is close to approving the company's environmental-impact study for two mines. The news service cited the country's environment ministry.
 US
By Rita Nazareth
     April 28 (Bloomberg) — U.S. stocks rose, sending the Standard & Poor's 500 Index to the highest level since June 2008, as better-than-estimated corporate earnings tempered investors' concern over slowing economic growth.
     Insurers led gains as Allstate Corp., Aflac Inc. and Lincoln National Corp. posted earnings that topped estimates.
Sprint Nextel Corp. rallied 6.7 percent as the third-largest U.S. mobile-phone carrier reported a narrower loss after paring costs to offset contract-customer defections. Constellation Energy Group Inc. advanced 5.7 percent as Exelon Corp. offered $7.9 billion to buy the power producer. Boeing Co. gained 3.2 percent as Citigroup Inc. raised its share-price estimate.
     The S&P 500 climbed 0.4 percent to 1,360.48 at 4 p.m. in New York. The benchmark gauge for American equities rallied yesterday as the Federal Reserve renewed its pledge to stimulate growth with low interest rates. The Dow Jones Industrial Average increased 72.35 points, or 0.6 percent, to 12,763.31 today.
     "Corporate America has managed to do very well in this environment of sluggish growth," said Randy Bateman, chief investment officer of Huntington Asset Management in Columbus, Ohio, which oversees $14.4 billion. "Earnings are beating estimates. Companies are adding value to their shareholders.
There are just not that many alternatives that can compete with corporate America at this point."
     The S&P 500 has rallied 8.2 percent in 2011 as higher-than- estimated profit and economic reports from manufacturing to housing bolstered investors' confidence. Earnings-per-share beat estimates at more than three-quarters of the 269 companies in the S&P 500 that reported results since April 11, according to data compiled by Bloomberg.
     Benchmark gauges reversed early losses today as a report showed the number of Americans signing contracts to buy previously owned homes rose more than forecast in March, a sign the industry that triggered the recession may be stabilizing.
     Stock-index futures fell before the start of regular trading as government data showed the U.S. economy grew at a slower pace than forecast in the first quarter as consumer purchases cooled and government spending declined. Another report showed new applications for unemployment benefits in the U.S. unexpectedly rose last week to the highest level in three months, a sign progress in the labor market may be stalling.
     "It's very clear that it's going to be harder and harder to beat estimates from here," said Quincy Krosby, a market strategist for Newark, New Jersey-based Prudential Financial Inc., which oversees $784 billion. "You're going to see the leading economic indicators weaken, albeit from a high level. You are going to have more questions in the market."
     The global equities bull market will weather any halt in bond purchases by the Fed amid rising U.S. consumption and investment in emerging markets, according to Templeton Asset Management's Mark Mobius.
     The S&P climbed to an almost three-year high yesterday and the Russell 2000 Index of smaller stocks reached a record after the central bank renewed its pledge to keep interest rates near zero to stimulate the economy. The Federal Open Market Committee agreed to finish $600 billion of Treasury purchases in June.
Another round of buying isn't needed to sustain the rally and there won't be an economic slump in the second half, Mobius said in a phone interview from Bucharest yesterday before the Fed statement.
     "We are in a bull market and it will continue," said Mobius, 74, who oversees more than $50 billion as the Singapore- based executive chairman of Templeton's emerging markets group.
"There will be corrections along the way but these will be very temporary. The consumer in Europe and America is back. They're not spending like crazy but they are spending."
     The S&P 500 Insurance Index rose 1.7 percent, the biggest gain within 24 groups, as 21 of its 22 stocks rallied.
     Lincoln and Allstate are among insurers benefiting from improved investment results in the first quarter. Lincoln reported gains on alternative investments, such as hedge funds, while Allstate said losses narrowed on derivatives. Allstate's results also improved as claims from costs tied to natural disasters declined.
      Allstate, the largest publicly traded U.S. home and auto insurer, gained 5.7 percent to $33.76. Aflac rose 5 percent to $57. Lincoln National added 4.2 percent to $31.64.                        
     Sprint Nextel rallied 6.7 percent to $5.11. The company added 846,000 prepaid users, while losses of the more lucrative customers who sign up for two-year contracts shrank to 114,000 from 578,000 a year earlier. The carrier added handsets such as the HTC Corp. Evo to wrest customers from larger rivals AT&T Inc. and Verizon Wireless and draw users to its fourth- generation network.
     Constellation Energy climbed 5.7 percent to $36.26. Exelon, the largest operator of U.S. nuclear power plants, agreed to buy the power producer for about $7.9 billion in stock, adding stakes in five reactors and becoming the largest U.S. electricity marketer.
     Overall, there have been more than 8,000 deals announced globally this year, totaling $794.7 billion, a 26 percent increase from the $629.7 billion in the same period in 2010, according to data compiled by Bloomberg.
     Boeing gained 3.2 percent, the most in the Dow, to $78.55.Citigroup raised its share-price estimate for the world's largest aerospace company to $90, citing positive "momentum"over the next several years.                          
     PulteGroup Inc. gained 3.3 percent to $8.24. The largest U.S. homebuilder by revenue forecast profit in the second half of the year. The company focused on cutting costs in the face of weak demand for new homes. Selling, general and administrative expenses for the quarter decreased 10 percent from a year earlier to $136 million. The rate of cancellations declined and visits to the company's sale centers increased, said Richard Dugas, chairman and chief executive officer.
     "Assuming market conditions remain stable, we have put ourselves in a position to return to profitability in the back half of the year." Dugas said on a conference call with investors. "Now it's about effort and execution, which are clearly within our control."
     Energy shares had the biggest decline in the S&P 500 within 10 industries, falling 0.2 percent as a group.
     ConocoPhillips slumped 3 percent to $77.45. The third- largest U.S. oil company was cut to "hold" at Deutsche Bank AG, which cited disappointment with first-quarter earnings and said that the outperformance potential is limited.
     Akamai Technologies Inc. tumbled 15 percent, the most in the S&P 500, to $34.94. Traffic growth in the company's volume business has "moderated," and it's "too early" to predict the pace of growth for the rest of the year, according to Chief Executive Officer Paul Sagan. Akamai delivers data for Apple Inc.'s iTunes and streams video for Netflix Inc.
Have a wonderful evening everyone.
Be magnificent!
The phrase 'to meditate' does not only mean to examine, observe, reflect, question, weigh;
it also has, in the Sanskrit, a more profound meaning, which is 'to become.'
-Krishnamurti, 1895-1986 
As ever, 
Carolann
Patience is the companion of wisdom.
              -Saint Augustine, 354-430 
Carolann Steinhoff, B.Sc., CFP, CIM, FCSI
Senior Vice-President &
Senior Investment Advisor