April 28, 2016 Newsletter
Dear Friends,
Tangents:
TODAY IN HISTORY
The crew of the British ship Bounty mutineed, setting Captain William Bligh and 18 sailors adrift in a launch in the South Pacific.
Captain Bligh describes the mutiny on the Bounty, 1789, in his Journal, quoted by John Barrow, Second Secretary of the Admiralty:
Just before sun rising…while I was yet asleep, Mr. Christian, officer of the watch, Charles Churchill, ship's corporal, John Mills, gunner's mate, and Thomas Burkitt, seaman, came into my cabin, and seizing me, tied my hands with a cord behind my back, threatening me with instant death if I spoke or made the least noise.  I called, however, as loud as I could in hopes of assistance; but they had already secured the officers who were not of their party, by placing sentinels at their doors.  There were three men at my cabin door, besides the four within…The officers and men being in the boat, they only waited for me, of which the master-at-arms informed Christian; who then said – "Come, Captain Bligh, your officers and men are now in the boat, and you must go with them;  if you attempt to make the least resistance, you will instantly be put to death"; and without further ceremony, with a tribe of armed ruffians about me, I was forced over the side, when they untied my hands.  Being in the boat, we were veered astern by a rope, a few pieces of pork were thrown to us, and some clothes, also the cutlasses I have already mentioned; and it was then that the armourer and carpenters called out to me to remember that they had no hand in the transaction.  After having undergone a great deal of ridicule, and been kept for some time to make sport for these unfeeling wretches, we were at length cast adrift in the open ocean.
PHOTOS OF THE DAY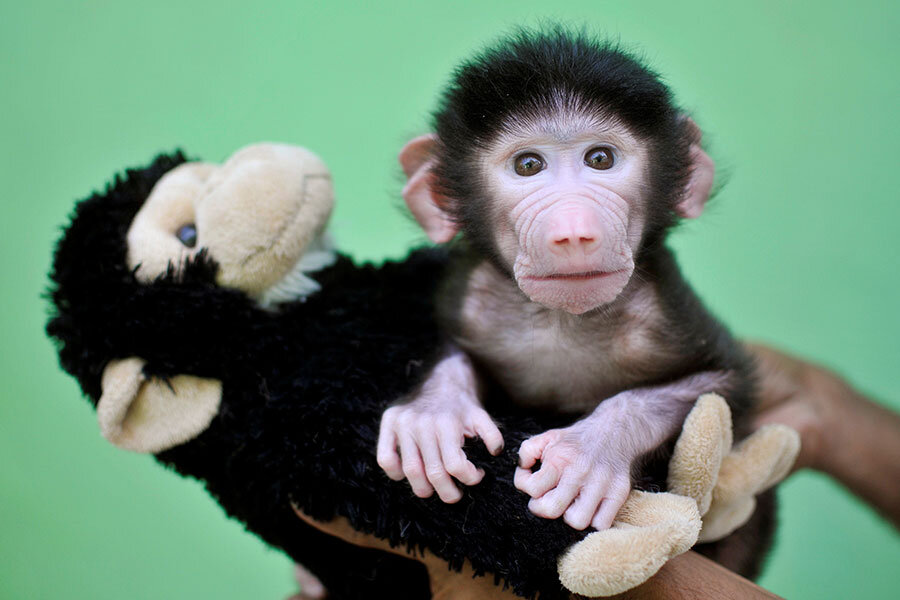 A 23-day-old hamadryas baboon plays with a stuffed toy at Sri Chamarajendra Zoological Gardens in the southern Indian city of Mysuru on Thursday. According to a zoo doctor, the baboon was abandoned by its mother after its birth. Abhishek N. Chinnappa/Reuters

A woman looks at a dummy displayed in front of a fashion shop in Nice, southeastern France, Thursday. Lionel Cironneau/AP
Market Closes for April 28th, 2016
Market

Index

Close
Change
Dow

Jones

17830.76

-210.79

 

-1.17%

 

S&P 500

2073.01

-22.14

 

-1.06%

 

NASDAQ

4805.289

-57.852

 

-1.19%

 

TSX

13882.79

-4.87

 

-0.04%




 




 
International Markets
Market

Index

Close
Change
NIKKEI

16666.05

-624.44

 

-3.61%

 

HANG

SENG

21388.03

+26.43

 

+0.12%

 

SENSEX

25603.10

-461.02

 

-1.77%

 

FTSE 100

6322.40

+2.49

 

+0.04%

 
Bonds
Bonds
% Yield
Previous  % Yield
CND.

10 Year Bond

1.479

1.499




 




 

CND.

30 Year

Bond

2.057

2.059

U.S.   

10 Year Bond

1.8260

1.8472




 




 

U.S.

30 Year Bond

2.6843

2.7023

 
Currencies
BOC Close
Today
Previous  
Canadian $

0.79661

0.79

 

US

$

1.25533

1.2590

 

 

 
Euro Rate

1 Euro=

 

Inverse

Canadian $

1.42535

0.70158

 

US

$

1.13544

0.88066
Commodities
Gold
Close
Previous
London Gold

Fix

1256.00

1247.40

 

 

 

Oil

Close

Previous

WTI Crude Future

46.03

45.33

 
Market Commentary:
Canada
By Eric Lam
     (Bloomberg) — Canadian stocks closed little changed as gold producers rallied, offset by disappointing earnings from Potash Corp. of Saskatchewan Inc. and Constellation Software Inc.
     The benchmark Standard & Poor's/TSX Composite Index fell less than 0.1 percent to 13,886.43 at 4 p.m. in Toronto, erasing a gain of as much as 0.6 percent in the final hour of trading. The gauge halted the longest losing streak in three weeks on Tuesday, and is one of the best-performing developed market in the world this year as it rebounds from last year's worst annual decline since 2008.
     Barrick Gold Corp. and Goldcorp Inc. rallied at least 4.6 percent as gold producers surged to a more than two-year high. Gold prices got a surprise lift after the Bank of Japan opted against boosting stimulus, weakening the dollar. Gold for June delivery climbed 1.3 percent to settle at $1,266.40 an ounce in New York.
     Raw-materials producers jumped 2.2 percent, the most in the Canadian benchmark equity gauge as four of 10 industries in the S&P/TSX advanced. Constellation Software sank 5.1 percent to a two-month low after posting first-quarter adjusted earnings of $2.95 a share, short of consensus estimates of $4.45. Technology stocks slid 1.7 percent as a group, the steepest drop since March 4.
     Bombardier added 1.5 percent, extending a July high, after landing a $5.6 billion deal based on list prices to sell at least 75 of its C Series jets to Delta Air Lines Inc. with an option to buy 50 more. Bombardier also reported a wider-than- estimated quarterly loss, while revenue was short of analysts' forecasts.
     Potash Corp. slipped 3.6 percent to a five-week low after cutting its full-year profit forecast as fertilizer prices declined and China delayed signing key supply contracts. The forecast for potash production at the world's second-largest producer of the fertilizer was also reduced. First quarter sales and profit also slumped.
     The resource-dominant S&P/TSX remains closely linked to moves in commodities prices, with a 17 percent rally in the benchmark equity gauge from a Jan. 20 low aligning with a rebound in crude from the lowest levels since 2003. Raw- materials and energy producers are the two top-performing industries in Canada so far this year, up more than 14 percent.
     The Canadian benchmark now trades at 21.9 times earnings, about 15 percent higher than the 19.1 times earnings valuation of the Standard & Poor's 500 Index, according to data compiled by Bloomberg.
US
By Anna-Louise Jackson and Joseph Ciolli
     (Bloomberg) — U.S. stocks fell, with the Standard & Poor's 500 Index capping the biggest drop in three weeks, as Apple Inc. led an afternoon selloff in technology shares, overshadowing corporate deals and strong results from Facebook Inc.
     Sentiment was fragile heading into today's session after the Bank of Japan refrained from adding more stimulus measures, and turned sour after Carl Icahn said he sold out of his stake in Apple Inc. That sent the iPhone maker's shares to a two-month low with tech companies tumbling along with it, despite Facebook surging to a record. After the market closed, Amazon.com Inc. rallied on better-than-estimated results.
     The S&P 500 Index fell 0.9 percent to 2,075.81 at 4 p.m. in New York, the most since April 7. The gauge is still up 0.8 percent for the month. The Dow Jones Industrial Average slid 210.79 points, or 1.2 percent, to 17,830.76, the biggest decline in more than two months. The Nasdaq Composite Index lost 1.2 percent to a one-month low, extending its longest retreat since January. About 8.1 billion shares traded hands on U.S. exchanges, 3 percent above the three-month average.
     "When the news on Icahn's Apple sale came out, that really got people worried," said Matt Maley, an equity strategist at Miller Tabak & Co. LLC in New York. "It's hard for the stock market to rally to new highs when Apple isn't moving higher. Facebook seemed to offset the BOJ news, but as Apple moved to new lows, it got people more concerned. It overtook the positive news in the market."
     Equities had overcome an opening slide, with the S&P 500 erasing losses within the first hour of trading as Facebook helped carry tech shares higher. A $25 billion buyout of St. Jude Medical Inc. by Abbott Laboratories, and Comcast Corp.'s $3.8 billion deal to acquire DreamWorks Animation SKG Inc. also buoyed sentiment. The two companies soared more than 24 percent. Tech's advance withered, however, amid weak earnings news that has dogged the group, and declines accelerated as Apple slumped.
     The S&P 500 had rebounded as much as 15 percent from a 22- month low in February, taking its valuation to nearly 18 times estimated profits, near last year's high. The benchmark has labored for six sessions to press beyond a four-month peak reached on April 20 amid mixed quarterly results from corporate America.
     "I've certainly been surprised by the ability of the market to hang in there with as many mediocre earnings as we've seen so far and I think it was too many," said Michael Antonelli, an institutional equity sales trader and managing director at Robert W. Baird & Co. in Milwaukee. "It shows people are looking to sell rallies. Late day price action like this is really, really bad for short-term sentiment."
     Among shares moving on earnings news Thursday, GNC Holdings Inc. plunged 29 percent the most in five years as a public company after earnings missed estimates. Cardinal Health Inc. saw its worst drop since 2009 after narrowing its full-year profit outlook below analysts' predictions. That weighed on competing drug distributor McKesson Corp., which dropped 4.8 percent, the most in three months.
     Cliffs Natural Resources Inc. jumped 25 percent, its best one-day gain in more than seven years after its revenue beat estimates and the miner lifted its spending outlook. Pilgrim's Pride Corp. surged the most since 2013 after earnings exceeded predictions and the chicken producer declared a special dividend.
     Amazon jumped 12 percent as of 4:33 p.m. after its sales and earnings topped estimates, adding to evidence that the company can make money even while investing heavily in endeavors like one-hour delivery and marketing new gadgets like the Echo voice-activated home assistant. 
     Stocks climbed for a second day on Wednesday after the Federal Reserve reassured investors by signaling interest-rate increases will be gradual. The Fed kept its benchmark rate unchanged, saying it will monitor economic developments amid slow but steady growth. Traders are now pricing in a nearly 60 percent chance of higher borrowing costs in December, the first month with better than even odds for a boost.
     Monetary policy during the past seven years has been a strong support to a bull market that is now the second-longest ever at 2,607 days, matching a rally from 1949 to 1956. Only the dot-com bubble of the 1990s lasted longer at 3,452 days. Stocks are currently stuck in their longest period of stasis since the rally began, going 11 months without posting a 52-week high.
     That may be due in part to an earnings season predicted to be the worst since the financial crisis, with analysts expecting a 9.2 percent decline in first-quarter profit for firms in the S&P 500. Of those that have released results so far, 78 percent beat profit projections and 59 percent topped sales estimates.
     As policy makers and investors weigh data to discern the path for rates, a report today showed the economy expanded in the first quarter at the slowest pace in two years. A measure of inflation tied to personal spending and excluding volatile food and fuel costs climbed 2.1 percent, the most in four years and in line with policy makers' target.
     In Thursday's trading, nine of the S&P 500's 10 main industries fell, with technology, energy, consumer discretionary and financial shares losing more than 1.1 percent. The tech group marked a sixth straight drop, the lengthiest since Jan. 8, with Apple posting its longest losing streak in more than three years.
     The Chicago Board Options Exchange Volatility Index jumped 10 percent to 15.14 to a two-week high. The measure of market turbulence known as the VIX erased losses for April, putting it on track for the fifth monthly gain in the last six.
     Technology shares erased a morning gain of 0.6 percent, with the group continuing to struggle amid earnings news that was less impressive than Facebook's. Xilinx Inc. fell 8.7 percent after its fiscal 2017 profit forecast trailed estimates. Symantec Corp. sank 6.7 percent as the world's biggest maker of cyber-security software cut its earnings and sales forecasts for the fiscal fourth quarter and said Chief Executive Officer Michael Brown will step down.
     International Business Machines Corp. lost 2.3 percent. The tech giant's debt ratings outlook was revised to "negative" by S&P after the company posted its 16th consecutive quarter of declining revenue and reduced its forecast for second-quarter profits. Microsoft Corp. and Alphabet Inc. sank at least 2 percent, with both reaching two-month lows.
     Energy producers fell from a five-month high, even as crude oil increased for a third session, up 1.5 percent. Marathon Oil Corp. and Apache Corp. slid more than 3.3 percent, while Southwestern Energy Co. dropped 6.4 percent after a two-day gain of 13 percent.
     Other shares moving on corporate news included Hanesbrands Inc., which rallied 6.3 percent to an eight-week high after agreeing to acquire Australia's Pacific Brands Ltd. that values the company at about $800 million. FirstEnergy Corp. tumbled 9.9 percent, the steepest since 2008, after regulators agreed to review its power contracts with American Electric Power Co. in Ohio.
 
Have a wonderful evening everyone.
Be magnificent!
To make a decision is an illusion.
Behind the decision
is the hidden belief
that everyone is the same.
Swami Prajnanpad
As ever,
Carolann
Oh wonder!
How many goodly creature are there here!
How beauteous mankind is!  Oh, brave new world,
That has such people in't!
       -William Shakespeare, 1564-1616, The Tempest
Carolann Steinhoff, B.Sc., CFP®, CIM, CIWM
Portfolio Manager &
Senior Vice-President
Queensbury Securities Inc.,
St. Andrew's Square,
Suite 340A, 730 View St.,
Victoria, B.C. V8W 3Y7