April 28, 2015 Newsletter
Dear Friends,
Tangents:
1789- Mutiny on the Bounty.
1945-Mussolini executed.
Harry Eyes wrote his final Slow Lane column in the Financial Times last weekend.   This isit:
For me, over the 11 years I have been writing this column, the Slow Lane has always been a state of mind, not a physical carriageway.   I wanted to show that there are ways of finding time for the essential things in life which do not involve moving to a remote Aegean island or a crumbling farmhouse in whichever part of Italy is "the new Tuscany".
  My ambition has been to set out a workable alternative to the romantic escapism of Yeats's Lake Isle of Innisfree.  We can enrich our necessarily limited time by learning a short poem by heart, or even writing one; by returning to those viola or clarinet studies we gave up as teenagers, and finding that we can engage with the music in a deeper way and make it our own; by popping in to a museum or gallery to see not a vast, intimidating blockbuster exhibition but just one dearly loved painting; or by playing at whatever level and with whatever physical limitations, a sport you love rather than watching overpaid narcissists on TV (I make an exception, of course, for the  peerless Roger Federer, who still glides as gracefully over the court as when this column started).
  Many of these suggestions have involved a return to the active rather than the passive mode.  Doing, making, healing, cooking, caring, conversing face-to-face, writing proper letters, rambling in nature – all seem to me infinitely more satisfying than merely buying things, being passively "entertained"  by images on screens or engaging in various forms of digital non-communication.  In this sense the column has sometimes struck me as countercultural and I did occasionally wonder if I was fighting a losing battle.  But I like to think that there have been some victories along a respectably long road.  That the menace of mobile phone mania and its incursion into public space and the counterproductive overuse of email are now quite widely recognized, I count as a small victory for the slow approach to life.
  On a more positive note, the joys of buying and cooking good local produce have started a whole mini-movement.  All over the world the most thoughtful farmers are turning or returning to more gentle and less interventionist methods; some of the greatest wines are now organic or biodynamic.  Whether this can spark a recognition that our abused planet cannot be exploited ad infinitum is another matter.
  We need food for the soul, too.  Over the years readers will have grown familiar with my belief that music (with poetry) is the highest art form.   I believe we are now living through a golden age of classical musical performance, with instrumentalists, singers and ensembles fully the equal of any who have come before.
  But finally, it is you, readers, that I want o thank.  You – a wonderfully disparate bunch, a Bulgarian neuropsychologist, a German high school student, a retired Baptist minister, a Mumbai commuter, a Singaporean birdwatcher, just to pick a few – have sustained the column, led it in new directions, even turned it into something I never quite envisaged it becoming.  When I started writing this column, I had the notion of taking an idea for a walk, in  a way that Paul Klee took a line for a walk, with that essential element of spontaneity and freedom, of seeing where it would go; but I imagined the ramble would be essentially solitary.  I was also recalling another of my great inspirations, the essayist Michel de Montaigne, ruminating alone in the study in his tower, surrounded by his beloved classical authors.
  In fact, the promenade has turned out to be far more companionable than I ever expected.  Readers have helped me to understand what I was doing (never my strong point); one wrote  to say that the column was "like a conversation…in the way it can fly anywhere because you treat the issues not dogmatically but as gentle thought as they occur – seeking connections."
  Connections, most gratifyingly, have been made and the conversation has broadened.  And for this I will always be grateful.
PHOTOS OF THE DAY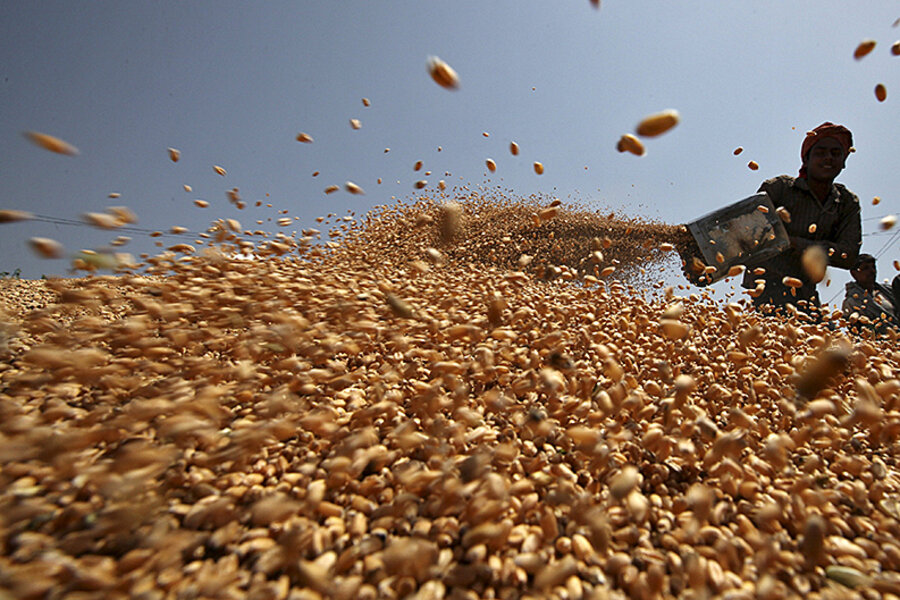 A worker spreads wheat crop for drying at a wholesale grain market in the northern Indian city of Chandigarh. The rupee has appreciated by a quarter against Europe's common currency over the past 12 months. The result has been India's worst export performance since the global slump of 2009, an early setback to Prime Minister Narendra Modi's 'Make in India' campaign to launch an export-led boom as he approaches a year in power. Ajay Verma/Reuters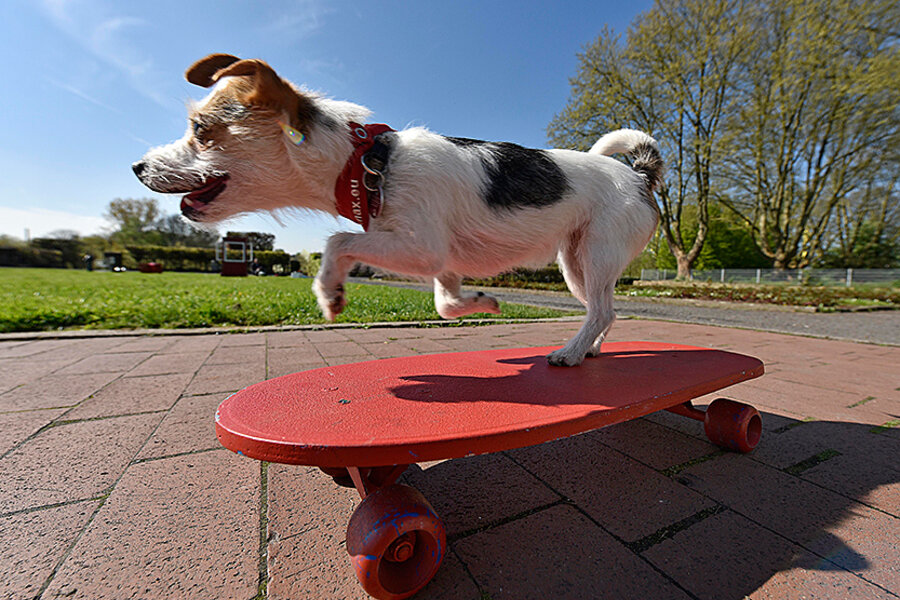 Film dog Jo Jo performs on a skateboard at a presentation for the dog and cat show in Dortmund, Germany, Tuesday. The three-year-old Parson Jack Russel dog played in several TV shows and commercials. Martin Meissner/AP
Money is the opposite of the weather.  Nobody talks about it, but everybody does something about it. –Rebecca Johnson
Market Closes for April 28th, 2015
Market

Index

Close
Change
Dow

Jones

18110.14

+72.17

 

+0.40%

 

S&P 500

2114.86

 

+5.94

 

+0.28%

 

NASDAQ

5055.422

 

-4.824

 

-0.10%

 

TSX

15338.62

-5.46

 

-0.04%

 
International Markets
Market

Index

Close
Change
NIKKEI

20058.95

+75.63

 

+0.38%

 

HANG

SENG

28442.75

+9.16

 

+0.03%

 

SENSEX

27396.38

+219.39

 

+0.81%

 

FTSE 100

7030.53

-73.45

 

-1.03%

 
Bonds
Bonds
% Yield
Previous  % Yield
CND.

10 Year Bond

1.554

1.459




 




 




 

CND.

30 Year

Bond

2.159

2.070

U.S.   

10 Year Bond

1.9955

1.9261

 

U.S.

30 Year Bond

2.6937

2.6136




 




 




 
Currencies
BOC Close
Today
Previous  
Canadian $

0.83122

0.82720




 




 

US

$

1.20305

1.20889

 

 

 
Euro Rate

1 Euro=

 

Inverse

Canadian $

1.32047

0.75730

 

US

$

1.09760

0.91108
Commodities
Gold
Close
Previous
London Gold

Fix

1209.00

1200.00

 

 

 

Oil

Close

Previous

WTI Crude Future

57.06

56.99




 




 
Market Commentary:
Canada
By Joseph Ciolli
     (Bloomberg) — Canadian stocks were little changed as gains in raw-materials shares offset a drop among energy companies and railroads.
     Barrick Gold Corp. and Goldcorp Inc. added more than 2.5 percent amid a gain in the metal. Canadian National Railway Co. and Canadian Pacific Railway Ltd. each decreased 0.8 percent. RMP Energy Inc. dropped 5 percent to pace declines among oil and gas stocks.
     The Standard & Poor's/TSX Composite Index added 1.99 points, or less than 0.1 percent, to 15,346.07 at 4 p.m. in Toronto. The gauge added 0.3 percent last week.
     Five of the 10 main groups in the S&P/TSX advanced. Financial companies, which account for about one-third of the broader index by weighting, rose 0.2 percent. The S&P/TSX Gold Index surged 3.2 percent, bringing its two-day increase to 4.3 percent.
     Technology companies in the S&P/TSX slid for a third day as Sierra Wireless Inc. and Celestica Inc. lost more than 1 percent. BlackBerry Ltd. added 1.1 percent.
     Energy producers fell 0.9 percent. Pengrowth Energy Corp. lost 3.9 percent and Ensign Energy Services Inc. retreated 3.7 percent.
US
By Jennifer Kaplan
     (Bloomberg) — The Standard & Poor's 500 Index rose as Merck & Co. boosted its outlook and IBM Corp. increased its dividend before Wednesday's Federal Reserve decision. The Nasdaq 100 Index slid 0.2 percent as Apple Inc. slumped.
     Merck added 5 percent after lifting its annual earnings forecast. International Business Machines Corp. climbed 1.9 percent. Twitter Inc. plunged 18 percent after an unexpected early release of its results showed revenue fell short of estimates. Apple slipped 1.6 percent amid concerns that rapid iPhone growth may not continue. Whirlpool Corp. dropped 7.1 percent after cutting its annual forecast.
     The S&P 500 Index rose 0.3 percent to 2,114.76 at 4 p.m. in New York. The Dow Jones Industrial Average added 72.17 points, or 0.4 percent, to 18,110.14. The Nasdaq Composite Index fell 0.1 percent, while the Russell 2000 Index advanced 0.5 percent. About 6.7 billion shares changed hands on U.S. exchanges, about 1 percent above the three-month average.
     "Earnings is driving most everything that's going on right now," said Tom Wirth, senior investment officer for Chemung Canal Trust Co., which manages $1.9 billion in Elmira, New York. "When I look at the stocks that are doing well and those that aren't doing so well, it's mostly earnings driven here."
     In the midst of the corporate earnings season, investors are also awaiting the outcome of the Fed's meeting, which began today, for more clues on the timing of interest rate increases.
     The Fed won't hike rates until its September meeting, according to 73 percent of 59 economists in a Bloomberg News survey, up from 37 percent in the March survey, when the majority said the first increase would likely come in June or July.
     Most Fed policy makers expect to raise the benchmark interest rate by the end of 2015. With economic data missing estimates this month by the most in more than six years, some officials have said they are wary of lifting rates too soon.
     The Fed last month dropped an assurance that it will be "patient" in raising rates. Instead, officials said they want to see further labor-market gains and be "reasonably confident" inflation will move back up toward their 2 percent goal before tightening policy.
     The Conference Board's index of consumer confidence unexpectedly decreased to 95.2 in April from 101.4 a month earlier, the New York-based private research group said Tuesday. The median forecast in a Bloomberg survey of 77 economists called for the gauge to climb to 102.2 after a previously reported 101.3 a month earlier.
     Data Wednesday may show U.S. economic growth slowed to a 1 percent pace in the first quarter, from 2.2 percent in the previous three months.
     Selling in U.S. equities Tuesday briefly accelerated, sending the S&P 500 as much as 0.7 percent lower, after Al Arabiya reported that Iranian forces seized a U.S. cargo vessel. U.S. officials later said Iranian forces boarded a Marshall Islands-flagged cargo ship, denying the seized vessel was American.
     Pfizer, Ford and Kraft Foods Group Inc. are among 40 S&P 500 companies that released results today. Of index members that have already reported this season, about three quarters beat profit projections and about half topped sales estimates.
     U.S. stocks retreated from records yesterday, with biotechnology companies leading losses. The Nasdaq Composite Index topped its dot-com-era high last week and the S&P 500 closed at a record as Google Inc., Microsoft Corp. and Amazon.com Inc. rallied after posting financial results. U.S. shares have still lagged most developed-market indexes this year.
     The Chicago Board Options Exchange Volatility Index fell 5.4 percent to 12.41, after rising almost 7 percent yesterday. The gauge, known as the VIX, fell nearly 12 percent last week to its lowest level in almost five months.
     Nine of the S&P 500's 10 main groups rose, led by phone companies as AT&T Inc. rallied 2.3 percent to its highest level in more than two months. Health-care shares rebounded, after a 1.8 percent drop Monday, paced by Merck's biggest gain since January and Aetna Inc.'s 3.2 percent climb to an all-time high.
     United Parcel Service Inc. gained 3.4 percent, its best rise in more than two years, after reporting profit that exceeded analysts' estimates, buoyed by an increase in international deliveries and lower fuel costs.
     Iron Mountain Inc. climbed 2.9 percent, the most since December, after reaching an agreement to buy Australian-U.S. competitor Recall Holdings Ltd. for about $2 billion. The U.S. data-storage company raised its bid following a rejection of an offer last year.
     Technology shares rose as IBM and Microsoft Corp. added more than 1.8 percent. IBM reached a six-month high after raising its dividend by 18 percent. Microsoft hit a five-month high.
     JetBlue Airways Corp. advanced 6.7 percent to an 11-year high after reporting earnings that matched analysts' estimates.
     Twitter plunged after revenue fell short of estimates in the first quarter, even after the company introduced new products and tweaked features to attract more people. The company was was slated to report results after the market close until Selerity Inc., a financial news service, disclosed Twitter's profit and sales numbers.
     Twitter shares initially lost 5.8 percent on the Selerity report before trading was halted. The stock re-opened lower by 20 percent. The Nasdaq Internet Index lost 1.4 percent, while the Dow Jones Internet Composite Index fell 1.2 percent.
     Apple rose as much as 1.4 percent and lost as much as 2.3 percent before closing 1.6 percent lower amid concerns that the rapid iPhone growth can't continue.
     Consumer discretionary companies lagged amid lackluster earnings reports and an unexpected decline in consumer confidence to a four-month low. Whirlpool and Coach Inc. led the retreat, each down more than 6 percent. Under Armour Inc. and Nike Inc. slid at least 1 percent.
     Coach fell 6.3 percent, the biggest drop since last June, after posting North American comparable sales that fell below analysts' targets in the third quarter. Currency effects also took a toll last quarter, reducing the value of its overseas revenue.
     Container Store Group Inc. slumped 14 percent, the most since January, after fourth-quarter profit and sales trailed analysts' estimates.
     Jacobs Engineering Group Inc. dropped 5.7 percent, its biggest slide in a year, and Parker-Hannifin Corp. declined 3.7 percent after the industrial companies cut their full-year profit views.
Have a wonderful evening everyone.
Be magnificent!
I am imperfect and want to be perfect – this alone is the starting point of my nonviolence.
The imperfect will turn perfect when it ceases to be and what is not comes into being.
Acharya Mahaprajna
As ever,
 
Carolann
If you don't like something, change it.  If you can't change it,
change your attitude.  Don't complain.
                                  -Maya Angelou, 1928-2014
Carolann Steinhoff, B.Sc., CFP®, CIM, CIWM
Senior Vice-President &
Senior Investment Advisor
Queensbury Securities Inc.,
St. Andrew's Square,
Suite 340A, 730 View St.,
Victoria, B.C. V8W 3Y7