April 28, 2017 Newsletter
Dear Friends,
Tangents:
1789 – The crew of the British ship Bounty mutineed, setting Captain William Bligh and 18 sailors adrift in a launch in the South Pacific.
1937 – Iraqi dictator Saddam Hussein was born near the desert town of Tikrit.
1945 – Italian dictator Benito Mussolini and his mistress, Clara Petacci, were executed.
1996 – President Bill Clinton gave 4 1/2 hours of videotaped testimony as a defense witness in the criminal trial of his former Whitewater business partners.
2001 – A Russian rocket lifted off from Central Asia bearing the first space tourist, California businessman Dennis Tito.
2003 – Apple Computer Inc. launched the iTunes store.
Read more books.  Ask more questions.  Listen more closely.
PHOTOS OF THE DAY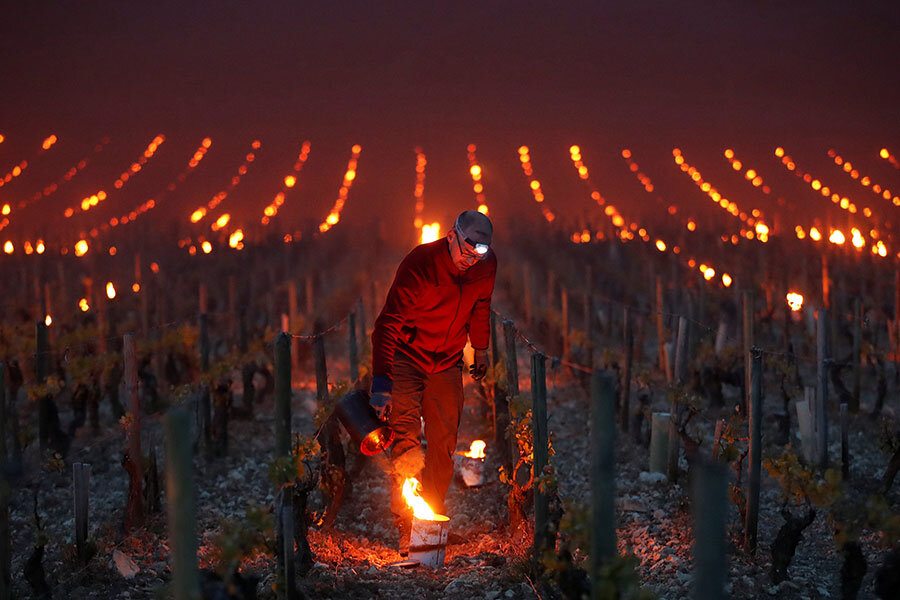 Workers and wine growers light heaters early in the morning, to protect vineyards from frost damage outside Chablis, France, on Friday.Christian Hartmann/Reuters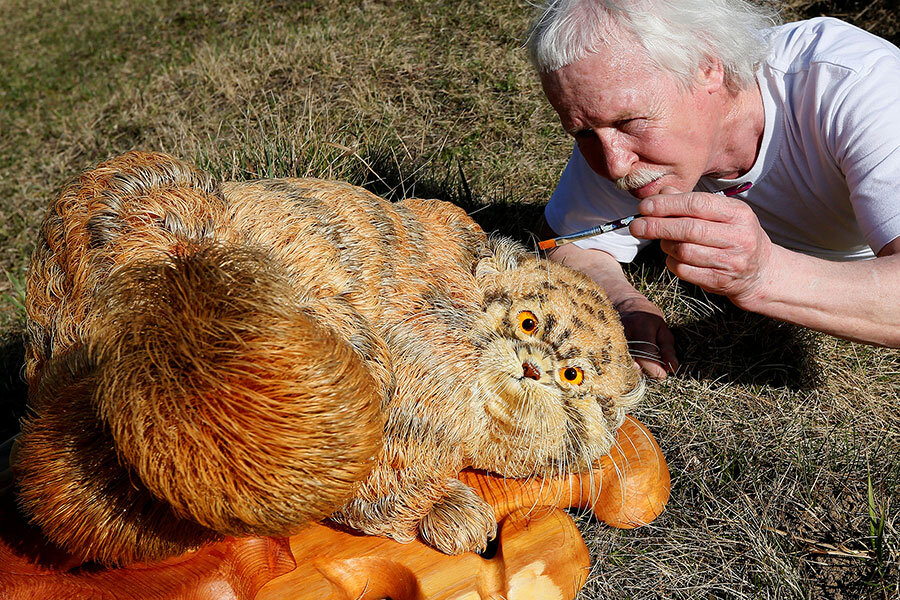 Sergei Bobkov paints Siberian cedar nut oil onto a life-size sculpture of Pallas's Cat, also known in Russia as Manul Cat, which he made from Siberian cedar wood shavings using more than 700 thousand pieces over four years, in the village of Kozhany, southwest of the Siberian city of Krasnoyarsk, Russia on Friday. Ilya Naymushin/Reuters
Market Closes for April 28th, 2017
MarketIndex
Close
Change
DowJones

20940.51

-40.82

 

-0.19%

 

S&P 500

2384.19

-4.58

 

-0.19%

 

NASDAQ

6047.605

-1.332

 

-0.02%

 

TSX

15591.65

+85.19

 

+0.55%
International Markets
MarketIndex
Close
Change
NIKKEI

19196.74

-55.13

-0.29%

HANGSENG

24615.13

-83.35

-0.34%

SENSEX

29918.40

-111.34

-0.37%

FTSE 100*

7203.94

-33.23

-0.46%
Bonds
Bonds
% Yield
Previous  % Yield
CND.10 Year Bond

1.543

1.576

CND.30 Year

Bond

2.158

2.181

U.S.   10 Year Bond

2.2838

2.2946

U.S.30 Year Bond

2.9547

2.9642
Currencies
| | | |
| --- | --- | --- |
| BOC Close | Today | Previous   |
| Canadian $ | 0.73252 | 0.73376 |
| US$ | 1.36515 | 1.36285 |
|   |   |   |
| Euro Rate1 Euro= |   | Inverse |
| Canadian $ | 1.48747 | 0.67228 |
| US$ | 1.08960 | 0.91777 |
Commodities
| | | |
| --- | --- | --- |
| Gold | Close | Previous |
| London GoldFix | 1266.45 | 1262.80 |
|   |   |   |
| Oil | Close | Previous |
| WTI Crude Future | 49.33 | 48.97 |
Market Commentary:
On this day in 2004, Comcast drops its $48.7 billion unsolicited bid for Walt Disney.
Number of the Day
$1.4 billion
Insiders at publicly traded commercial banks with a market value greater than $1 billion, but excluding the largest national banks, sold about $1.4 billion in their company stock between the election and the end of March, up 65% from the 10-plus months in 2016 before the election, according to an analysis by The Wall Street Journal.
Canada
By Kristine Owram
     (Bloomberg) — Canadian stocks closed higher on strength in resource companies and banks, capping a 10th straight monthly gain for the benchmark.
     The S&P/TSX Composite Index added 80 points or 0.5 percent to 15,586.13. Materials stocks led the way with a 1.8 percent rise as Detour Gold Corp. and Agnico Eagle Mines Ltd. both posted double-digit gains following strong earnings.
     The energy index rose 0.4 percent along with the price of oil, while the financial index added 0.3 percent after nearing a 2017 low on Thursday amid fallout from a run on Home Capital Group Inc.'s deposits.
     In other moves:
* Cameco Corp. lost 8.3 percent. The miner reported a wider- than-expected first-quarter loss amid uranium market weakness
* Bombardier Inc. fell 4.1 percent. Boeing Co. accused the aerospace company of selling its C Series jets at unfairly low prices
* Thomson Reuters Corp. rose 4 percent on better-than-expected results due to higher subscription revenues and cost cuts
* Jean Coutu Group PJC Inc. fell 4.2 percent after being downgraded to sell by Desjardins
US
By Lu Wang
     (Bloomberg) — U.S. stocks slipped, with the S&P 500 Index trimming its weekly advance, as losses in credit-card providers offset gains in technology companies that were sparked following better-than-expected results from Amazon.com Inc. and Google parent Alphabet Inc.
     The S&P 500 fell 0.2 percent at 4 p.m. in New York while the Dow Jones Industrial Average lost a similar amount, led by Intel Corp. Small-cap shares saw the worst of selling as the Russell 2000 Index sank 1.2 percent.
     Despite the losses, all three benchmarks have advanced at least 1.5 percent this week, hitting or approaching record highs, as the first round of the French election eased risk that the European Union might unravel and the Trump administration released its guidelines for tax cuts.
* Since earnings season began, 81 percent of S&P 500 companies have exceeded profit estimates and 65 percent beat on sales, data compiled by Bloomberg show.
* Synchrony Financial tumbled the most in the S&P 500 today, sinking 16 percent, after the issuer of private-label credit cards set aside more money for soured loans in the first quarter than analysts expected.
* Capital One Financial Corp. and Discover Financial Services also dropped after a surge in soured credit-card loans hurt profit at the two lenders.
* Alphabet gained 3.7 percent to a record after beating analysts' sales projections in the first quarter, ending a four- year streak of missing Wall Street estimates after the holidays.
* Amazon advanced 0.7 percent, also to a record, after it showed no signs of slowing an unbroken 20-year streak of double-digit revenue growth.
* The Philadelphia Semiconductor Index fell 1.7 percent, paced by Intel, which lost 3.4 percent after revenue at its data- center business fell short of estimates.
* Starbucks Corp. slid 2 percent after reporting slower sales growth than analysts projected.
* The U.S. economy expanded at an annualized rate of 0.7 percent in the first quarter, the slowest pace in three years, as weak auto sales and lower home-heating bills dragged down consumer spending.
Have a wonderful weekend everyone.
Be magnificent!
We have at the present moment everybody claiming the right of conscience
without going through any discipline whatsoever
that there is so much untruth being delivered to a bewildered world.
Truth is not to be found by anybody who has not got a sense of humility.
If you would swim on the bosom of this ocean of Truth
you reduce yourself to a zero.
Mahatma Gandhi
As ever,
Carolann
Income tax returns are the most imaginative fiction
being written today.     –Herman Wouk, b. 1915
Carolann Steinhoff, B.Sc., CFP®, CIM, CIWM
Portfolio Manager &
Senior Vice-President
Queensbury Securities Inc.,
St. Andrew's Square,
Suite 340A, 730 View St.,
Victoria, B.C. V8W 3Y7
Tel: 778.430.5808
(C): 250.881.0801
Toll Free: 1.877.430.5895
Fax: 778.430.5828
www.carolannsteinhoff.com